Why Emeril's New Orleans Restaurant Renovation Is A Game Changer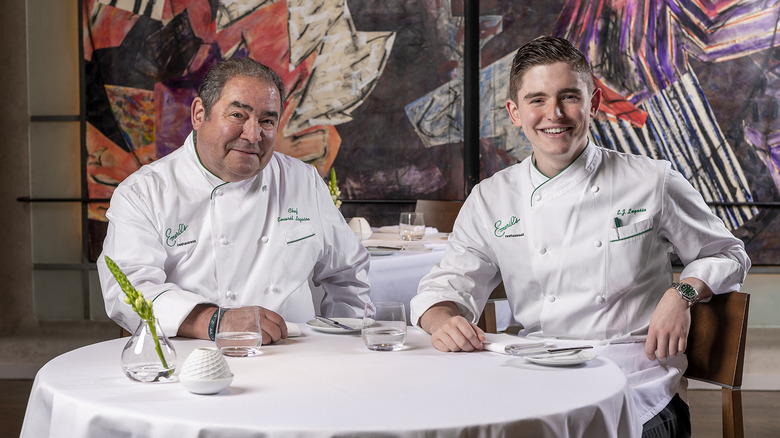 The Emeril Group
An award-winning chef, TV personality, and author of 19 cookbooks, Emeril Lagasse is one of the most well-known faces in the world of food. Always full of energy, Lagasse has opened more than 20 restaurants across the United States over the past 31 years, launching his flagship, Emeril's Restaurant, in New Orleans' Warehouse District in 1990.
Renowned for its elegant approach to Louisiana recipes, Emeril's has become something of an institution over the decades. Now, the restaurant is about to start a new chapter in its history as it undergoes a huge renovation, its first in 33 years, with Lagasse's 20-year-old son, EJ, taking the reins. Having grown up in the kitchen with his dad, and schooled at Johnson & Wales, EJ has traveled the world to gain a culinary education with some of the world's most renowned and respected chefs — including New York City's Daniel Boulud and Eric Ripert. Similarly, EJ has had stints at two Michelin three-star restaurants, Core in London, and Frantzén in Stockholm. 
Now that he has returned home, becoming chef patron of Emeril's in 2022, what are his plans for the restaurant's future when it reopens in the fall? It turns out that the proverbial apple really doesn't fall far from the tree: EJ plans to highlight local flavors with a new twist.
What's next for the Lagasse culinary legacy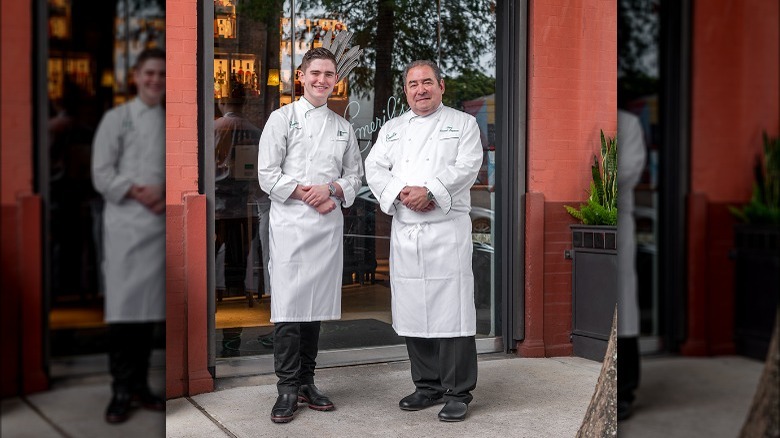 The Emeril Group
The renovation of Emeril's, which had its last service before closure on July 15, 2023, will be substantial, including plans to completely gut the interior of the building, and redesign both the kitchen and dining spaces. Emeril's has enlisted New Orleans architects Rozas Ward and Jem West to create a design that offers "a luxury dining experience through the lens of Louisiana culture," (via Instagram), which Emeril and EJ Lagasse believe will better suit the restaurant's contemporary tasting menu offering.
The new-look Emeril's will hope to honor Lagasse's legacy, as well as the "legacy of culinary arts in Louisiana," according to EJ (per Tasting Table), and to "cultivate a representation of that through the food and through the people in the building and through the story that the food tells." The menus are focused on locally sourced ingredients and independent farming, with classic New Orleans dishes such as lobster with buttered leeks and red wine gumbo, and Potato Alexa, a combination of potato, truffle, and cheese that Lagasse originally invented in the 1990s for the daughter of his friend, singer Billy Joel, and which EJ has modernized and refined.
EJ says that those who are curious will have to wait and see what happens after the renovation. Here's hoping for at least another 33 years of success for the legendary New Orleans restaurant. Bam! 
Static Media owns and operates Food Republic and Tasting Table.