What Makes New Orleans Mac And Cheese A Little Different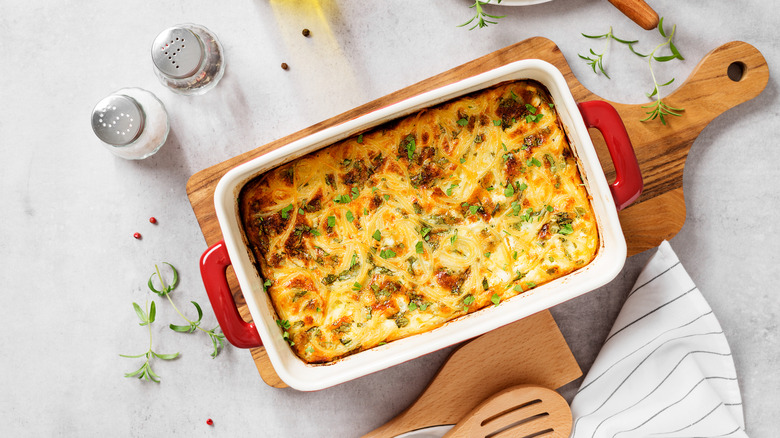 nelea33/Shutterstock
Mac and cheese, a beloved American staple, is a versatile girlie. She's just as welcome at Thanksgiving as she is at a 4th of July cookout, and just about any form of cheese product will get along just fine with this gooey slice of comfort food. Not only does everyone want a piece of her, but everyone wants a piece of her history. Many have claimed the invention of this dish, from Thomas Jefferson's enslaved chef James Hemmings, all the way to the Ancient Romans. Loose interpretations can also be found far outside of the U.S., like the cheesy German hand-rolled noodle dish Käsespätzle, to the lasagna-esque Greek dish Pastitsio.
But the version of mac and cheese served in New Orleans is nothing like any of these, and far from the classic Kraft version we know and love (or, at least, tolerate). What makes NOLA mac and cheese different? It's made with spaghetti. That's right, spaghetti. Or any kind of long noodle, depending on the version. The history of this variation is also murky, but it's beloved in Louisiana, though you'd be hard-pressed to find it elsewhere.
How to make NOLA mac & cheese
New Orleans mac and cheese is crafted from an egg custard made with milk, eggs, and cheese, as well as a classic blonde roux of butter and flour. And it is always baked, while conventional mac and cheese can be made on the stovetop.
As with any other mac and cheese, New Orleans mac has dozens of variations, with cooks using their preferred blend of cheeses, and tweaking the sauce as suits their mood. But in general, it's made in an almost identical fashion to traditional mac and cheese, only with spaghetti subbed in for elbow macaroni. The noodles are usually par-cooked before baking, and a mornay sauce might be used as a base. (This is a type of béchamel sauce that has been thickened with shredded cheese, often gruyère.) Any combination of cheeses can be added in, including mozzarella, sharp cheddar, Parmesan, or even Monterey Jack.
The origins of this unique mac and cheese are likely rooted in the influx of Italian immigrants to New Orleans at the turn of the twentieth century, which made Italian food so prevalent locally that the Lower French Quarter took on the nickname of the "Spaghetti District."
A twist on an old favorite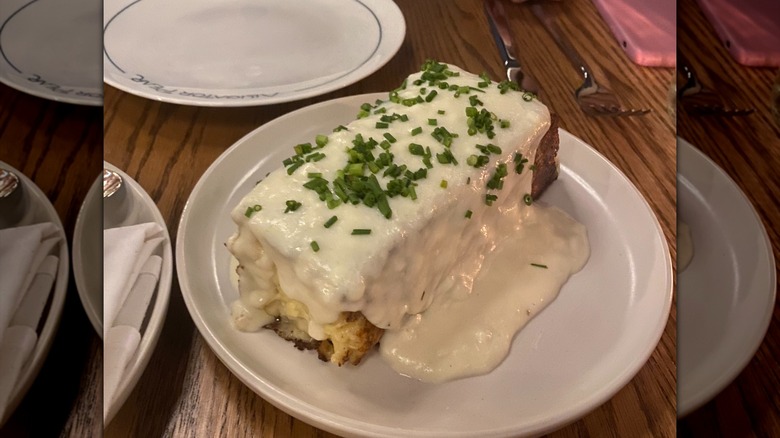 Catherine Rickman/Food Republic
Obviously, this isn't the only version of mac and cheese that exists in New Orleans, and there are plenty of restaurants around where you can get a more traditional slice of cheesy noodles. But if you're at a local's house around Thanksgiving, you might end up eating some of these baked spaghetti noodles.
Alligator Pear, a New Orleans-themed restaurant in New York City, serves an even less traditional version from NOLA native, Chef Dominick Lee. "We use white cheddar, mozzarella, and parm," Chef Lee told Food Republic. "Afterwards we press it to compact it then we cut the portions and sear them all so we have crispiness on all sides. Then we top it with a bechamel that is made from the herb infused milk." The result is a brick of noodles smothered in white sauce, a truly unconventional take on this unconventional mac & cheese. The mozzarella, too, is a bit of a curveball, adding to the creaminess of the concoction.