How To Avoid Soggy Picnic Sandwiches, According To An Expert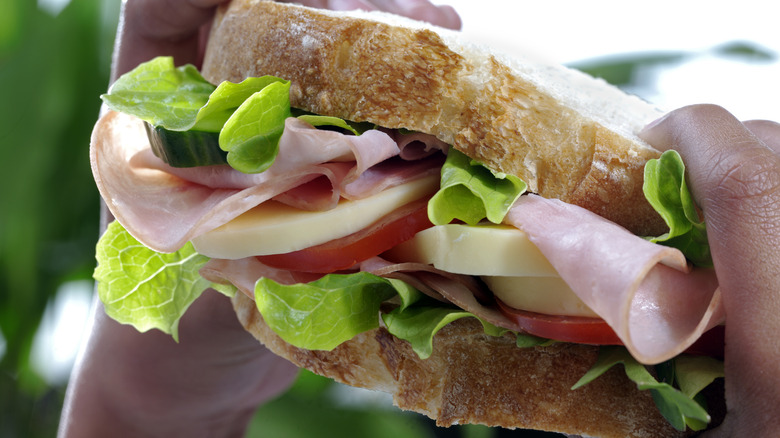 Dianepeacock/Getty Images
Honestly, there isn't anything that brings down the jovial picnic vibe quite like a soggy sandwich. Even the most carefully prepared and wrapped sandwich can turn into a soggy mess by the time you pull it out of your cooler. The good news is that there is still hope for your al fresco lunching. Food Republic asked the head chef of Zingerman's Deli (an Ann Arbor, Michigan institution) Rodger Bowser for his thoughts on soggy sandwich woes. His advice is two-fold — consider the bread and consider the fillings.
Start with a sturdy bread for the base of your picnic sandwich. Bowser recommends a French baguette or a "hearty and dense whole grain loaf." Other crusty breads like ciabatta, whole wheat sourdough, or crisp focaccia would work well too. Definitely hit up a bakery rather than the pre-packaged bread aisle at the supermarket so you can avoid anything too squishy.
What about the sandwich fillings?
Arina P Habich/Shutterstock
Rodger Bowser also likes to keep the sandwich ingredients separate and assemble them at the picnic. "It keeps the food at the peak of freshness and prevents the bread from getting soggy," he told Food Republic. Prep sandwich toppings and pack them in small storage containers. Not only does this mean everyone gets a freshly made sandwich, but you can also set up a build-your-own situation. It's a little less work for you, and everyone gets exactly the sandwich they want.
Choose simple but flavorful ingredients so you don't have to lug a lot of stuff to the picnic. Cured meats like salami, prosciutto, or summer sausage can be layered with sliced provolone cheese and a punchy pickled giardiniera. Flavor-packed tinned fish spritzed with some fresh lemon juice makes a perfect pair with thinly sliced radishes or a handful of peppery arugula. 
Keep it simple with a scoop of make-ahead tuna or chicken salad pressed between two slices of bread, or go French with a classic jambon-beurre, simply meaning ham and butter, baguette sandwich. Amp up the umami and wow factor of an egg or chickpea salad with some vegan nori furikake. Include as many vegetable accouterments as you feel like — cucumbers, salad greens, onion, sprouts, shredded carrots, or tomato. Also, make your life easier by bringing along squeeze bottles of mayonnaise, Dijon mustard, or your favorite salad dressing for easy assembly. Soggy sandwiches, begone!