Have A Baguette Sandwich For Lunch Today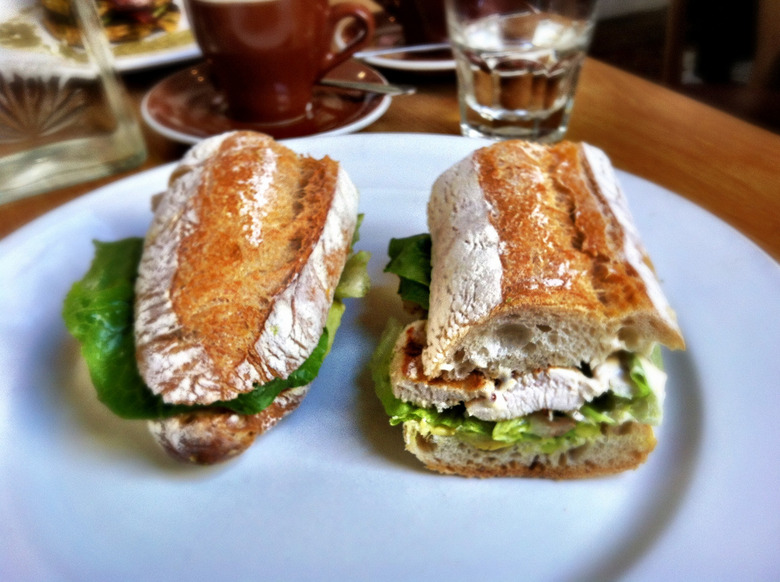 baguette sandwich
I had the great pleasure last night of touring the International Culinary Center in Soho with founder and CEO Dorothy Hamilton. I was there for a dinner showcasing the miracle that is Nova Scotia's rare, seasonal Fourchu lobster (it's the Kobe beef of the crustacean world), which I'll definitely be elaborating on shortly. One part of the tour hit me hard. The bread classroom, home of 130 different flours, stand mixers I could comfortably fit in and the elusive perfect baguette.
Just like one can major in journalism and minor in French (ahem), students at ICC can major in Culinary Arts to become a chef and specialize in bread. I thought that was pretty awesome, but it was the baguettes on the classroom's racks that made me realize this is something worth the extra studying time. Or kneading. However you minor in bread.
Ms. Hamilton passed around the work of that day's bread students for us to sample, and in one second I was transported to France, land of my semester abroad, champions of baguettes. So important are baguettes to France's food culture that the common term for it is "tradition." ICC's version is frequently heralded as the best in the city, maybe in the country. And boy do they make good sandwiches.
The baguette sandwich I lived off for six months in Paris was the classic jambon-beurre — ham, tangy cultured butter, a slice of Emmental and a couple of sliced cornichons. The bread really does lend itself to a ton of sandwich applications. Take your pick:
Get friendly with whoever's selling the best baguettes around — they go fast, even here. Here's a secret: the cross-sections of the resulting sandwiches are Instagram gold.