Hydroviv: Here's What Happened After Shark Tank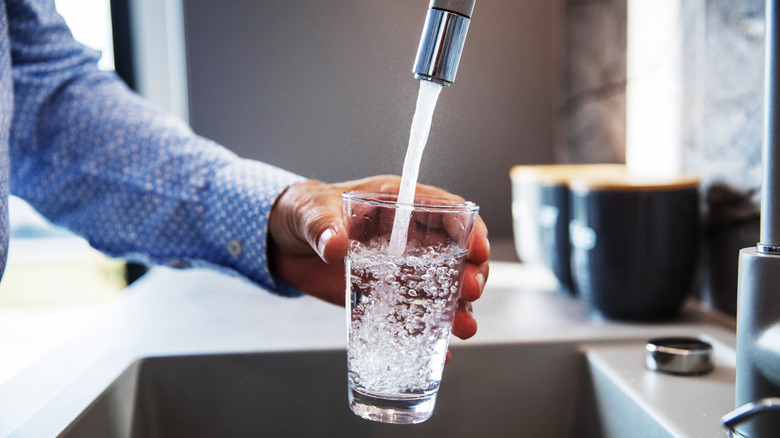 Vitapix/Getty Images
Some entrepreneurs go on "Shark Tank" with a product designed to make life that little bit easier — or more enjoyable. For others, it's about solving a much greater problem, such as making sure people have access to clean, safe drinking water.
Scientist Eric Roy, who received his Ph.D. in oceanography from UMaine, developed his customized Hydroviv filtration system in response to the Flint, Michigan water crisis. Concerned that the consumer-grade water filters distributed to Flint residents would not be designed to handle the high levels of lead found in the water, Roy began designing and making high-capacity lead removal filters, which he then distributed to local families and child-centric organizations.
From this charitable effort, Roy, who was developing technology for the Department of Defense at the time, saw that Hydroviv could help many more people. Tap water varies from state to state, and even zip code to zip code. And it's not just the taste of that first glass of water in the morning which differs — it's the contaminants in it, which may sometimes exceed public health goals. What's in your water depends on many factors, from how old your house is to how close the water source is to industrial sites, farms, and military bases. Hydroviv was designed to remove contaminants that are specific to each area's drinking water, by creating a water quality "fingerprint" using data from a variety of official databases.
What happened to Hydroviv on Shark Tank
Self-proclaimed "water nerd" Eric Roy took his easy-to-install Hydroviv water filtration system to "Shark Tank" season 10, episode 19, which aired in 2019, saying he had seen how poor water quality could "cripple" a community. Seeking $400,000 for 10% of his company, Roy said he had already seen some sales and was hoping to make $325,000 as gross revenue that year, with a forecast to reach $1.7 million the following year. He was looking for help with the sales and marketing of the filter system.
Hiring a new management-level marketing person would not be the best idea, said Mark Cuban, as they would simply spend money in new ways to "prove their value." Barbara Corcoran thought that the person focusing on sales and marketing should be Roy himself, as head of the company. For that reason, she was out.
Cuban, however, offered the $400,000 that Hydroviv was asking for, saying he was interested in products that "do well by doing good," but he wanted a 20% stake in the company rather than 10%. Roy eventually accepted the deal.
Hydroviv after Shark Tank
The "Shark Tank" filming process itself was "disorienting," Hydroviv founder Eric Roy admitted on the company's Instagram. The pitch itself lasted over an hour and was edited down to the few minutes shown on the show, as most segments are. Roy said he was "completely amped up" directly after the recording, and gave the post-show psychologist a "really aggressive" high-five, having secured a deal.
But Roy revealed in a later video interview with Startup to Storefront that the $400,000 on-air deal with Mark Cuban did not actually go through after the show, as both sides thought it would not be "a good fit." Roy said the due diligence process with the teams after the show was "enlightening," and that Cuban's team was "tremendous," but said that they had different visions for the future of the company. The decision was made after several months of working with Cuban's team.
Roy said that after filming "Shark Tank," he started working on Hydroviv's growth, and made his first hire in January 2018. The company saw an immediate spike after the episode aired, and this changed the overall trajectory of the business.
Is Hydroviv still in business?
New Africa/Shutterstock
Despite the "Shark Tank" deal not going ahead, Hydroviv is still in business, selling its under-sink filters, shower filters, and refrigerator line filters, which are effective against PFAS, lead, arsenic, and other contaminants, directly from its own website. The company has received over 7.300 verified reviews, with an average customer rating of 4.9.
With headquarters in Washington Union Market District, Hydroviv builds each bespoke system at its production facility in Knoxville, TN, which it opened following "Shark Tank." After shipping, the company continues to monitor the water quality in the area and will send a free replacement cartridge if any adjustments are needed.
Hoping to discredit conspiracy theories and pseudoscience, Hydroviv's "Water Nerds" also produce regular articles and video content about the quality of water, sharing the findings on the company's blog and YouTube Channel, which currently has over 400 videos available to view. Hydroviv's filters have also been awarded NSF certifications to Standards 42 (aesthetic effects) and 53 (health effects) since the show.
What's next for Hydroviv?
According to LinkedIn, Hydroviv is now part of Culligan International, a water systems treatment company for homes and businesses, with 800 dealers in over 90 countries. Founder Eric Roy, who splits his time between Maine, DC, and Knoxville, is still the Chief Scientist at the company. 
Hydroviv was recruiting new members of staff, in areas from financial and business analysis to production, in April and May 2023, suggesting that its expansion is ongoing. The company was described in one job advertisement as Culligan's fastest-growing, direct-to-consumer business.
Hydroviv is also continuing with the type of charitable work which initially launched the company in the first place. It has worked with the Little Miss Flint Clean Water Fund to help provide water filters to low-income families across the country, and the campaign has so far raised over $739,523. In early 2023, Hydroviv also joined a water filter donation program spearheaded by artist Luke Grimes (Kayce Dutton on "Yellowstone") and the Jeff Ruby Restaurant Group.