Brooklyn's Standard Wormwood Distillery Defines Farm-To-Cocktail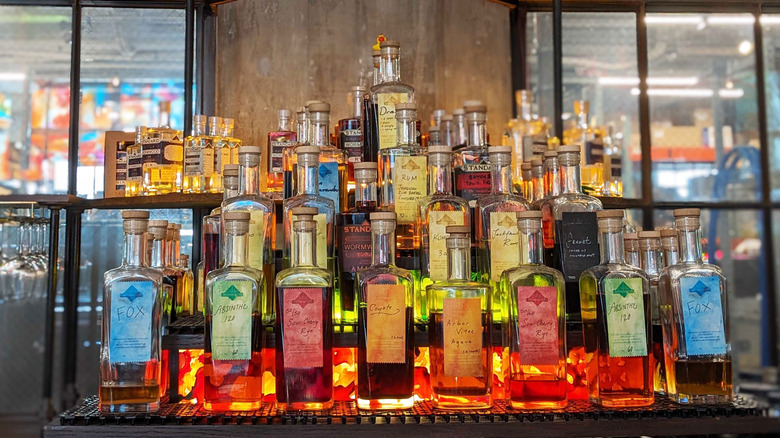 Sasha Selimotic/Standard Wormwood Distillery
The back room of the Standard Wormwood Distillery in Brooklyn's Industry City looks something like a witch's cabinet of potions, filled with shelves and shelves of spirits and brightly colored infusions in mismatched jars and bottles. Large tanks for distillation, with custom attachments jerry-rigged for the distillery's bespoke vapor infusion process, hide behind hanging baskets full of wormwood, the crucial botanical lurking in every spirit and cordial the Standard Wormwood Distillery makes.
There's a reason the distillery has so many odds and ends and mystery macerations — it's because every single ingredient used in their bar is made in-house. The bar, which opens onto a sort of unofficial distiller's row in the Industry City complex, is a mix of new and old school, with stained glass windows and modern wooden finishes. Its cocktails are the same, a mélange of classics and innovative experiments, crafted with painstaking attention to detail by owners and distillers, Taras Hrabowsky and Sasha Selimotic.
Unique wormwood spirits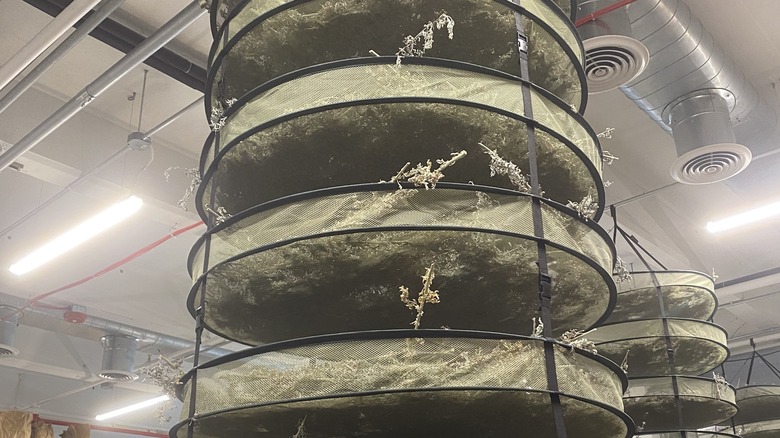 Catherine Rickman/Food Republic
The story of Hrabowsky and Selimotic dates back decades. The childhood friends started distilling absinthe in the living room of their Bushwick apartment in 2006, the year before absinthe was legalized in the States. They used Artemisia absinthium, which grew plentifully on Hrabowsky's family farm in upstate New York, to concoct a variety of unusual spirits, like gin, rye whiskey, and tequila, all flavored with the once-illicit wormwood. "Wormwood is in all of our spirits through how we distill, but we use the family of wormwoods in a number of different ways in the post-distillation," Selimotic told Food Republic. "In order to do this, we grow varietals that cannot be sourced and push more obscure and interesting flavors though making hundreds of bitters/macerations with the extended family of wormwoods."
This DIY spirit served them well when they began the cocktail program with the launch of their Industry City bar in 2019, allowing them to project cocktail ideas from inception all the way through to that final Sazerac or Old Fashioned.
"We have the range to either adhere to tradition or depart from it," Hrabowsky explains. "We choose to create our version of what cocktails and spirits can be, beginning to end, regardless of categories."
Everything from scratch
Sasha Selimotic/Standard Wormwood Distillery
You can order a negroni at the Standard Wormwood Distillery, but you won't find a bottle of Campari or Dolin sweet vermouth anywhere on the premises. Instead, all drinks are made using ingredients produced onsite. Some, like the rose aperitivo (the Campari substitute, though not meant in any way to be a Campari copycat), are always on the menu and are even available for sale. But other ingredients, like the spring or summer shrub, take advantage of seasonal produce to keep things fresh. And you can always ask to try things that are off the menu since Hrabowsky and Selimotic are constantly improvising with new flavors and ingredients.
"Our cocktails taste like nothing else because they can't be made anywhere else," Selimotic said in a recent press release. In a statement to Food Republic, the team writes, "Since all are made in-house, they are [all] exceptional and very unique."
Popular cocktails include the wolf (an old fashioned with wormwood rye and wormwood amaro), the seasonal margarita (which highlights their wormwood agave alongside seasonal ingredients), and the white negroni (which uses the distillery's juicy, inimitable meadow aperitivo, with notes of watermelon, honey, and wormwood).