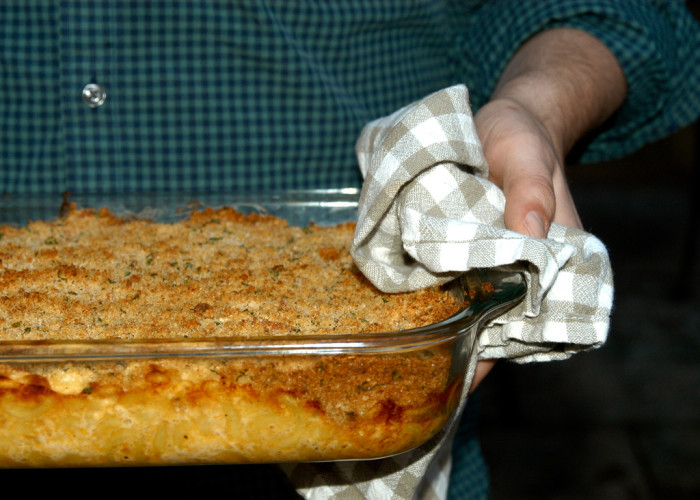 At Food Republic, we aim to provide you with recipes that even a kitchen rookie can master, thus our category called "The Basics." These are dishes we feel every cook should have a strong grasp of before venturing on to tackle more intense and advanced recipes. The best culinary schools in the world work in much the same way. You start by learning basic knife skills, simple ratios, and the mother sauces that can then be applied to a plethora of recipes and transformed into an endless array of dishes. After you get through "The Basics" you'll have the knowledge to transform these dishes into so much more.
The trick with a basic mac-n-cheese is to achieve that Zen-like balance of melted cheese and soft noodle goodness. Then to bring it on home, there's gotta be a nice little crunch, brought on by a subtle dusting of breadcrumbs. It's tricky at first, and it might take a few stabs before you get it right, but once you do, you'll never go back to the box (unless you're in a hurry). Oh yeah, if you really want this dish to rock, head over to our how-to make bechamel sauce primer. Good luck, gentlemen.
Is your mac-n-cheese better? Really? Shut up! No, seriously, tell us why in comments.
Ingredients
1

pound

macaroni

1

cup

seasoned breadcrumbs

8

tablespoons (1 stick)

unsalted butter, half melted

3

tablespoons

flour

3

cups

milk, warmed

9

ounces

cheddar cheese, shredded
Directions
Preheat the oven to 350 degrees F.
Fill a large pot with water and bring to a boil. Add a hefty pinch of salt, then add the pasta. Cook according to package instructions until al dente.
Drain the pasta, return to the pot, and add 1 tablespoon butter. Toss to coat and set aside.
Add the melted butter to the bread crumbs. Combine with a fork, encouraging clumps to form. Set aside.
In a heavy bottomed 2-quart saucepan, melt 3 tablespoons butter over medium heat. Add the flour and whisk to combine, cooking for 3 to 5 minutes, until blond and bubbling. Stir constantly, and do not let brown.
Add a little of the warm milk and whisk to combine. The mixture will look like scrambled eggs. Slowly add the remaining milk in a steady stream, stirring with a whisk to combine. Cook, stirring constantly, until thickened, about 6 to 8 minutes.
Remove the bechamel from the heat. Add the salt and pepper, and stir to combine. Fold in 6 ounces of the cheese. Add to the pasta and fold to combine.
Pour into a 9-by-13-inch glass casserole dish. Sprinkle the remaining 3 ounces of cheese over top evenly. Finish off by spreading the breadcrumbs on top, creating an even coating.
Bake in the oven for 30 minutes, or until hot and bubbly and the bread crumbs have turned golden brown. Let stand 5 minutes and serve.