Smoky Dry Rib Rub Recipe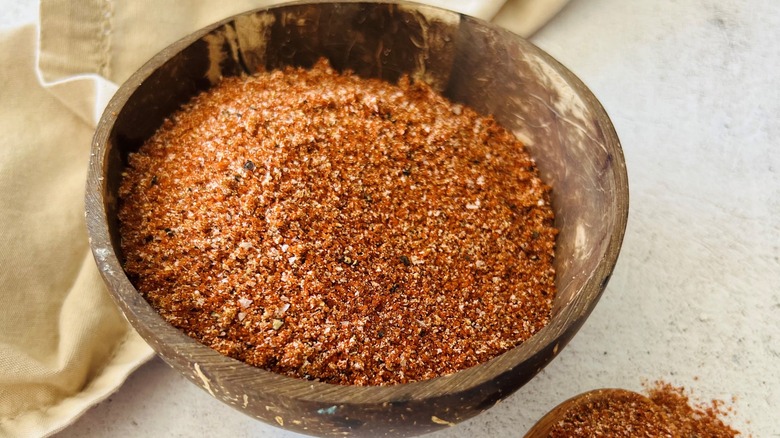 Julianne De Witt/Food Republic
When it comes to seasoning a rack of ribs, it's easy to draw a blank on what spices to use. There are so many types of rubs out there, with some leaning on the sweeter side and others leaning on the spicy side, that it can be difficult to decide which flavor profile to go with. For those who stress over seasoning for their ribs, stress no more! Thanks to this smoky dry rib rub recipe from developer Julianne De Witt, you don't have to decide or settle on a seasoning blend ever again. As the name suggests, you'll find smoky flavors in this blend, along with sweet notes and savory ones, too.
If you don't want to take our word for just how flavorful this seasoning rub is, then perhaps you'll be more inclined to take De Witt's word. "This rub is the perfect blend of sweet and savory," she describes, adding, "It's quick and easy to prepare and makes your ribs taste next-level delicious." Best of all, you can whip up this rub in a matter of minutes and store it in your pantry for future use, so it'll be ready to go the next time you have a hankering to grill up some ribs.
Gather the ingredients for this smoky dry rib rub
Julianne De Witt/Food Republic
There are a handful of seasonings that you'll need to throw together this rub, and there's a good likelihood that many of them are already sitting in your spice drawer. You'll need salt, black pepper, brown sugar, garlic powder, onion powder, smoked paprika, and chipotle powder. "To get that smoky finish, I've added ground chipotles and smoked paprika," De Witt says of her unique inclusions.
Combine the brown sugar and seasonings in a bowl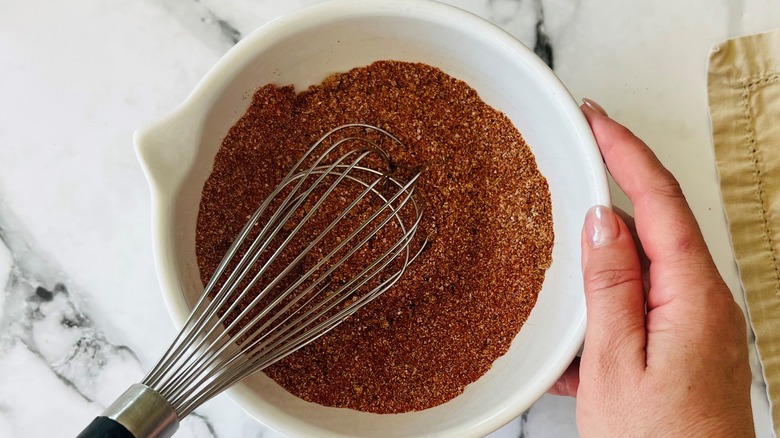 Julianne De Witt/Food Republic
There's really only one step in this recipe, which is to mix everything together. Add the brown sugar and all seasonings to a bowl, then use a whisk to combine them.
Use this smoky rub on ribs and other proteins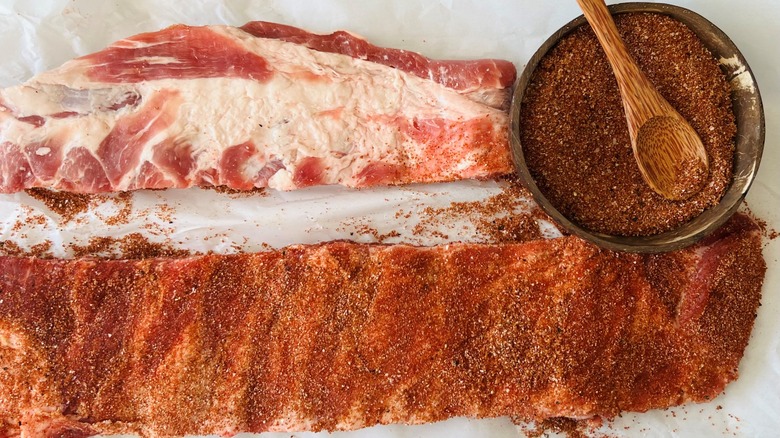 Julianne De Witt/Food Republic
As we've already covered, this rub is especially delicious on ribs, as it enhances the flavor of the meat while adding smoky, sweet undertones that happen to pair well with barbecue sauce. Of course, you're certainly not limited to just ribs when it comes to using this rub. "This rub would also be amazing on brisket and sprinkled on salmon," De Witt suggests.
Store the leftover rub in your pantry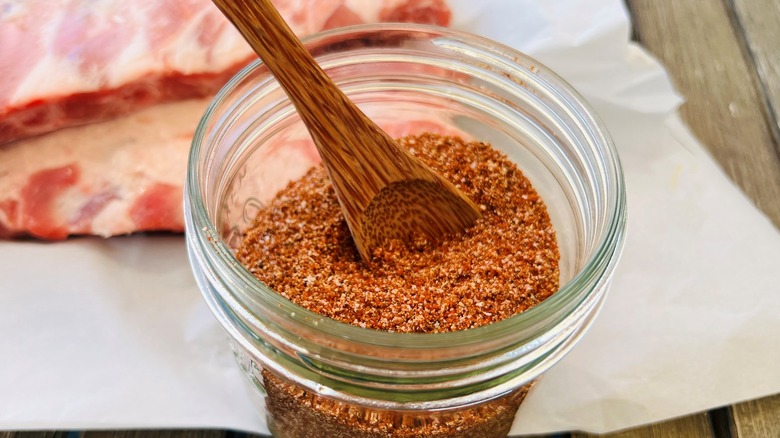 Julianne De Witt/Food Republic
This recipe yields enough to season about four racks of ribs, so there's a good chance you won't use it all up in one go. Luckily, you can easily store leftovers as you would other spices. "If sealed in a glass mason jar and kept in a cool, dry place, it will last for up to 6 months," De Witt advises. 
Smoky Dry Rib Rub Recipe
With ground chipotles and smoked paprika, this dry rib rub offers the perfect blend of sweet and savory.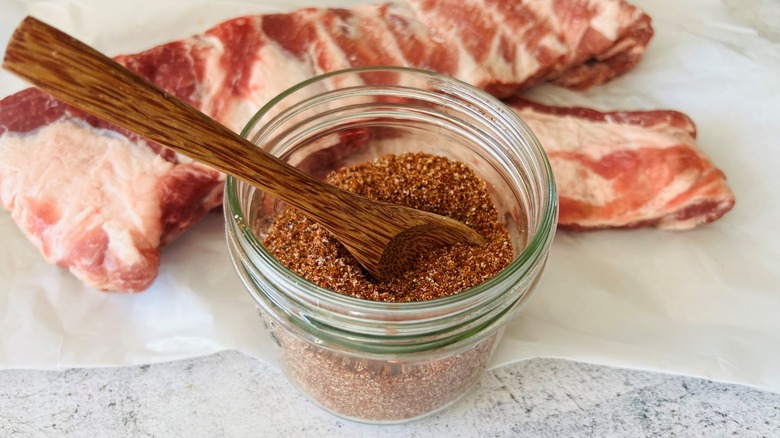 Ingredients
½ cup brown sugar
¼ cup kosher salt
1 tablespoon black pepper
2 tablespoons garlic powder
1 tablespoon onion powder
3 tablespoons smoked paprika
1 tablespoon chipotle powder
Directions
Add all of the ingredients to a bowl and mix until combined.
Store in a sealed container in a dry, cool place until ready to use.
Nutrition
| | |
| --- | --- |
| Calories per Serving | 230 |
| Total Fat | 2.1 g |
| Saturated Fat | 0.4 g |
| Trans Fat | 0.0 g |
| Cholesterol | 0.0 mg |
| | |
| --- | --- |
| Total Carbohydrates | 55.0 g |
| Dietary Fiber | 7.2 g |
| Total Sugars | 37.0 g |
| Sodium | 155.9 mg |
| Protein | 4.3 g |