Make Tender BBQ Ribs At Home (No Smoker Required)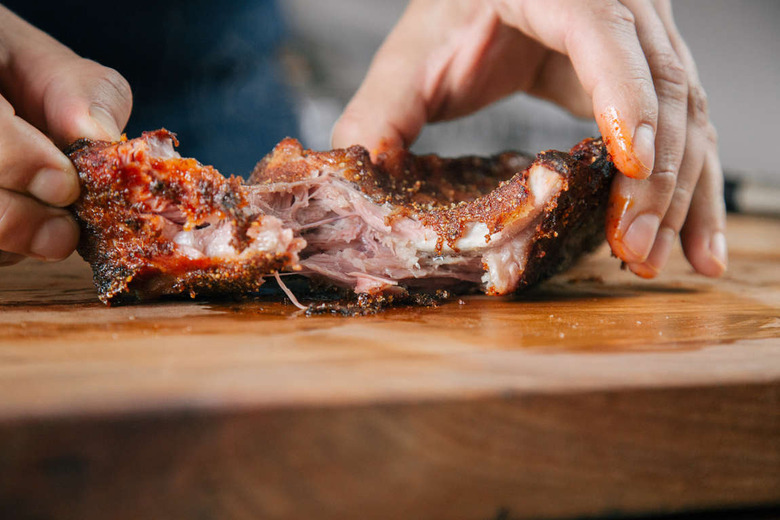 If you're anything like the typical urbanite, your cooking capabilities are generally limited by the square footage of your home kitchen. For aficionados of true wood-smoked barbecue, this can be a problem. Hulking traditional smokers and big-city apartment dwellings simply don't mix. Even the smallest-sized Weber Smoky Mountain is too big for the average New York City apartment. You could try to set it up  on your fire escape, but your super, condo association or coop board — not to mention the fire marshal — is bound to have an issue with that.
There is hope, however, for city folks who want to whip up some good-quality 'cue at home. All you need is some liquid smoke and one of these babies: the Food Republic-tested Joule, your at-home sous vide solution. Our friends at ChefSteps recently updated their long-standing recipe for "Apartment Ribs" to make good use of this impressive new device by slow-cooking pork ribs in a warm-water bath, a method no pesky neighbor could reasonably have a problem with. Check out the mouthwatering video and full recipe below.
Servings: 2 full racks of ribs
Timing: About 4 hours and 30 minutes
Ingredients: 
150 grams salt
5 grams pink salt
150 molasses
75 grams liquid smoke
2 baby back rib racks
100 grams paprika
50 grams yellow mustard seed
30 grams garlic flakes
25 grams black pepper
10 grams onion flakes
10 grams cumin
200 grams brown sugar
Equipment:
sous vide setup
ziplock bags
brush
spice grinder
Directions:
1. Preheat Joule to 162° F / 72° C
2. Prepare the salt mixture by combining salt and pink salt together in a bowl. Make sure they're totally combined, or you might end up with spots that are more or less cured than others. Not the end of the world, you understand, but not entirely pleasant, either.
3. Prepare a smoky glaze by combining molasses and liquid smoke in a bowl.
4. Remove the thin, translucent membrane on the bottom (concave) side of the rib rack. Use a dry towel or paper towel to grip it at one end, and peel it back to remove.
5. Season each rack with 1 percent of its weight in the salt mixture from above. Be sure to apply it evenly so you get the curing salt over the entire surface. Let seasoned ribs rest for about 10 minutes to let the salt start doing its thing.
6. Brush the ribs all over with the liquid smoke and molasses. Reserve the remaining glaze—you'll be using it again.
7.  Place the ribs in ziplock-style bags and cook for four hours at 162° F / 72° C. [Note: If you're using gallon-sized ziplock-style bags, you'll need to cut each rack in half and put both halves in one bag. Stick with one rack per bag so everything will cook evenly.]
8. Make the rub. Run each of the spices through a grinder set to a coarse grind. Combine ground spices with brown sugar and salt in a small bowl, and mix well.
9. Take the bags out of the water and set them on the counter. Allow to cool briefly so they're easier to work with.
10.  Preheat your oven to 400° F / 204° C. You're going to finish the ribs with a quick stint in the oven, where they'll get all crusty and barky just before dinnertime.
11. Brush ribs again with glaze.
12. Sprinkle the ribs all over with the rub.
13. Place all the ribs on a sheet pan and let them crisp up in the oven until they're bubbly and delicious, about 5-10 minutes.
14. Pull those ribs out of the oven, cut 'em up, and serve!
ChefSteps comprises a team of award-winning chefs, filmmakers, scientists, designers and engineers focused on revolutionizing the way people cook by inspiring creativity and encouraging expertise in the kitchen. You can also get access to all of ChefSteps' Premium content — including paid classes and dozens of recipes available only to Premium members for a onetime fee — for the special price of $24 (regularly $39). Classes include Sous Vide: Beyond the Basics, Fluid Gels, French Macarons and more!