Obama Family Chef Tafari Campbell Found Drowned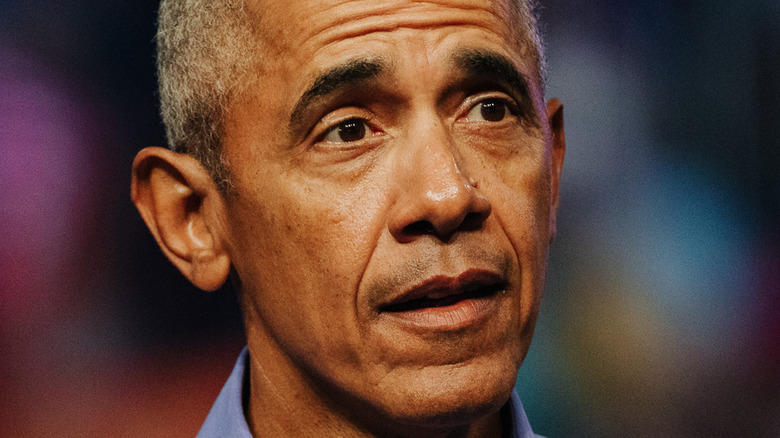 Bloomberg/Getty Images
Tafari Campbell, who had a long history of working as a White House sous chef and a personal chef for the Obamas, was found drowned in a paddleboarding incident at Edgartown Great Pond in Martha's Vineyard early morning on Monday, July 24. The Massachusetts State Police were first alerted of an incident at roughly 8 pm on Sunday when a report of "a male paddleboarder who had gone into the water, appeared to briefly struggle to stay on the surface and then submerged and did not resurface" was made to the emergency services by another paddleboarder (via MSP News).
A 12-hour hunt by the Coast Guard, fire units, and state police led to the recovery of the male paddleboarder — later identified as the Obamas' 45-year-old family chef, Campbell, who was visiting Martha's Vineyard — about 100 feet off the coast of the pond in waters that were eight feet deep. While the Obamas own a sprawling 29.3-acre property right on the coast of the Edgartown Great Pond where Campbell drowned, they were not in residence at the time of the incident. The state police are currently investigating the matter — but so far, Campbell's death is believed to have been an unfortunate accident.
Campbell was considered family by the Obamas
The Obamas first met Campbell when he was working as a sous chef at the White House during their administration. In a statement released to CNN, the Obamas said that "when we first met him, he was a talented sous chef at the White House — creative and passionate about food, and its ability to bring people together." Impressed by his cooking during their eight-year term, the former President and First Lady invited Campbell to continue working with them as their family chef — a position he held until his untimely death. "When we were getting ready to leave the White House, we asked Tafari to stay with us, and he generously agreed. He's been part of our lives ever since, and our hearts are broken that he's gone," the Obamas said in the statement. They went on to add that "Tafari was a beloved part of our family."
Among his many achievements, Campbell reportedly played a role in the making of the first alcohol to ever be brewed or distilled in the White House in 2012 — White House Honey Brown Ale — which used honey produced by the beehives on the South Lawn. The Obamas sent their condolences to Campbell's family in a joint statement, adding that "Today, we join everyone who knew and loved Tafari — especially his wife Sherise and their twin boys, Xavier and Savin — in grieving the loss of a truly wonderful man."