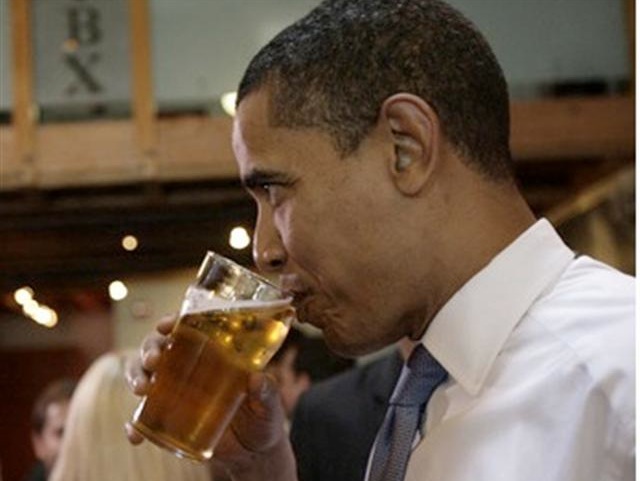 Gone are the days of President Clinton's fast food glorification. Now the White House is dabbling in home brews, Ann Romney is baking homemade Welsh cakes for the press and Food Republic's own Marcus Samuelsson served avocado banana smoothies to exhausted RNC-goers. The national obsession with all things culinary hasn't left politics untouched, and as this year's presidential campaign revs up, so does the food coverage.
President Obama's love of chili and the First Lady's weakness for fries have been meticulously documented for the last four years by Eddie Gehman Kohan of Obama Foodorama — a site dedicated to the Obamas' every bite. But recently, the president's appreciation of good beer— Obama may drink Bud at the Iowa State Fair, but on "Ground Force One" he sips the White House home brew — has sparked an online petition with over 10,000 signatures to get the White House to release its secret home brewing recipe.
The petition declares, "In keeping with the brewing traditions of the founding fathers, home brewers across America call on the Obama Administration to release the recipe for the White House home brew so that it may be enjoyed by all."
To the delight of amateur home brewers nationwide, Press Secretary Jay Carney has promised to release the recipe on September 17 if the petition has 25,000 signatures. Adding to the anticipation, the President confirmed during Wednesday's Reddit.com live chat that the White House Honey Ale was indeed "tasty." You can bet the team behind the White House knows a thing or two about hops.
Come November, if Mitt Romney is elected to office, it's safe to say there would be no home brewing in the White House (thanks to Mormon bans against tobacco, alcohol and hot drinks). So leaving out beer and coffee — what might the Romneys' diet look like? According to NPR's The Salt, a traditional Mormon diet resembles what you often hear Brooklyn gourmands touting. Namely, lots of "good food" including locally sourced seasonal vegetables and fruits, an emphasis on homemade cooking and a devotion to canning.
And with alcohol and coffee off the table, sugar steps in as the number one indulgence. The Salt notes that Mormons have a well-earned reputation for being excellent bakers, a talent which Ann Romney is already exploiting as she tries to woo the press. On the plane down to Tampa for the convention, Ann Romney treated reporters to her family's Welsh cakes, which NPR White House correspondent Ari Shapiro approvingly referred to as a cross between shortbread and a scone.
As the Presidential race picks up speed we anticipate seeing more Romney family recipes come out of the woodwork. In the meantime, you can try your hand at the Romney Welsh cake recipe and come September wash it down with an Obama home brew in a true show of bipartisanship.