Barbecue Brisket And Cowboy Butter Recipe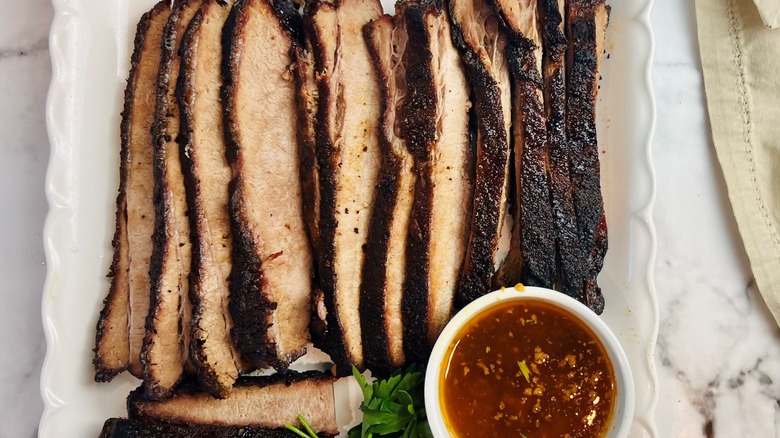 Julianne De Witt/Food Republic
Fans of barbecue can rejoice over this brisket recipe, which features the tender meat alongside a zesty cowboy butter. "Brisket has a dense meaty flavor and, when cooked low and slow, it becomes tender and melts in your mouth," recipe developer Julianne De Witt describes. This cut is also rather large, so, as she also points out, it "feeds a crowd." That being said, the leftovers can be repurposed in soups, sandwiches, tacos, and chili. If several pounds of meat still sounds like an awful lot to use up before it goes bad (De Witt estimates it will last for maybe four days in the fridge), it can also be frozen.
De Witt has a few tips when it comes to smoking brisket. For starters, she likes to use mesquite as the smoky flavor pairs well with red meat, although she does say that hickory or apple wood chips can be used if preferred. She also notes that if your grill lacks a smoker box, you can simply wrap a handful of wood chips in foil, then poke some holes on top of the packet and stick it on the hot side of the grill. Once the wood starts smoking, put the meat on the cold side (indirect heat) and cook as per the recipe directions. Keep an eye on the foil pack of wood chips, though, and replace it when it stops smoking.
Round up the ingredients for the barbecue brisket and cowboy butter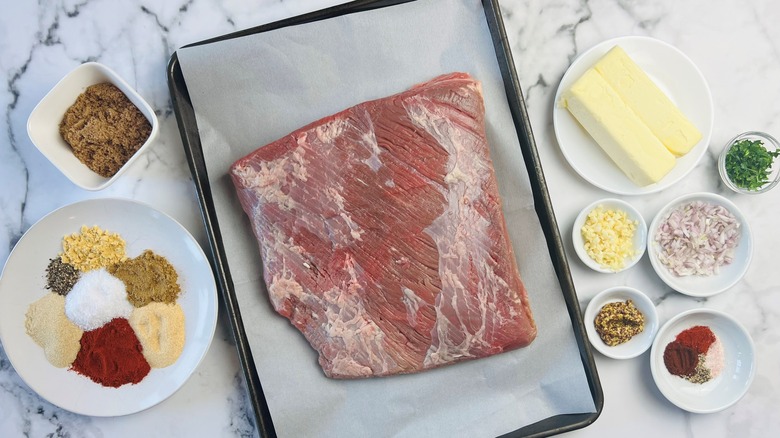 Julianne De Witt/Food Republic
In addition to the brisket itself, you'll need smoked paprika, garlic powder, onion powder, salt, pepper, ground mustard, cumin, and brown sugar to season it with. For the cowboy butter, a trendy condiment that De Witt describes as being "all over on Instagram and TikTok a while back (though it's no relation to cowboy hotdogs or cookies) you'll also need butter, fresh garlic, a shallot, ground chipotle, mustard, and Italian parsley.
Season the brisket with dry rub
Julianne De Witt/Food Republic
Mix all of the brisket seasonings and sugar, then rub half the mixture over the top of the meat. Turn it over and rub the rest of the seasonings into the other half. Wrap the brisket in plastic, then stick it in the fridge for at least 5 hours, although 8 to 12 would be even better if you can swing it. Before you cook the meat, though, you'll need to take it out of the refrigerator and let it sit at room temperature for an hour.
Smoke the brisket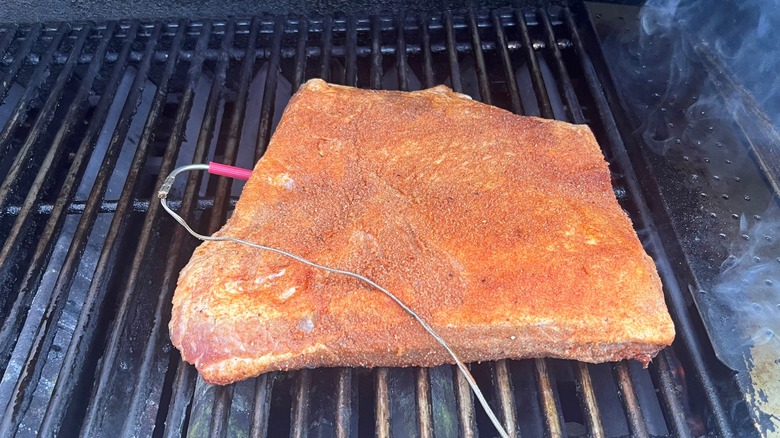 Julianne De Witt/Food Republic
As the meat is warming up, you'll need to soak about 4 cups of mesquite chips in enough water to cover them. They'll soak for an hour, then you'll drain them and stick them in the smoker box. Set the grill to heat up to 225 F, then, as the chips start to smoke, turn off one of the grill burners.
Stick a thermometer probe where the brisket is thickest, then plop it onto the cool side of the grill with the fatty side facing up. Smoke the meat for about 5 hours or until the thermometer reads 195 F. De Witt does caution, though, that "Sometimes when cooking brisket, [you] may you encounter what is know as the 'stall' when the meat reaches about 150 F and just doesn't budge." In this case, she recommends wrapping the meat in foil and then continuing to cook it until the temperature rises to where it needs to be.
Make the cowboy butter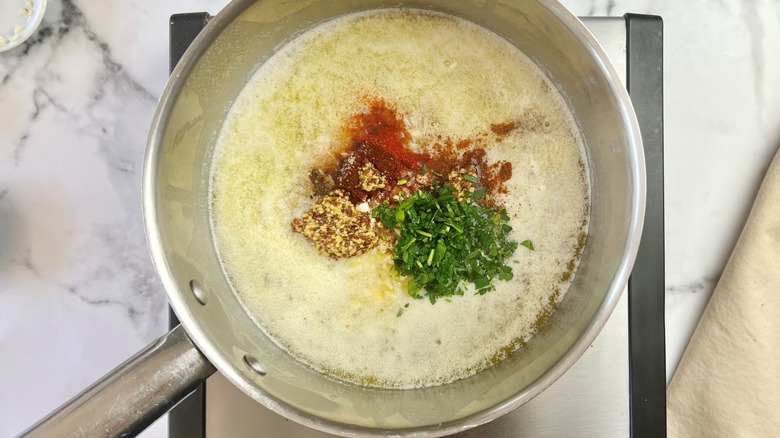 Julianne De Witt/Food Republic
When the meat is done cooking, cover it with a foil tent and let it sit and rest for half an hour before slicing it against the grain.
Melt the butter, then stir in all of the seasonings to "cowboy"-fy it. If the meat still needs to rest longer, keep the butter warm so it stays liquid. Pour it over each slice of meat before you eat it. Any leftover butter. like the brisket, can be stored in the refrigerator, although De Witt advises it'll only last a few days. She does say, though, that it goes well with other meats such as ribs or chicken.
Barbecue Brisket And Cowboy Butter Recipe
This barbecue brisket cooks to slow perfection and pairs with a rich cowboy butter.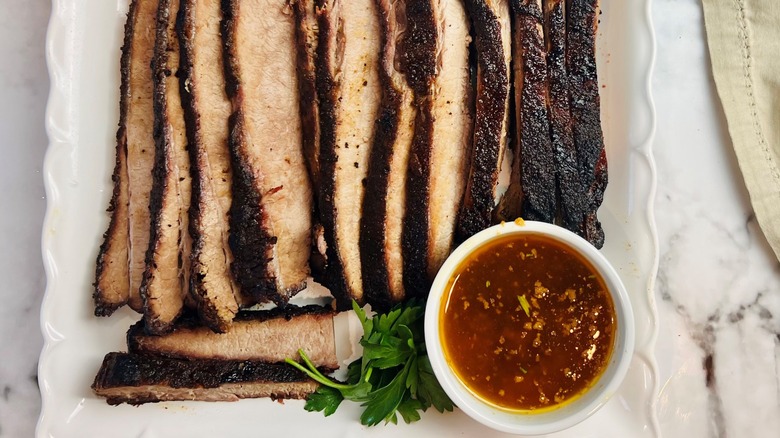 Total time: 11 hours, 35 minutes
Ingredients
For the Brisket
1 tablespoon smoked paprika
1 tablespoon garlic powder
1 tablespoon onion powder
1 tablespoon kosher salt
2 teaspoons ground black pepper
2 teaspoons dried mustard
2 teaspoons cumin
½ cup brown sugar
1 (4-pound) brisket, trimmed
For the cowboy butter
1 cup butter
3 cloves garlic, minced
1 shallot, minced
½ teaspoon smoked paprika
½ teaspoon ground chipotle pepper
½ teaspoon salt
¼ teaspoon ground black pepper
2 teaspoons whole-grain mustard
1 tablespoon Italian parsley, minced
Directions
To make the rub, add the paprika, garlic powder, onion powder, salt, pepper, mustard, cumin, and brown sugar to a medium-sized bowl.
Place the brisket on a large sheet pan and add half of rub mixture to the top of the brisket. Rub evenly over the surface of the meat. Flip brisket and repeat with the other half.
Cover the brisket with plastic wrap and refrigerate for a minimum of 5 hours, ideally overnight.
Remove the brisket from refrigerator and set on counter for 1 hour to bring to room temperature.
Meanwhile, place about 4 cups mesquite wood chips in a large bowl and cover with water for 1 hour, then drain.
Add the wood chips to the grill's smoker box and heat the barbecue to 225 F. When the chips begin to smoke, turn off one burner. Insert a probe thermometer into the thickest part of the brisket, and place the brisket fat side up on the cool side of the barbecue.
Continue cooking until the meat reaches 195 F, approximately 5 hours.
Transfer brisket to a large cutting board and tent with aluminum foil. Let rest 30 minutes.
While the brisket rests, prepare the cowboy butter. Add butter to a medium saucepan over medium-low heat. When butter is melted add remaining ingredients and stir to combine. Keep warm.
Slice brisket against the grain and serve with cowboy butter.