Giddy Up! Try This Cowboy Hot Dogs Recipe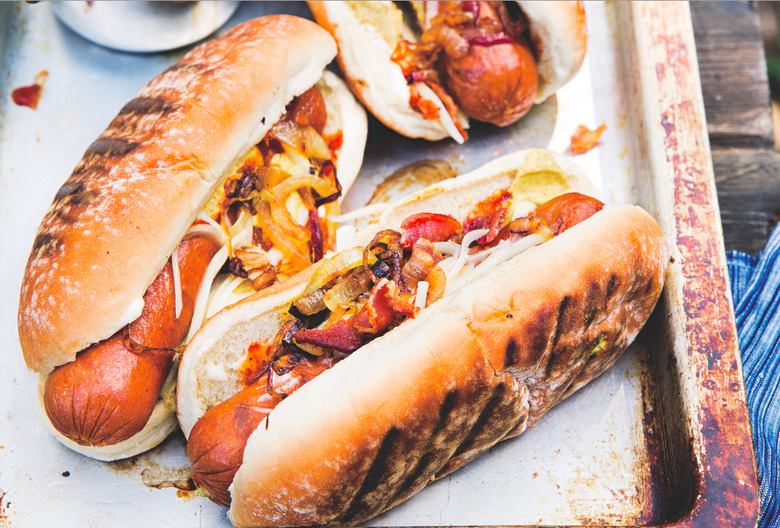 Photo: Sunset Magazine
We may receive a commission on purchases made from links.
If there's one magazine that publishes great cookbooks, it's California-based Sunset. Their simple, fresh and flavorful recipes come from all over the western United States, but will find their way into your repertoire no matter where you are. Need a go-to hot dog recipe? This one balances lean bison franks with bacon, caramelized onions and barbecue sauce.
"The aroma of caramelizing onions builds anticipation for these over-the-top bison dogs, loaded with the onions — plus bacon and barbecue sauce."
Reprinted with permission from Sunset The Great Outdoors Cookbook
Giddy Up! Try This Cowboy Hot Dogs Recipe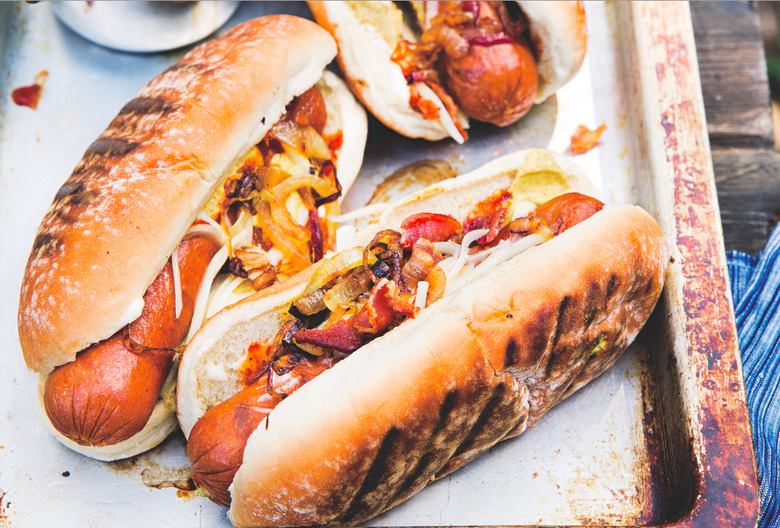 Ingredients
1 tablespoon olive oil
1 large yellow onion
4 bison or other hot dogs
4 potato hot dog buns
6 tablespoons mayonnaise
2 tablespoons spicy brown mustard
4 tablespoons barbecue sauce
1/2 cup white cheddar cheese
6 slices cooked bacon
Directions
Heat oil in a large frying pan over medium heat on a camp stove, or over a charcoal or wood-fired grill heated to medium (350°; you can hold your hand 5 inches above cooking grate for only 7 seconds).
Add onion and cook until deep golden and very tender, stirring frequently, about 20 minutes.
Meanwhile, if you don't already have it going, heat a charcoal or wood-fired grill to medium (see step 1).
Grill hot dogs until slightly charred all over, about 6 minutes, turning occasionally.
Add buns and grill, turning frequently, until warmed and lightly charred, about 3 minutes.
Spread buns with mayonnaise and drizzle with mustard and barbecue sauce.
Set hot dogs in buns. Sprinkle cheese on top, followed by caramelized onions and bacon.
Hot Dog Upgrade! Here's Your Victory Dogs Upgrade
Footlong Kimchi Hot Dog Recipe
Marc Murphy's Sloppy Dogs Recipe