Vanilla Salt Is The Balancing Seasoning Your Pantry Needs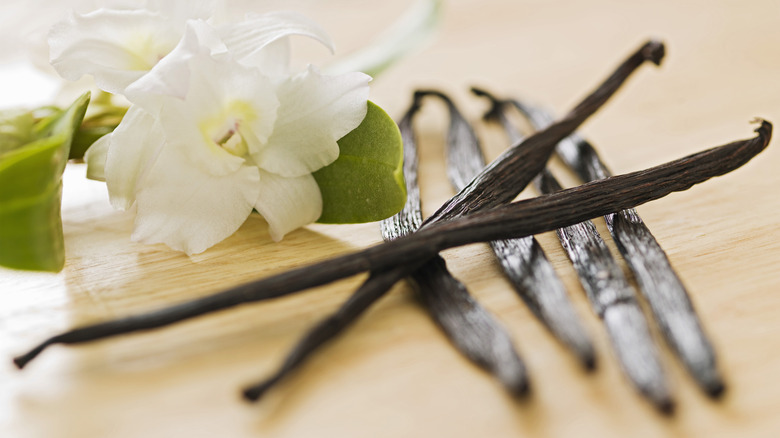 Jupiterimages/Getty Images
We may receive a commission on purchases made from links.
Salt has come a very long way since its humble beginnings. Take, for example, the ancient Egyptians, who used a salt-like substance called natron in a range of applications, from preserving dried fish to even dehydrating mummies. Although the latter sounds anything but appetizing, today, table salt is a go-to seasoning in kitchens around the world. The white, mouthwatering mineral has even gotten a few upgrades along the way, and vanilla salt is arguably the best of all. 
Equal parts sweet and savory, vanilla salt is a simple concoction of — you guessed it — salt (typically sea salt) and earthy vanilla beans. And if you can't find it in a store near you, it's luckily effortless to make. Simply grind sea salt and vanilla bean seeds with a mortar and pestle, store the mixture in a glass container to allow the vanilla to permeate the flakes, and voila! Your vanilla salt is complete and ready to be added to anything your stomach desires. So, what are the best places to use it (or find it if you don't want to make it yourself)?
How to elevate your meals with vanilla salt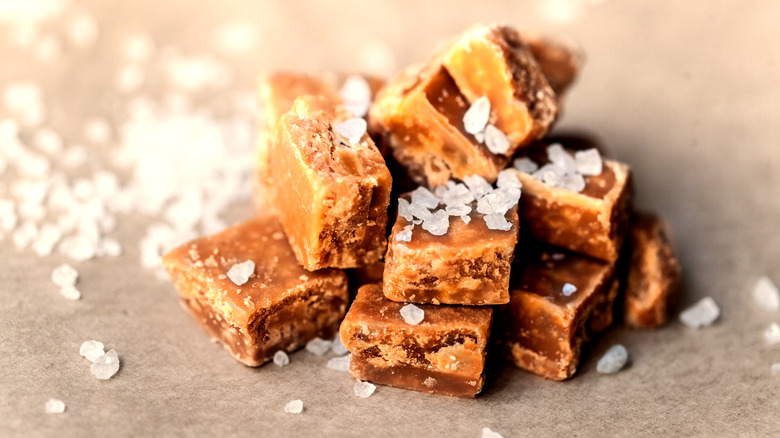 NataliaZa/Shutterstock
Whether you're a seasoned chef or a newbie in the kitchen, you may already be using flavored salts like garlic salt, truffle salt, or lemon salt to amp up the flavor, color, and texture of meals. And without a doubt, vanilla salt is also deserving of a spot on your spice rack. Why? Because salt and sweetness combine to create a layered flavor that is scientifically proven to be greater than the sum of its parts. There is even evidence, per the Proceedings of the National Academy of Sciences, that salt enhances the activity of certain sweet taste receptors.
Giving your meals a delectable boost with vanilla salt is easy. Of course, the most obvious use of the sweet-and-savory mixture is in tasty desserts like soft and chewy chocolate chip cookies – as a replacement for salt in the recipe or as a topping. From fudge-filled and frosted delights to decadent caramel treats and even ice cream, vanilla salt can be used to elevate the flavor profile of your favorite sugary indulgences.
But vanilla salt can be used to take your savory dishes to the next level, too; don't be afraid to load up some lobster rolls or meat marinades with this flavorful seasoning. Or move beyond food altogether and use it to add a subtle creamy note to a range of beverages, from your morning vanilla oat latte to a vanilla salt-rimmed cocktail (or mocktail) after dusk.
Where to buy vanilla salt
If you're not keen on making your own vanilla salt, fret not! Although it's not as widely available in stores as its similarly-flavored cousin, vanilla sugar, you can still find a package of vanilla salt on the (virtual or literal) shelves — you just have to know where to look.
Vanilla salt from companies like Spices for Less and Tahitian Gold are available on Amazon. Or shop a number of specialty spice brands, like Beanilla, which has a 3.5-ounce jar available online for $16.54. The all-natural, non-GMO mixture is made from "hand-harvested sea salt from France, combined with premium ground vanilla beans of Tahiti and Papua New Guinea." Also made with Tahitian vanilla, Hepp's Salt Co.'s vanilla bean sea salt sells for $8.25 for a 2-ounce jar. Or, try Flour & Herbs' Bourbon Vanilla Sea Salt, which runs $12.99 for a 4-ounce bottle. The prices may sound a bit steep, but Flour & Herbs suggests you get your money's worth over the 10-year shelf life they claim for their product.
No matter how you choose to get it — whether you decide to go the cheaper (and, let's be honest, more fun) route of making it yourself or opt to grab a virtual shopping cart and buy it online — vanilla salt will undoubtedly give your favorite foods and drinks a delightfully balanced, sweet and savory kick you never knew they needed.