Dirty Cookie: Here's What Happened After Shark Tank
Shahira Marei started her company, Dirty Cookie, in 2015 after leaving a successful career as an aerospace project manager at Boeing. Her initial product was a unique type of cookie, one that was shaped like a shot glass and was designed to hold a liquid, like milk or liqueur, giving a whole new spin on the classic milk and cookie pairing. She'd been inspired by a similar idea she'd seen on Pinterest. To help her get the concept up and running, she recruited a fellow Boeing engineering colleague to design a special mold to shape the cookies into the perfect form.
Per YouTube, Marei admittedly invested a considerable sum of her own money to grow her business, and by 2018, Dirty Cookie had brought in $300,000 in sales. Two years later, sales skyrocketed to $1.27 million. Why the boost? While many companies all but shut down during the COVID-19 pandemic, Dirty Cookie saw a massive increase in orders. Demand was so high that Marei and her team had a hard time keeping up with orders since every cookie shot glass was hand-made at that point. Shortly after this, Marei decided to seek help from the Sharks on "Shark Tank," hoping they could help her in her efforts to purchase better equipment, get her production costs down, and increase her orders even more.
What happened to Dirty Cookie on Shark Tank?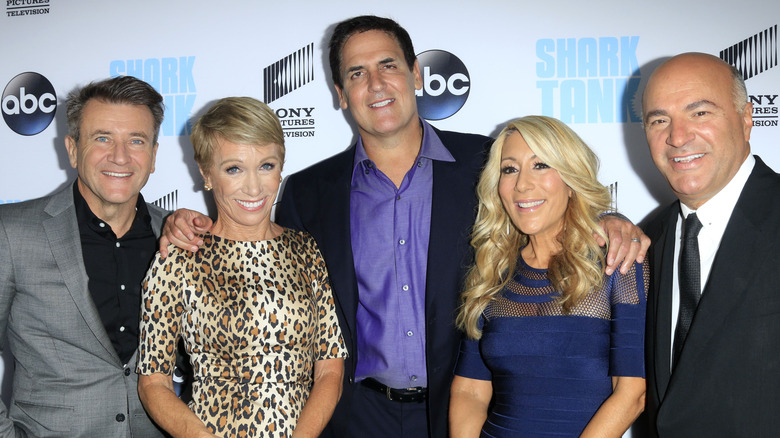 Kathy Hutchins/Shutterstock
After introducing Dirty Cookie to the Sharks, Marei informed them what she was seeking: $500,000 for 5% equity in her company, a request that left the Sharks visibly astounded. That was a big ask, and it was certain the team was going to have high expectations for their commitment. Marei certainly had the numbers to show that her products were doing well; her 2021 sales were on schedule to hit $2.6 million. But, her profit on that was only going to be $250,000, a figure the Sharks saw as low.
Marei then explained that her production costs were exceptionally high since she didn't have the equipment to produce the cookies at a high capacity. Remember, each one had to be done by hand. However, she'd discovered a machine in Italy that would massively increase production. At the time, Marei and her team of 10 people made 15,000 cookie shots per week. The machine would produce 4,000 per hour. It also cost $400,000. The belief was that such a machine would help drive production costs down, thus, increasing profit.
Negotiation time
When it came time for the Sharks to make their decisions, Mark Cuban was the first to drop out, fearing there was too much competition in the market. Kevin O'Leary followed suit, thinking that the concept was just a hobby; Daymond John feared there was not enough profit to be made; and Robert Herjavec was concerned that Marei hadn't figured out the flaw in her business over six years, and he, too, dropped out of negotiations. With four Sharks out, Lori Greiner called Marei a "true entrepreneur" and made her an offer that she believed Marei might not like. Greiner offered her a $250,000 loan at 8% interest, with an additional $250,000 in equity for a 25% share of the business. Greiner admitted the share was high but argued that was because she believed it was a risky investment.
In a surprising twist, Herjavec chimed in again, this time changing his mind and making an offer of his own. He'd give Marei the $500,000 she was asking for, for a 30% share of the business, but if she reached her aggressive sales goal of $6 million the following year (a statement Marei made earlier in the show), Herjavec would decrease his share to 15%. Greiner then matched the offer and is willing to decrease her share as well if the sales goal is met. Marei asks Herjavec if he'll decrease his original stake to 20%. He counters, asking for a 25% stake, decreasing to 15% if she made $5 million the following year. With this, Marei excitedly accepted the offer.
Dirty Cookie after Shark Tank
The exposure Dirty Cookie obtained after the "Shark Tank" episode aired proved very beneficial. Marei and her company were featured on several other television shows and news outlets, including "Today," Forbes, Food Network, and "Good Morning America," exposing millions of people to the idea of what are essentially cookie-cups ready to be filled with milk, booze, frosting, coffee, and even ice cream. The company even partnered up in 2021 with fellow "Shark Tank"-featured company, Nuts 'N More (this collaboration took place before the Dirty Cookie episode aired).
Dirty Cookie has been available exclusively online since its inception, and it remains so. However, the company offers wholesale orders for businesses that wish to carry the cookies. To date, though, there is no store locator on the Dirty Cookie website. The website claims that each order is baked fresh and quickly shipped (every order receives 2-day shipping), ensuring the shots arrive how they are supposed to be enjoyed — soft and chewy, not crunchy and brittle.
It also appears that Dirty Cookie opened a retail shop in the latter part of 2021 in Cairo, Egypt, based on its Facebook page. The photos indicate that the cookie shots are sold there, along with coffee, ice cream, and other desserts.
Is Dirty Cookie around today?
Cookies are certainly a big deal right now, with cookie-giant Crumbl offering immense and intensely flavored cookies to the masses, along with several other similar businesses. Was Dirty Cookie able to stay afloat? Yes, it continues to operate and has expanded its sweet offerings to include stuffed cookies with fillings such as white chocolate cookie butter, red velvet cheesecake, and peanut butter and jelly. The cookie shots come in four flavors: chocolate chip, double chocolate, churro, and red velvet. There is also a vegan and gluten-free option. Each cookie cup holds 1.5 ounces of liquid and is coated on the inside with chocolate.
The DIY cookie shot decorating kits have always been popular. They include an assortment of cookie shots, edible decorations, sprinkles, and chocolate wafers so customers can create their own designs before gobbling them up. While they arrive fully baked, the cookie shots and stuffed cookies are intended to be heated briefly in the microwave or oven to get them nice and warm before eating.
What's next for Dirty Cookie?
Dirty Cookie continues to market itself with a solid social media presence, where it gives fans ideas on fillings, decoration ideas, and occasions on which to enjoy the cookies and cookie cups. Photos show the products at weddings, birthday parties, graduations, holidays, vacations, and more. The cookies are also fully customizable, so corporate logos and personalizations can be added. It also appears that Dirty Cookie sells limited-edition cups that celebrate different holidays like the 4th of July, Christmas, and Thanksgiving.
Since the beginning, founder Shahira Marei's goal is to give back to those in need, particularly children. Dirty Cookie hosts a program called Shot for Education, in which it partners with education-based nonprofits that give educational tools to kids in need. A portion of each Dirty Cookie sale goes to this program adding to the belief that sweetness can have a positive impact in more ways than one.