Lo Mai Gai-Inspired Stuffed Calamari Recipe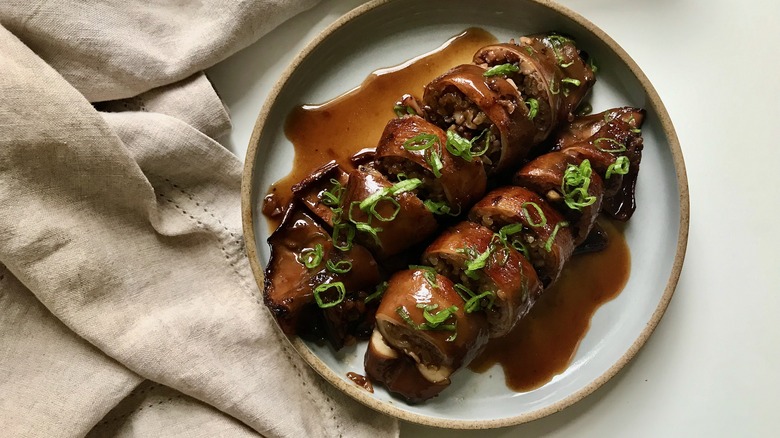 Kevin Chen/Food Republic
Lo mai gai, as recipe developer Kevin Chen tells us, is a dim sum dish consisting of seasoned glutinous rice and chicken that is steamed inside a lotus leaf, and, as he admits, is "a bit different than what this recipe ended up being." Instead, this lo mai gai-inspired stuffed calamari is a 100% original creation that he says is "the result of the meshing of a couple of ideas and dish touchpoints I had in my head." Several of his inspirations included a Chinese dish of sticky rice with cured meats, dried mushrooms, and seafood; a Japanese rice-stuffed squid called ikameshi; and Mediterranean-style breaded calamari.
So what did Chen's imagination dream up for us here? Squid tubes are stuffed with glutinous (aka sticky) rice mixed with dried shrimp and mushrooms and Chinese sausage. These tubes are then braised in a rice wine and soy sauce mixture before being browned and then glazed in the leftover liquid. The result, he says, is "an almost teriyaki-like/Japanese street-style grilled squid finish."
Gather the ingredients for the lo mai gai-inspired stuffed calamari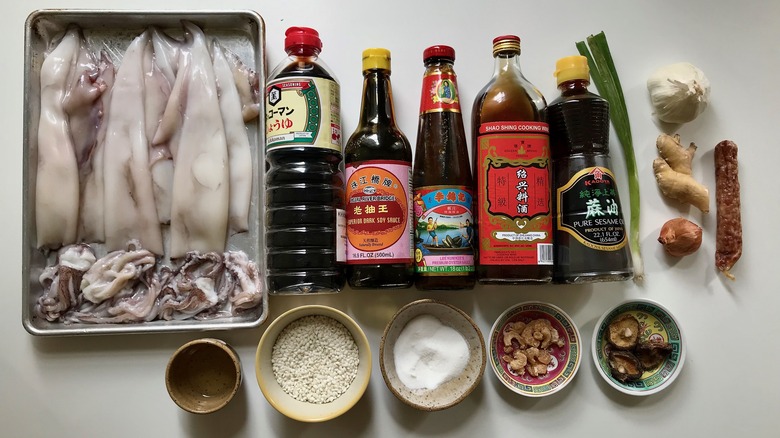 Kevin Chen/Food Republic
As this is a multi-step recipe, it does involve a fair amount of ingredients but none of them should be too difficult to source. The filling is made from glutinous rice with dried shrimp, shiitake mushrooms, Chinese sausage, shallots, garlic, ginger, squid tentacles (the squid tubes you'll also need — these are what get stuffed), and scallions, while additional ingredients you'll need to make the dish include rice wine, soy sauce (both dark and regular), oyster sauce, sugar, sesame oil, ginger, and neutral oil for cooking.
Soak and prep the rice, shrimp, and mushrooms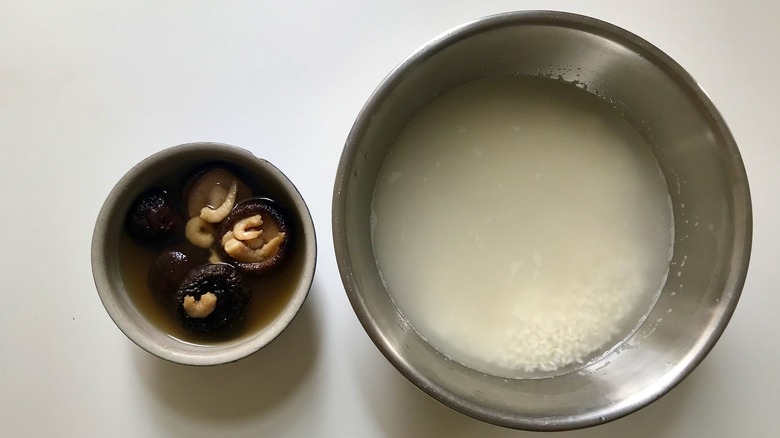 Kevin Chen/Food Republic
The first step in this recipe is to soak the rice in at least an inch of water to cover it. As Chen tells us, "Glutinous rice has a tougher outer shell that needs to be softened before cooking to make sure it cooks evenly." You will also need to soak the shrimp and mushrooms together with about ½ cup water. All of these ingredients need to soak for an hour, at the very least, although you can leave them overnight if you wish.
When the time is up, drain the rice, then drain the shrimp and mushrooms, too. Save the liquid from the latter, squeezing the shrimp and mushrooms over the bowl to collect whatever liquid comes out. Take the squeezed shrimp and mushrooms and chop them up into a fine mince.
Make the stuffing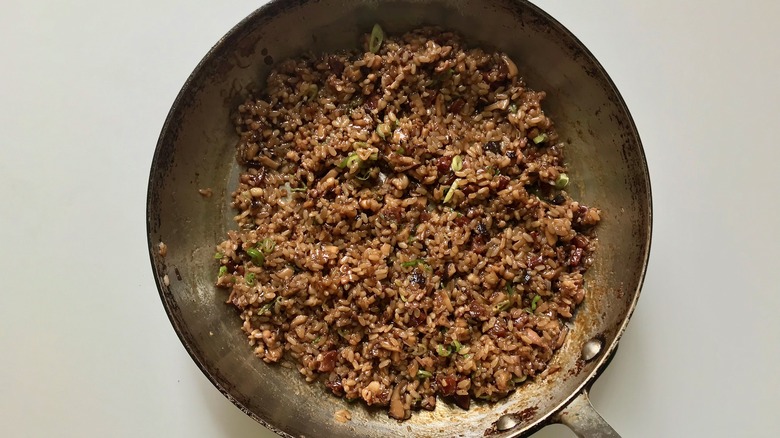 Kevin Chen/Food Republic
Heat up a tablespoon of the neutral cooking oil, then fry the sausage and shrimp for a minute or so until they smell fragrant and are light brown in color. Toss the shallots, garlic, ginger, and mushrooms into the pan and stir-fry these for a minute to soften. Once the mixture is again smelling fragrant, add the chopped squid tentacles and cook these for a minute, stirring a few times as you do so. When they are opaque and cooked throughout, stir in the rice and fry it for about 2 minutes until each grain looks translucent around its edges.
At this point, add the rice wine along with the liquid left from soaking the mushrooms and shrimp. Cook and stir the filling for about 2 or 3 minutes in order for the rice to absorb all of the liquid. Turn off the stove, then stir the scallion, soy sauce, oyster sauce, dark soy sauce, sugar, and sesame oil into the pan.
Stuff the squid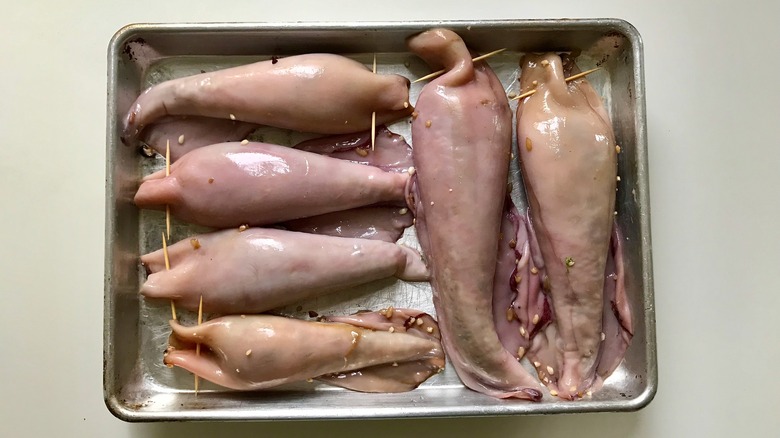 Kevin Chen/Food Republic
Take the rice out of the pan (put it somewhere safe for the time being) and wipe the pan out. Now take your squid tubes and gently fill each one with about a teaspoon at a time of rice mixture until each one is about ⅔ full, but be sure to leave at least an inch of empty space between the rice and the tube's open end. Use a wooden toothpick to seal up each end.
"The trickiest part about the recipe," Chen warns, "is stuffing the squid" and cautions against over-stuffing the tubes or packing the rice too tightly. The reason for this is that the rice will expand as it cooks, while the shrimp shrinks. "It's better to err on the side of filling each squid tube with less filling than you would think," he says, explaining that this is to keep the squid from bursting.
Braise the squid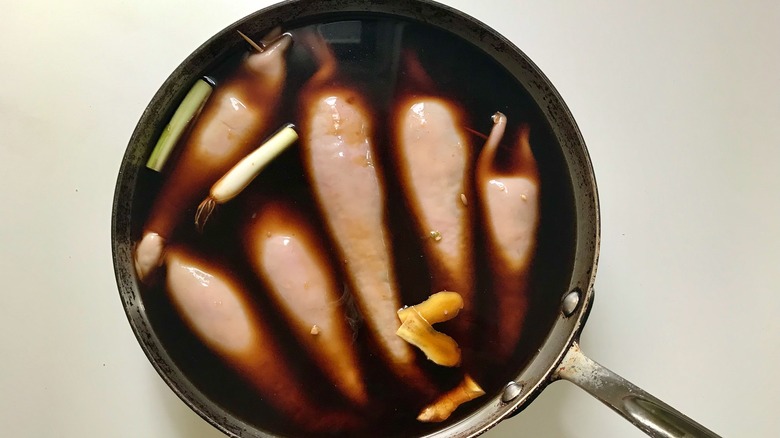 Kevin Chen/Food Republic
Returning to that same pan you used for the filling, place a single layer of stuffed squid tubes over the bottom (Chen used a 10-inch pan and got them all to fit). Pour in all of the braising liquid ingredients, then crank the heat to high and let everything come to a boil. Once it does, turn the heat down to medium-low and put a lid on the pan. Simmer the squid for about 30 minutes, flipping it halfway through. Once it's done, the squid should be tender and the rice should be cooked.
Drain the squid on paper towels, using another towel to pat them dry. As the squid drains, take the scallion and ginger pieces out of the braising liquid and turn the heat up to medium-high. Cook the liquid for 10 to 12 minutes, at which point it should have reduced by about ⅔ and, if you stick a spoon in it, should coat the back of the utensil.
Brown the squid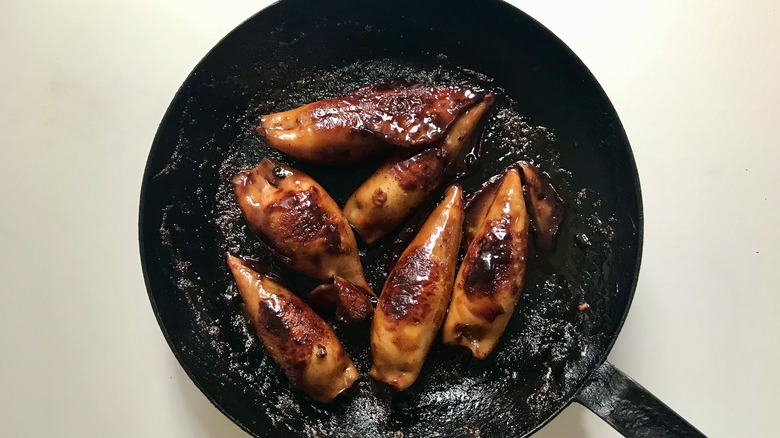 Kevin Chen/Food Republic
Now we'll get some nice color on our braised squid. Heat up the remaining cooking oil in a separate pan over a burner set to medium-high until it just starts to smoke. Put the squid in the pan and cook it for 4 to 5 minutes, turning it once in a while. At the end of this time, it should be browned in spots. Pour ½ cup of the reduced braising liquid into the pan and cook the squid, turning it over several times, for a minute or two until each piece is glazed all over and has a nice, shiny appearance.
Slice and dish up the squid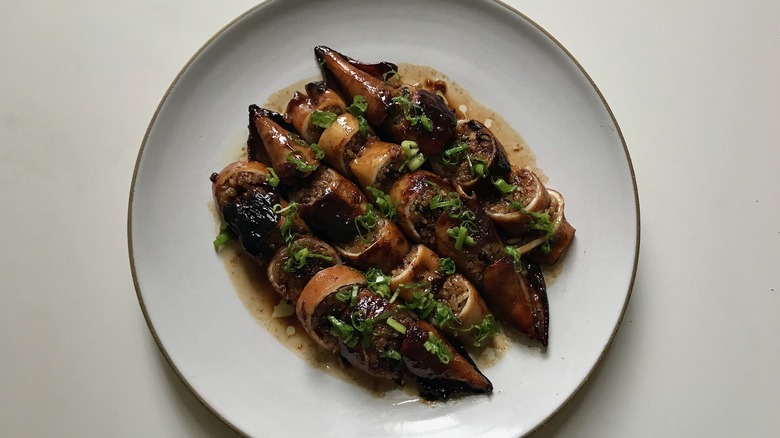 Kevin Chen/Food Republic
At last, the finish line is approaching! Take the stuffed squid tubes out of the pan and slice them up ½-inch thick. Drizzle the rest of the braising liquid over them, then scatter some additional sliced scallions if you like. Now eat them up while they are still warm.
Lo Mai Gai-Inspired Stuffed Calamari Recipe
This stuffed squid draws on several influences, from Chinese dim sum to Japanese ikameshi to crispy Mediterranean calamari.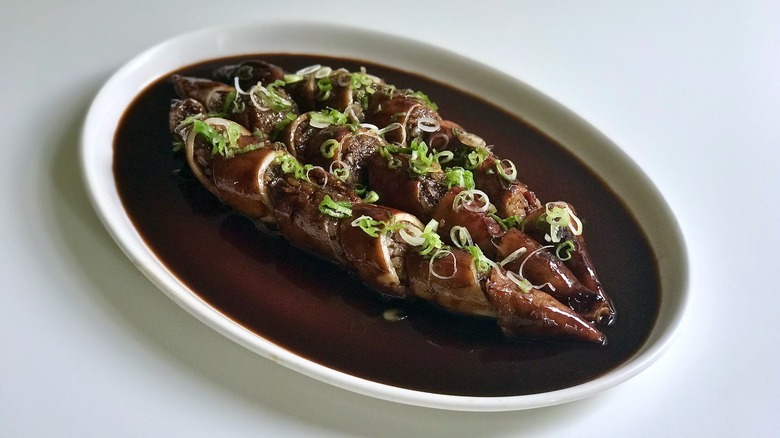 Total time: 2 hours, 30 minutes
Ingredients
For the Squid and Filling
½ cup glutinous rice
1 tablespoon dried shrimp
3 dried shiitake mushrooms
2 tablespoons neutral oil, divided
⅓ cup finely chopped Chinese sausage
1 shallot, minced
2 cloves garlic, minced
1 teaspoon minced ginger
1 ½ pounds cleaned medium–large squid, tentacles finely chopped and separated from tubes
1 scallion, thinly sliced
1 tablespoon rice wine (such as Shaoxing wine or sake)
1 teaspoon soy sauce
1 teaspoon oyster sauce
½ teaspoon dark soy sauce
½ teaspoon sugar
½ teaspoon sesame oil
For the Braise
½ cup rice wine
¼ cup soy sauce
1 tablespoon dark soy sauce
3 tablespoons sugar
1 ½ cups water
3 thin slices of ginger
1 scallion, cut into 2-inch segments
Optional Ingredients
Sliced scallions, for garnish
Directions
Place glutinous rice in a medium bowl and cover with at least 1-inch of water. Place dried shrimp and dried shiitake mushrooms in a small bowl and cover with about ½ cup water. Soak rice, shrimp, and mushrooms for at least 1 hour or overnight.
Drain rice well and set aside. Drain shrimp and mushrooms, squeezing mushrooms to extract liquid. Reserve the soaking liquid from the shrimp and mushrooms, including what's extracted from the mushrooms.
Finely chop shrimp and mushrooms and set aside.
In a 10-inch skillet, heat 1 tablespoon oil over medium-high; add Chinese sausage and dried shrimp. Cook, stirring frequently, until lightly browned and fragrant, 1 to 2 minutes.
Add minced shallots, garlic, ginger, and mushrooms. Continue cooking, stirring frequently, until softened and fragrant, about 1 minute.
Add the chopped squid tentacles. Cook, stirring occasionally, until squid is opaque and just cooked through, about 1 minute.
Add rice and cook, stirring frequently, until grains are translucent around edges, about 2 minutes.
Add rice wine and reserved shrimp and mushroom soaking liquid. Cook, stirring frequently, until liquid is fully absorbed, 2 to 3 minutes. Remove skillet from heat.
Stir the sliced scallion, soy sauce, oyster sauce, dark soy sauce, sugar, and sesame oil into the rice mixture.
Transfer rice to a medium bowl and wipe skillet clean.
Using a teaspoon, fill each squid tube with rice mixture about ⅔ full, leaving at least 1 inch of empty space from filling to opening (be careful not to over-stuff or squid will burst during cooking).
Seal each opening with a toothpick.
Arrange squid in a single layer in the skillet. Add the remaining braising ingredients to the pan and bring liquid to a simmer over high heat. Lower the heat to medium-low and cover.
Simmer until squid is tender and rice is cooked, flipping squid halfway through cooking, about 30 minutes. Transfer squid to a paper towel-lined plate and pat dry.
Remove and discard scallion and ginger pieces from braising liquid. Cook braising liquid over medium-high heat until reduced by ⅔ and able to coat the back of a spoon, 10 to 12 minutes.
In a separate nonstick skillet, heat the remaining tablespoon of oil over medium-high until lightly smoking. Add squid and cook, turning occasionally, until browned in spots all over, 4 to 5 minutes.
Add ¼ cup reduced braising liquid to the skillet. Cook, turning squid frequently, until squid is shiny and glazed, 1 to 2 minutes.
Transfer squid to a cutting board and cut into ½-inch thick slices.
Arrange squid on a serving plate, drizzling with remaining braising liquid and garnishing with sliced scallions if desired. Serve immediately.
Nutrition
| | |
| --- | --- |
| Calories per Serving | 438 |
| Total Fat | 10.8 g |
| Saturated Fat | 1.4 g |
| Trans Fat | 0.0 g |
| Cholesterol | 402.8 mg |
| | |
| --- | --- |
| Total Carbohydrates | 43.2 g |
| Dietary Fiber | 1.2 g |
| Total Sugars | 11.4 g |
| Sodium | 1,360.5 mg |
| Protein | 31.7 g |