Alton Brown's Complicated Journey To Culinary School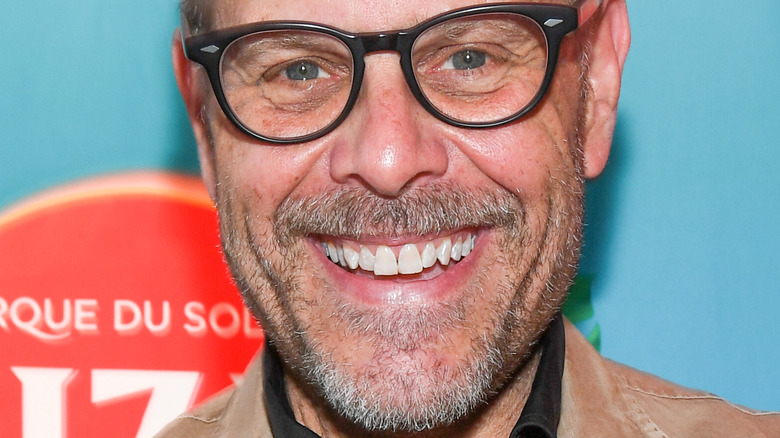 Paras Griffin/Getty Images
Some people know exactly what they want to do for a career as soon as they graduate high school, and they stick to their life plan and start their dream job in just a handful of years. And then, there's everyone else. Many of us go from job to job or major to major during college, while trying to figure out the right path for our future. But, guess what? It's okay! Even some of the most successful people start out on a journey that ends up shifting dramatically. 
Take Alton Brown, for example. With his success in the food world and becoming a culinary personality on TV, you'd think Brown spent his entire life learning the ins and outs of the kitchen. Not so much, as it turns out.
Brown, who famously combines cooking with science and humor, had a couple of very different visions for his life before he ended up in culinary school and a go-to for The Food Network. Had he pursued his earlier goals, he may be a businessman or a film industry veteran today. Brown's journey to where he is now is actually very relatable and is an example of discovering new passions and pursuing them, only to discover more interests and seeing where they take you. 
How his career in film led to culinary school
Nicoletaionescu/Getty Images
Born in Los Angeles and raised in Georgia, Alton Brown graduated high school and attended LaGrange College where he majored in business. After transferring to the University of Georgia in Athens, he began studying filmmaking, which led him to some pretty promising jobs, including working as a cinematographer and director for various commercials and even music videos. Most notably, he was a camera operator on the 1988 Spike Lee film, "School Daze." 
Though these were great gigs for anyone working in the film industry, at the same time, Brown was also a fan of cooking shows. However, he thought the content had a tired format and left much to be desired — spoken like someone with extensive experience behind the camera. Brown believed that, if he could make his own cooking show, it would be lively, fun to watch, and full of interesting tips. The one thing he didn't have to achieve this goal, however, was legit training at culinary school.
So, in his early 30s, Brown moved to Vermont and enrolled in the New England Culinary Institute. He told The Bitter Southerner, "Everybody thought I was insane because I had kind of established a career. But I knew I wasn't doing what I was supposed to be doing." 
Brown combined his passions with 'Good Eats'
After he graduated, Alton Brown moved back to Georgia where he and his then wife DeAnna Collins (also a film and TV pro) first wrote and filmed two episodes of "Good Eats," the wildly popular cooking show that would eventually be purchased by the Food Network and run for more than 13 years. The show catapulted Brown to fame and led to many more hosting appearances on shows like "Iron Chef America."
After earning a degree in culinary arts, hosting multiple television shows, writing 10-plus books, winning James Beard Foundation awards and a coveted Peabody award, Brown still considers himself a filmmaker, as he told Fast Company, "my original target ... has always been movies." In fact, during his time with "Good Eats," he acted as the show's host, writer, director, and producer, combining his experience from both film and culinary school. And his own production company, Be Square Productions, Inc., produced "Good Eats" for a good portion of its run, along with other food-centered shows.
Although the New England Culinary Institute is now permanently closed, the school certainly aided Brown in becoming one of the most recognized faces in the culinary world without ever opening a restaurant of his own. One other fun fact, Brown is also a licensed pilot and his go-to plane snack is always shrimp.