Alton Brown's Go-To Plane Snack Is ... Shrimp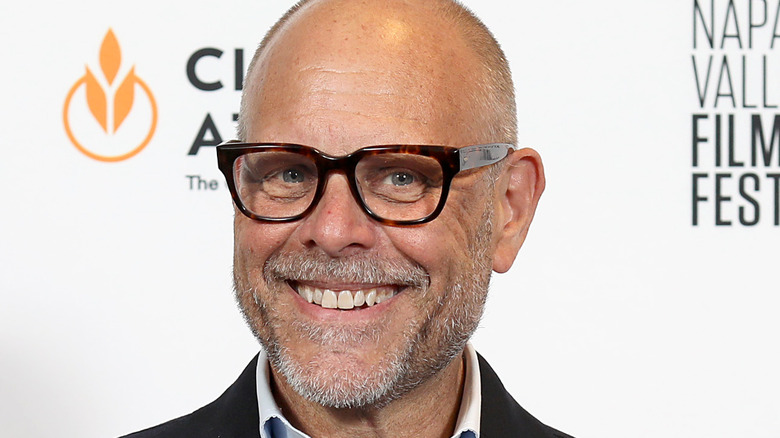 Kelly Sullivan/Getty Images
Here's a little known fact about celeb chef and food science buff Alton Brown: He's not just a cook, he's also a pilot, and one who actually flies the friendly skies in his own private airplane. But if you ever happen to be a passenger on one of Brown's flights, you won't find the typical pretzels or cookies provided as snacks.
What you will find is a slightly more sophisticated meal, because, apparently, Brown's go-to dish while flying stars one main ingredient: shrimp. "We eat a huge amount of shrimp on that plane," Brown told Condé Nast Traveler (via Fine Dining Lovers). While he may not whip up the most bold or creative shrimp recipes, his in-flight menu apparently offers shrimp cocktail and shrimp salad.
Shrimp on a plane is definitely an interesting choice, to say the least. To many, the idea of seafood while airborne may sound unappetizing or even unrealistic ... but Alton Brown stands by it, and here's why he just might change your mind.
Here's why eating shrimp in-air is actually a delicious idea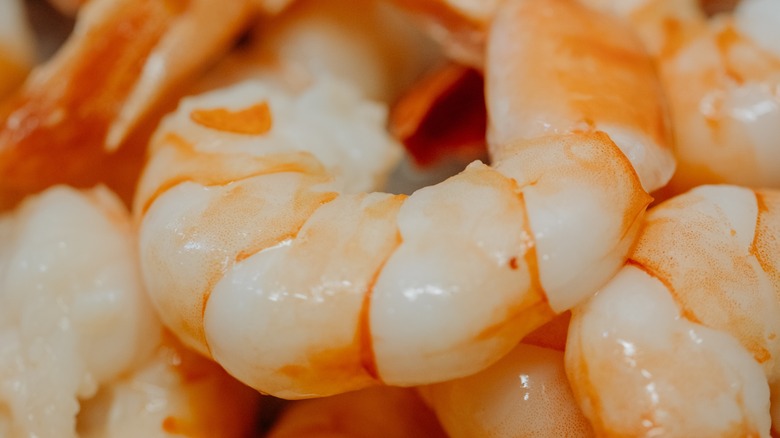 Lacosteman/Shutterstock
In-flight menu items like shrimp cocktail and shrimp salads just beg the question ... why? But if we know anything about Alton Brown, it's that there's always a "why" behind everything he does, and it usually comes back to science.
The reason Brown chooses these snacks, he says, is because they are dishes that can carry lots of flavor, spice, and seasoning — the more, the better when you're high up in the air, because you actually taste food differently while flying. "You have to heavily season food when you're traveling at high altitude because it tends to dumb down your palate a little bit," Brown says in his interview with Condé Nast Traveler.
For his passengers to eat something they'll be able to taste well and actually enjoy (unlike the usual airline food), Brown tends to serve his shrimp dishes with a hot and spicy horseradish sauce that can help open up the nasal passage and overcome any dulled-down sense of taste.
How to make Alton Brown's mile-high shrimp cocktail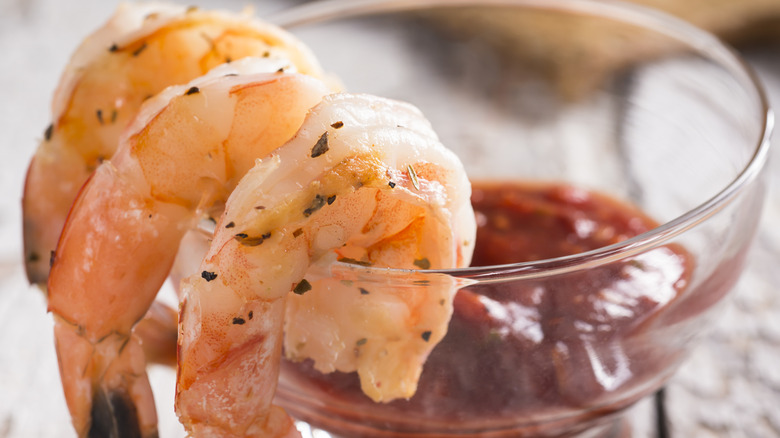 Rudisill/Getty Images
If you're wondering how to make Alton Brown's classic shrimp cocktail that the cook/pilot swears by, it's an easy three-step process: brine, broil, chill.
First, Brown deveins and preps the shrimp — for shrimp cocktail you'll definitely want to leave the shells on — and then he brines the seafood in a mixture of salt, sugar, water, and ice and refrigerates for around 20-25 minutes. Once they're removed from the cold, and then rinsed and dried, the chef tosses the shrimp in olive oil and sprinkles on some Old Bay Seasoning, and then broils them on high heat (flipping once) for a few minutes total. From there, he sticks the shrimp in the freezer to chill, tossing every few minutes until cold (around 15 minutes).
As for the signature spicy horseradish cocktail sauce that Brown likes to serve with the shrimp, he blends up diced tomatoes, horseradish, sugar, salt, pepper, and — for that extra kick — a generous amount of chili sauce. Once the shrimp are nice and cool, it's time to dig in and savor the flavor ... whether you're on land or in the sky.