The Mind-Boggling Wine Pairing For Salt And Vinegar Chips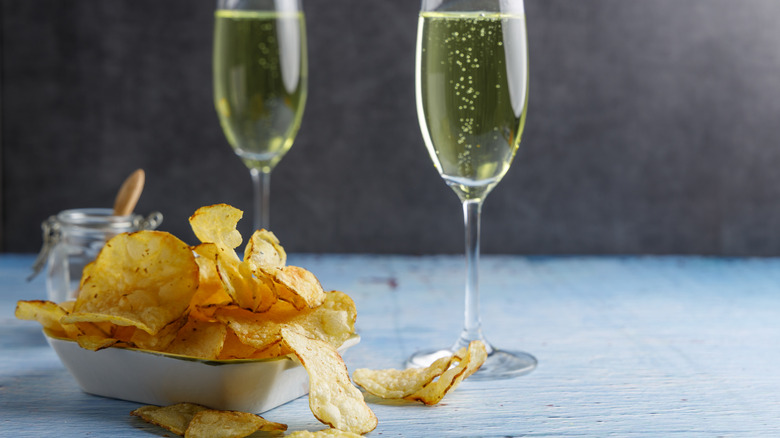 Peter Bocklandt/Getty Images
If you enjoy indulging in a glass of wine or two, you may already know which bottle to sip alongside your fancy cheese and charcuterie board or complement your classy Spanish tapas. On the other hand, if you're a person who has the tendency to chow down on potato chips, do you know how to pair wine with this simple snack?
The unexpected pairing of potato chips and wine may just be the perfect way to explore the complexity of wine tastes and determine which types pair best with various flavors, from salty or spicy to sweet and tart. It may be a little easier to figure out what to sip with your standard salty chip, but what about a more complex flavor like salt and vinegar that sports both saltiness and tongue-tingling tart notes? It turns out that popping a cork on a bottle that sports a similar acidity, like sauvignon blanc, is the answer.
Tart white wine elevates the sharp salt and vinegar flavor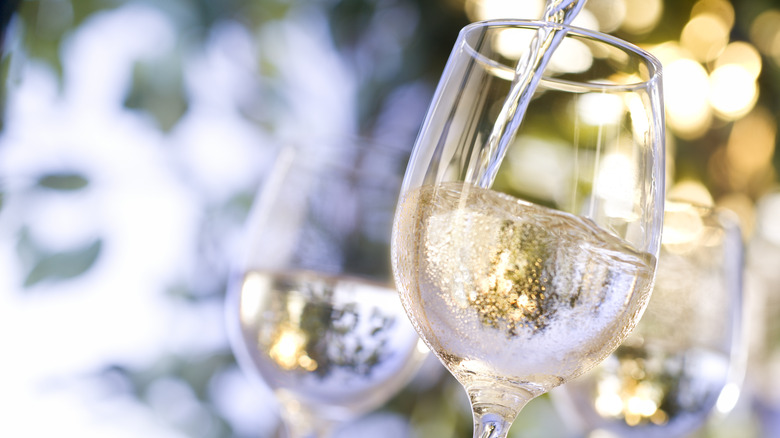 Markswallow/Getty Images
Sauvignon blanc is fairly common so it may not be all that mind-boggling on its own, but it may come as a surprise that pairing highly acidic food and wine together is actually more pleasing than mouth-puckering. Acidic wines are the consummate partner for tart foods, so a glass of crisp and bright sauvignon blanc pairs perfectly with a bowl of your favorite brand of salt and vinegar chips. The tang of the vinegar helps to round out the wine while the salt elevates the fruitiness and dry sweetness (after all, that's why salt is used when baking). Meanwhile, the acid in the sauvignon blanc works to enhance the flavors of the chip.
Of course, sauvignon blanc isn't the only wine that works well with the salty and sour chip. Other well-known whites like citrusy albariño and pinot grigio complement it as well. If you're looking for a less common white that has that acidic bite, sip a glass of assyrtiko from Santorini.
And if red wine is what you really want to reach for, try popping off the cork on a bottle of light-bodied Gamay or a quality Chianti.
Other wine and chip pairings to try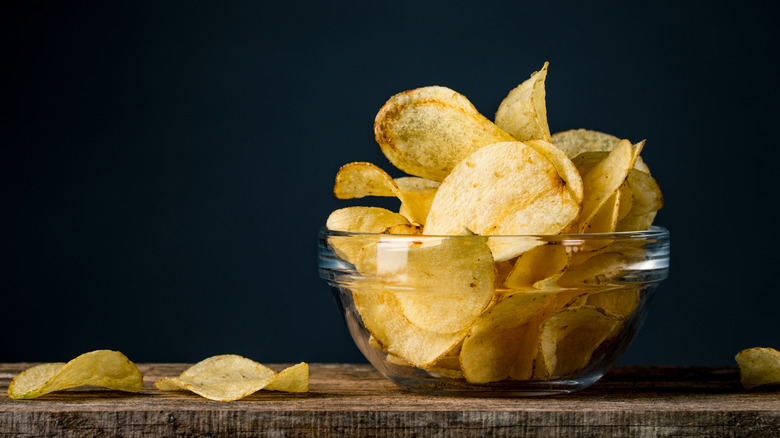 Artiom Photo/Shutterstock
While salt and vinegar is undoubtedly a popular flavor, there are actually three others that claim the top spots when it comes to potato chip popularity. In 2020, Statista published data showing classic potato chips remain the overall favorite, followed by barbecue in second place, and sour cream and onion in third. So which wines should you be sipping with these chips?
For classic chips, reach for a dry bubbly like Champagne or cava — sparkling wine cuts through the fat in any food, and the salt from the chips will bring out the wine's subtle fruitiness. Barbecue chips have a complex flavor profile, so rich wines like grenache and zinfandel will complement the bold smoky and sweet notes, as will a slightly fruity rosé. Finally, sour cream and onion chips, like salt and vinegar, have a tanginess that's best complemented by acidic wines. Pair the same wines as suggested for salt and vinegar chips, or try pouring a glass of chenin blanc.
When in doubt, take a chance and do your own chip and wine experimentation — or download one of the ever-evolving wine apps that make it even easier to pair even the most obscure food and wines.