Pair Wine With Spanish Tapas Like A Master Sommelier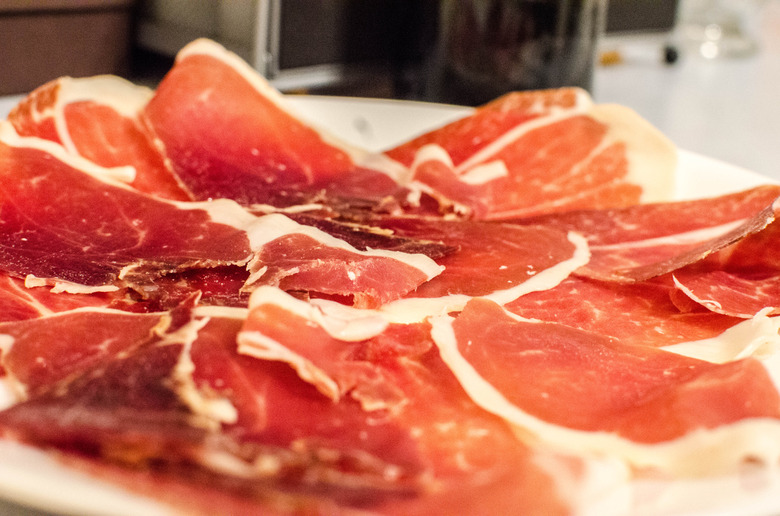 (Photo: zachleetch/Flickr.
Tapas and wine: it's a pairing so natural, we rarely consider what might elevate the flavors of your pan con tomate, jamón Ibérico or creamy croquetas. But these small plates go with a range of drinks as varied as the tapas themselves.
On a recent trip to Spain's "Tapas Trail," a collection of villages and winemaking regions just north of Madrid, Brahm Callahan — Boston-based master sommelier, beverage director and Ribera del Duero and Rueda ambassador — sampled a ton of tapas-friendly wines. Inspired by his visit, here are his favorite ways to pair wine with Spanish tapas, and why each one makes an ideal match.
Dish: Jamón Ibérico (photo above)Wine: Bodegas Tradicion 30-Year Amontillado
Both jamón Ibérico and sherry rely on quality of ingredient and time, and that's it. The savory, nutty component of the jamón — the pigs feed on acorns and it shows — balanced by the salty and nutty component of a great sherry, are a match made in heaven. Bodegas Tradicion is one of the best-kept secrets for amazing quality sherry, and their VORS 30 year Amontillado is about as good as you can ask for.
Dish: Croquetas de Jamón SerranoWine: Champagne Taittinger, Brut La Francaise, NV
It's no secret that champagne is ideal for anything salty and fried, but the creamy, porky component of these traditional fried croquettes make this an especially fantastic pairing. La Francaise is bright, and can cut through the richness of these wonderfully dense bites, leaving you wanting more.
Dish: Cochinillo Asado (Crisp suckling pig)Drink: Steel Rail Extra Pale Ale, Berkshire Brewing Company
This is a dish so simple it hurts — just a whole baby pig (milk-fed only) cooked in a special wood-fired oven. The meat comes out juicy and tender, with an ultra-crispy skin. My go-to for this is a crisp, refreshing beer, and Berkshire Brewing Company out of South Deerfield, MA makes one of my favorites. Their Steel Rail Extra Pale Ale focuses on balanced malt with just a hint of bitter hops and reasonable alcohol (5.3%), so you can drink it all day long.
Dish: White asparagus
Drink: Bodegas Shaya, Rueda Verdejo
Pairing asparagus with wine is tough — any sommelier will tell you it's a strong flavor that only works with a few types. Most suggest Grüner Veltliner for it, but I think a Verdejo is just as good. In Spain, this seasonal asparagus is grilled and topped with olive oil, garlic and lemon. My favorite wine for this is Bodegas Shaya's Rueda, a 100% Verdejo that focuses on clean, restrained fruit as well as herbaceous notes of lemon grass and almonds. The brightness of the wine plays off the intensity of the asparagus, and the herbaceous notes in the Shaya tame the aggressive vegetal component of the vegetable, too.
Dish: ChorizoDrink: Hacienda Monasterio Crianza, Ribera del Duero
Chorizo is a mainstay all over Spain, but every region puts their own spin on it. I'm big fan of the chorizo from around Valladolid; it has a slightly more exotic spice and a little more heat. A fruity red is a great pairing for it, too, as the fruit will mellow out the spice and smoky grilled notes of the chorizo. I love the Hacienda Monasterio Crianza from Ribera del Duero, as it has just enough oak toast to play off the smoked notes of the chorizo, and plenty of fruit to balance the spice.
Dish: Shishito peppersDrink: Kruger Rumpf, Munster Dautenpflanzer Spatlese Riesling, Nahe
It seems like tiny grilled or fried peppers are showing up on menus everywhere. While they're tasty and easy to prepare, they can be difficult to pair with wines. An easy option for them is Riesling from Germany. The acidity of the Riesling plays well with the robust flavors of the peppers, and if there is a little bit of heat, the sweetness of the wine will tame it. One of my favorites is Kruger Rumpf's Munster Dautenpflanzer Spatlese Riesling from the Nahe.
Dish: Tuna Crudo With White Beans And Meyer LemonDrink: Henri Boillot, Meursault
The Spanish do raw tuna as well as anyone, and often add beans and some citrus to brighten up the fish. My favorite pairing for it is a more generous white Burgundy. Chardonnay can range in style from lean and mean to super-forward depending on where it's made. For me, Meursault is a great option — it has a similar weight and texture to the tuna, and plays off the citrus in this dish. Henri Boillot's Village Meursault is balanced perfectly between the citrus and weight, with a little bit of oak to add some structure.
Dish: PaellaDrink: Protos, Rosé, Ribera del Duero
Great paella is something that dreams are made of, an amazing array and depth of spice and range of complex flavors. Whether you are making paella that is meat- or seafood-based, your pairings needs to have the lift, weight and texture to support it. One of my favorite options is rosé, which has a foot in both red and white wine. The forward fruit, lifted aromatics and acidity of the Protos Ribera del Duero rosé, based on Tinto Fino, is always at the top of my list.
Dish: Pulpo Gallego (Octopus With Paprika And Roasted Potatoes)Drink: Trimbach, Reserve Personnelle Pinot Gris
When done right, the combination of texture and briny, savory flavors supported by the exotic spice of paprika would make a fan out of even the most discerning palates. This dish needs a wine that has significant body, texture and ripeness to stand up to all of the above, and an Alsatian Pinot Gris is my go-to. Trimbach's Reserve Personnelle Pinot Gris is driven by ripe stone fruit with lush apple and pear notes, balanced by great weight on the palate and a mineral-driven finish.
Dish: Baby Lamb ChopsDrink: Ribera del Duero, Bodegas NEO
There is something primal and amazing about grilled meat next to a big red wine. The traditional Spanish dish of baby lamb chops grilled over vine clippings (recipe below) with just salt and pepper is one of the best things I've ever had. It's ideal with a lush, structured red wine, and NEO is exactly that. It's the classic iron fist in a velvet glove — and the structure is eased by the fattiness of the lamb. The wine has power but is based around elegance, and the smoke and toast notes from oak play off the smoke from the grill.
Lamb Grilled On Wine Vines
Serves 4Ingredients
10-12 cuttings of Sarmientos or wine vine for grilling
2 pounds of mesquite charcoal
2 large crushed garlic cloves
1 tablespoon of rosemary leaves
2 tablespoons of olive oil
Salt and pepper to taste
6 lamp chops
Directions
Prepare the charcoal. When ash covers the charcoal add grapevines.
In a food processor blend the garlic, rosemary, thyme, cayenne and salt.
Rub herb mixture on both sides of lamb chops, and marinate for 1 hour.
Cook lamb to your desired temperature over grape vines.