How To Adjust Any Recipe For Convection Oven Cooking
chaechaebyv/Shutterstock
Most new ovens come with lots of bells and whistles we should take advantage of, including the options to convection bake, convection roast, traditional bake, or traditional roast. However, knowing which setting to use for a recipe can be confusing. 
Previously only used in professional kitchens, convection ovens have become more mainstream over the past 50 years. It is more efficient than traditional cooking methods, translating to less time in the kitchen and less energy consumed. If your recipe calls for a crispy, golden-brown crust on baked goods, veggies, and proteins, convection baking or roasting is the right choice, with a few tweaks to your family recipe. 
Unless specified, recipes are written for traditional cooking methods and must be adjusted for convection to avoid overcooking and burning the food. To adjust a recipe for convection oven cooking, either lower the temperature by 25 degrees or reduce the original cooking time by 25%. Some ovens have an auto-adjust feature, so check the owner's manual before making any changes. 
We recommend lowering the original recipe's temperature by 25 degrees for baked goods only in the oven for a short time and reducing the cooking time by 25% when food is in the oven longer, like for stews or roasted meats. If the traditional recipe indicates that it should cook for an hour, begin checking the food after 45 minutes.
What is convection cooking?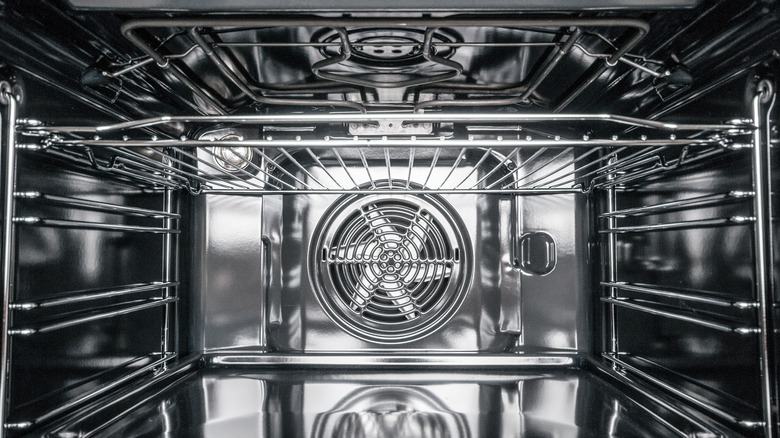 Lipskiy/Shutterstock
Convection cooking utilizes a fan to circulate hot air evenly throughout the oven chamber. Like traditional ovens, it has a top and bottom heating element but eliminates conventional ovens' hot spots, which limits where you can place certain food. The fan distributes dry heat uniformly around the food, promoting even cooking and allowing home cooks to use more of their ovens. 
Since the fan circulates the heat, cookies and pies don't need to be rotated halfway through cooking to ensure even baking. Bread and pizza crusts benefit from the blasts of heat, creating crusty exteriors and tender, doughy insides. The fast circulating air helps dehydrate meat's surface, promoting the Maillard reaction and making crispy, golden-brown exteriors with juicy meat inside. Hearty vegetables like potatoes and squash see similar superior results as the fan helps to caramelize the sugars.
Convection settings are available in gas and electric ovens (wall and stand-alone ranges) and countertop appliances like microwaves and air fryers. 
The difference between convection ovens and air fryers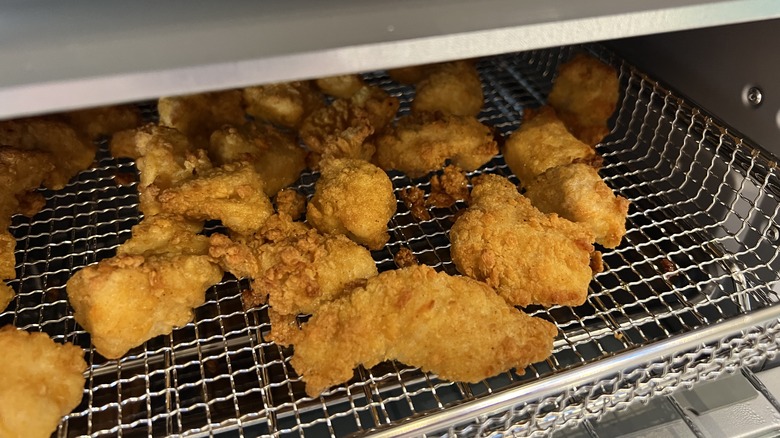 Gado/Getty Images
Mini convection ovens, aka air fryers, have rocketed in popularity over the past decade, and the internet is flooded with online recipes adapted for cooking in them. While the same fan technology applies to an air fryer, there are two key differences — capacity and cooking time.
Air fryers are less versatile than traditional convection ovens and can't replace the kitchen workhorse since the single metal basket limits how much food you can cook at a time. While that limitation is obvious, adjusting the cooking time may not be.
Its small size allows air fryers to preheat quickly and more efficiently circulate hot air making food cook much faster in an air fryer than in a traditional convection oven. Like a traditional convection oven, recipes should be reduced by 25 degrees when air frying; however, it's essential to refer to the owner's manual for cooking times since they will be drastically reduced depending on the unit.
With any convection cooking, food cooks from the outside first to the center, which can result in prematurely thinking the food is cooked. It's essential to check for doneness and not rely on a golden brown exterior to determine if the food is cooked since the inside could still be raw.