How To Easily Make Buttery, Flaky, All-Purpose Pie Crust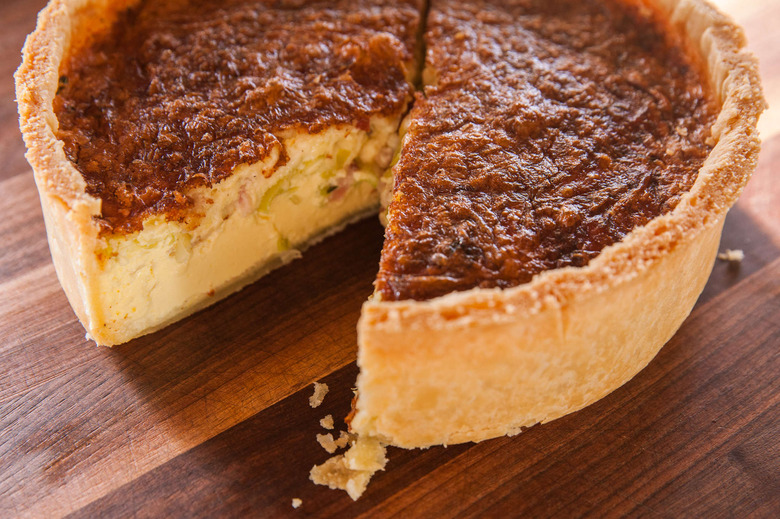 Come Thursday, dining room tables around the country will be graced with impressive displays of turkey, most likely complete with gravy, cranberry sauce and stuffing. What's another important centerpiece that shouldn't be overlooked? Pie! Whether served savory in the form of a quiche or chicken pot pie or filled with fruit or other sweets and nuts and brought out at dessert, pie has always played a significant role in properly celebrating Thanksgiving. Either way, it always begins with mastering the perfect homemade pie crust.
Our friends at ChefSteps wrote in this week with some advice for constructing the perfect golden, buttery, flaky pie crust. A jillion paper-thin layers melting in your mouth with every bite — brown and crispy on the edge and tender in the middle — are only a few simple steps away. Take a look at the recipe and brief instructional video below and get to work!
Ingredients
8 ¾ ounces bread flour
7 ¼ ounces butter, cubed and chilled
2/3 teaspoon salt
2 ounces water
Directions:
Place flour, salt and cubes of butter in the bowl of a stand mixer.
Place bowl of ingredients and even the paddle attachment in the refrigerator until cold.
Using paddle attachment, mix on low until you get coarse crumbs.
Add water and mix just until dough comes together smoothly, about one minute.
Remove dough from mixing bowl and form into smooth ball. Flour hands and board as needed. Press ball into a disk about 4 cm thick. Wrap with plastic and refrigerate for at least four hours.
Roll dough out on floured surface until about 3 mm thick. Mold dough into desired shape in baking dish. Fold edges under the sides of the dish and trim excess. Refrigerate, uncovered, for at least one hour. Overnight is best. If you do this, cover in plastic wrap after one hour, once the dough has hardened.
If making pecan or apple pie, add filling to dough and bake as needed. For quiche, pumpkin pie and other liquidy fillings, continue to the next step and blind bake to ensure a flaky, crispy crust. Then fill and bake as needed.
Place weights on dough (we line it with aluminum foil and pour in dry beans). Bake at 392 degrees F/200 degrees C for 20 minutes. Remove weights and bake another five minutes for a perfectly crispy, flaky crust.
ChefSteps comprises a team of award-winning chefs, filmmakers, scientists, designers and engineers focused on revolutionizing the way people cook by inspiring creativity and encouraging expertise in the kitchen. The site is currently offering free online classes called Cooking Sous Vide: Getting Started and Burgers, as well as a $10 class called Cooking Sous Vide: Beyond the Basics and a $14 class called Coffee.