London Is Home To The World's First Cheese Conveyor Belt Restaurant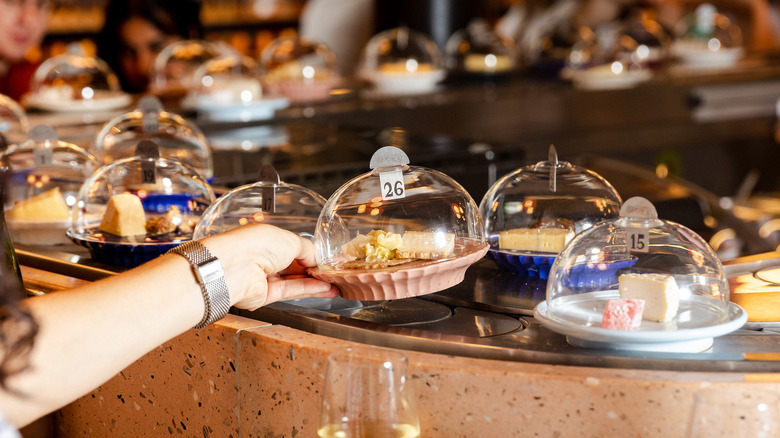 J Howard/The Cheese Bar
Inside Seven Dials Market, near Covent Garden, is Pick & Cheese, a sister restaurant of London's The Cheese Bar, which is currently at the helm of a renaissance in British cheese.
According to CNN, the restaurant, which opened in 2019, is likely accurate in its claim of being the first restaurant in the world with a built-in cheese conveyor belt. Customers can sit at a long bar, where a rotating selection of cheeses floats by them as if they're Belle being brought plate after plate by enchanted pieces of furniture. Simply pluck your desired cheese from the belt, and enjoy your spoils. (You can sit at a booth, too, but that seems way less fun.)
Every Wednesday, Pick & Cheese offers Bottomless Cheese & Charcuterie Plates for £25 per person for 1 hour and 15 mins (reservations are required). Its sister restaurant The Cheese Bar also hosts other cheese-themed events, like Bottomless Raclette. And one of their other sister restaurants is an East London cheese shop called Funk, specializing in British cheese, natural wine, and craft beer and cider.
What cheese can you get?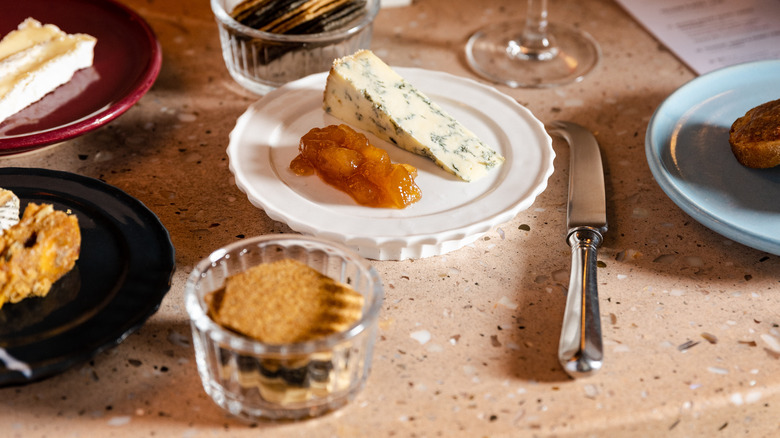 J Howard/The Cheese Bar
All cheeses offered are British cheeses, ranging from the crumbly Cheshire to the Smoked Lincolnshire Poacher, a unique cross between a farmhouse cheddar and Swiss mountain cheese.
The plates range in price from £3.95 (for the Cornish Gouda or the Devon Blue) to £6.25 (for the Whipped Rosary Goats' Cheese Doughnut or the Yoghurt, Lemon & Honey Cheesecake). Plates are color coded so you know the prices before you swoop. There are 27 dishes in total on the belt — mostly cheese, of course, but with a few relevant additions like the Bread & Butter Pickles or Achari Spiced Salami. All cheeses are paired with a topping or garnish: a wedge of Stilton, for example, is paired with a chocolate-and-hazelnut brownie, while the Coolea is accompanied by cumin-roasted pineapple.
There are off-belt items as well, which can be ordered to your seat, like grilled cheese sandwiches and baked cheese dishes that serve two. Some of the more adventurous items are listed in the dessert section, like an affogato of Cropwell Bishop Stilton and caramelized walnut gelato, served with a shot of ruby port.
Why British cheese?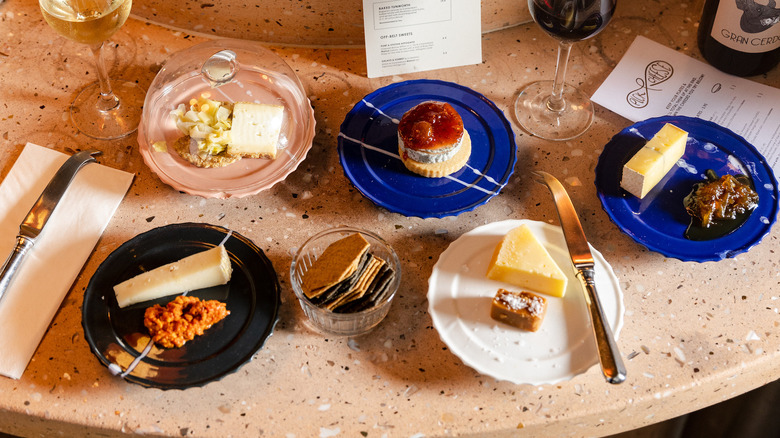 J Howard/The Cheese Bar
The Cheese Bar and its sister locations sprung from a desire to revitalize the oft-overlooked world of British cheeses. As The Cheese Bar's website explains, a long history of British cheesemaking fell to the wayside over the course of the first part of the 20th century, thanks to the damage done by two world wars. After the introduction of the Milk Marketing Board in 1933, British dairy farmers found it more cost effective to sell whole milk instead of cheese, and British cheese production slowed down until 1994, when the deregulation of the milk market shook things up again. Since the government was no longer helping out dairy farmers, they turned back to cheese in order to make ends meet, spurring an unexpected revival.
The Cheese Bar cites cheesemongers like La Fromagerie, The Courtyard Dairy, Paxton & Whitfield, and Neal's Yard Dairy as producers integral to the UK cheese boom of the last 15 to 20 years, which has gone a long way in supporting local farmers and cottage industries.