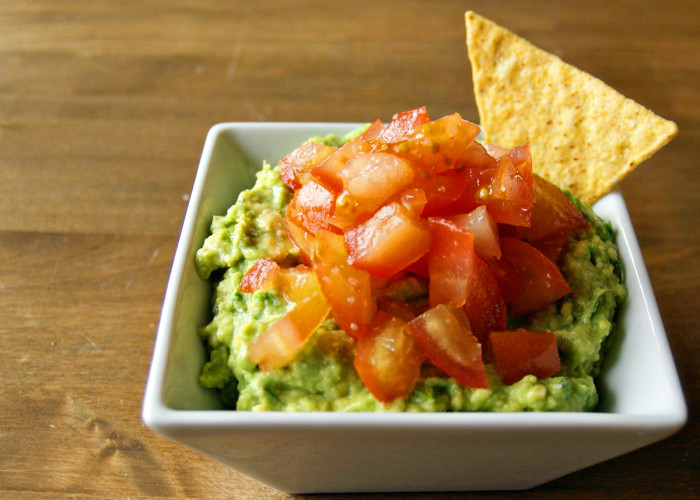 Food Republic's best basic guacamole recipe keeps it simple. You've got your avocados, your cilantro, lime juice, and our old friend the jalapeño. Plus garlic, salt, and tomatoes, diced. That's it.
Could you add a teaspoon of salsa, a dollop of sour cream, a dusting of chili powder? Yeah, sure. The nice thing about guac is that you can experiment with it and make it a signature dish.
The only real ground rules are that you want to use avocados that are just ripe enough but not so ripe that they're mushy, and you should make guacamole only about 15 minutes prior to serving, using that time to give it a slight chill in the fridge. Any longer, and it'll likely turn brown. If that's a concern, finish the guac with an extra squeeze of lime juice. You can also leave one of the pits in the bowl until it's ready to serve, to ward off discoloration.
Of course, guacamole is probably best served with tortilla chips, but it can also make a tasty garnish or addition to burritos, nachos — any Mexican dish, really — or a flavorful richness in a sandwich or wrap.
Any way you mash it, making guacamole is one of the easiest, most satisfying kitchen tricks to master, so why not try it today?
Ingredients
3

tablespoons

fresh cilantro, finely chopped

1/2

medium

red onion, finely chopped

1

fresh jalapeño (seeds and stem removed), minced

2

large avocados, peeled, seeded and diced

2

ripe

plum tomatoes, cored, seeded, and diced

juice of

one lime

1

clove

garlic, finely minced

sea salt, to taste
Directions
Put half of the chopped cilantro, red onion, and jalapeño in a food processor. Pulse until well-combined.
Put the avocado in a bowl and add the cilantro-jalapeño mixture. Mash together with a potato masher or fork, leaving some chunks.
Add the remaining cilantro, onions, chili, all of the garlic, and diced tomatoes. Lightly sprinkle with salt and lime juice. Mix everything together and serve.