Martha Stewart's Hand-Tossing Method For Extra Crispy Waffles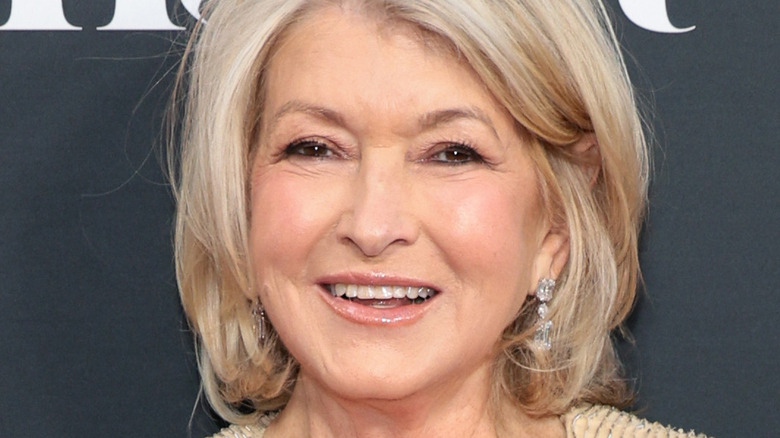 Dimitrios Kambouris/Getty Images
Some days, you wake up thinking, "I'm going to make myself some waffles." Some days you just want a warm, buttery, comforting treat for breakfast or brunch (or, let's be honest, dinner). But if you're going to put in the extra effort to make yourself a waffle, you want it to be a good one. That's why having a stellar waffle recipe is an absolute must.
The key to a good waffle lies in its crispiness. Sure, you want your waffle warm and soft and fluffy, but for ultimate deliciousness, you need a supremely crispy outer crust that'll hold up against your pooling syrup and deliver that audible crunch with the slit of your knife.
So to secure waffle greatness, let's look to one of the greats: Martha Stewart herself. The queen of homemaking has a foolproof method for extra crispy waffles, and all it takes is a toss of the hand. Don't skip this step next time you break out the waffle iron.
The trick to ensuring your waffle stays crispy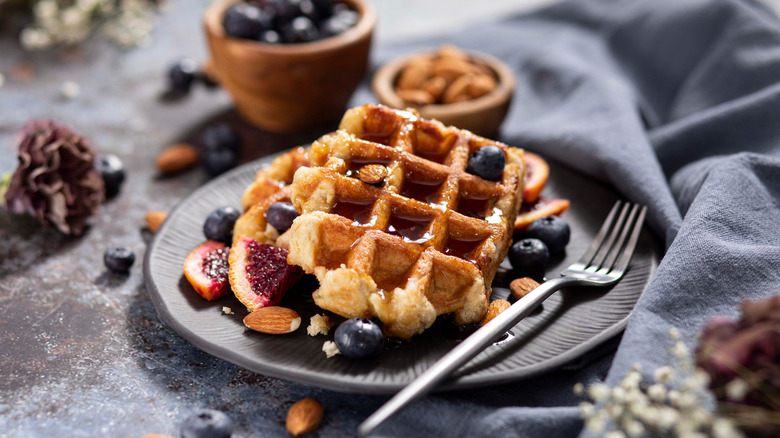 Allison McAdams/Shutterstock
No one likes a soggy waffle. But no matter how perfectly your waffle comes out, once you remove it from your waffle iron and place it on a plate, it risks losing its outer crisp and becoming soggy. But don't worry: A TikTok video on Martha Stewart's channel reveals how to avoid this with one of her simplest tricks yet.
It sounds a little weird, but all you need to do is toss your waffle back and forth. Once you've poured your batter into your waffle iron and it's all pretty and golden brown, take it out and toss it back and forth between your hands immediately. As Stewart explains in her video, this technique allows the steam to escape, ensuring that the crispiness of those edges is retained.
From there, you're safe to plate your waffle without worrying that any resting time or gooey toppings you pile onto it will sog it up. Since you've already released the steam, there's no trapped moisture begging to be let out, and you can enjoy a perfectly crisp waffle.
More ways to keep your waffle game strong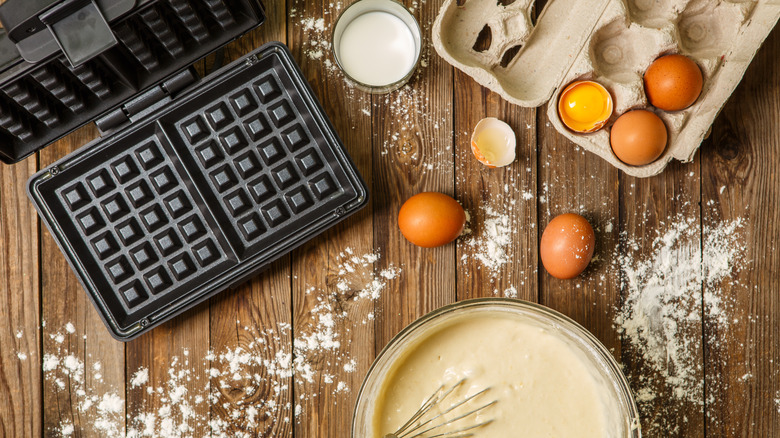 nuclear_lily/Shutterstock
Now that you've got the key to conquering the crisp, it's time to step up your whole waffle game. There are plenty of other tips and tricks to ensure that you produce a waffle that's as perfect as possible. And when we say perfect, we mean ultimate golden brown crispy edges, encasing a light, airy, and pillowy center.
One of the most important parts of great waffle making is proper heat, so make sure you preheat your waffle iron for 10 minutes (and give it some time in-between batches) so that it's primed to quickly crisp up the crust. And if you want your waffles even crispier, try swapping out the butter in your recipe for oil — a Food Science & Nutrition study found that waffles with oil in their batter developed a deeper browning effect than those with butter.
While crispiness is key, it's not the only element of a great waffle. To achieve that light, fluffy interior you want, a good trick is to separate your eggs and whip the whites before you add everything to your batter. Folding the egg whites in once they've formed stiff peaks will help lighten up the batter and make the final product soft and airy inside.