The Best Weekdays To Shop At Trader Joe's For Refreshingly Short Lines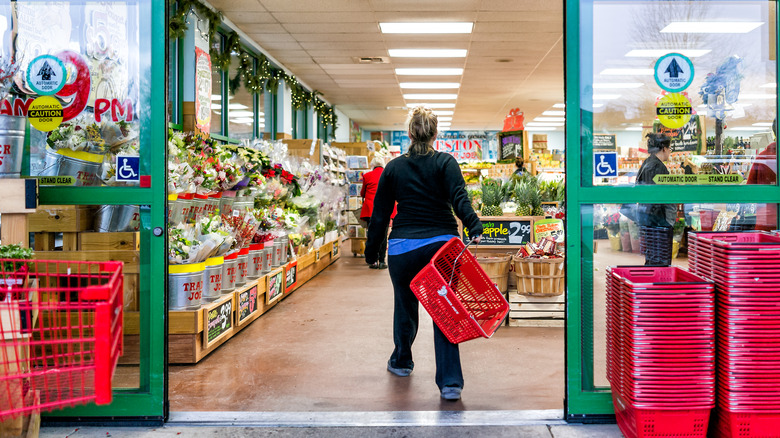 Kristi Blokhin/Shutterstock
Trader Joe's has won the hearts of many across America, turning grocery shoppers into die-hard loyalists who can't get enough of its unique branded products, reasonable prices, and famously friendly staff. But as a grocery store chain that consistently ranks among the most popular in the U.S., as per YouGov data, it's also notorious for long lines (none of which are self-checkout lines, which doesn't help). But there's a way to avoid the wait, and it all comes down to when you do your shopping.
If you get your weekly haul of go-to groceries at Trader Joe's, like so much of the rest of the country seems to, there are specific days and times of the week to swing by that'll minimize your time spent in line. That way, you can maximize your time spent roaming the aisles in search of new goodies. So, how do you get everything you love out of your Trader Joe's trip and nothing you don't? Pencil in your shopping for mid-week mornings.
Make your Trader Joe's trip on Tuesday and Wednesday mornings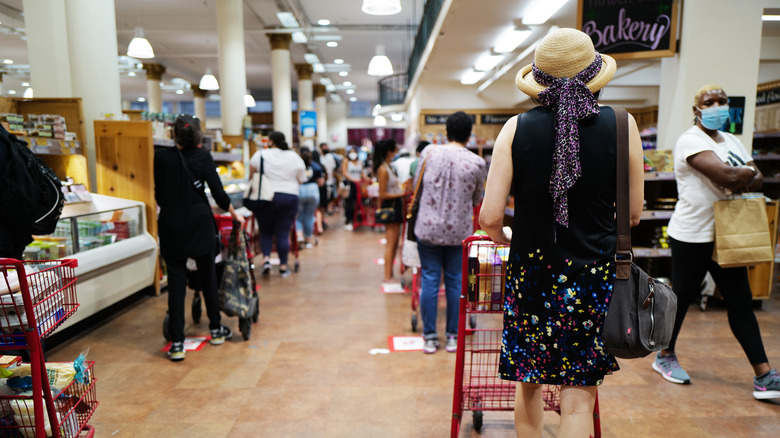 CHOONGKY/Shutterstock
Maybe you go to Trader Joe's for their low prices or excellent customer service. Or perhaps it's for something more specific like the Mandarin Orange Chicken you keep stocked in your freezer for a quick weeknight dinner or the Dark Chocolate Peanut Butter Cups you're addicted to. Whatever the reason, your ideal Trader Joe's experience doesn't so much matter why — it matters when.
For the fewest crowds and shortest lines, swing by Trader Joe's on a Tuesday or Wednesday. And in this case, the early bird certainly gets the worm. Therefore, try to make it there before 10 am, but if you can, go right when your local store opens, that'll give you the best possible shopping experience. Not only is it less busy during those times and thus more relaxing with easier access to those friendly employees if you need them, but you'll also get first dibs at prime product selections.
Trader Joe's restocks their produce every morning, so the freshest fruits and vegetables will be ready for the taking when you arrive. If you wait to go until noon, chances are the good stuff, including the popular non-perishable items, will be gone as it tends to sell out between 2 pm to 4 pm.
The worst days to shop at Trader Joe's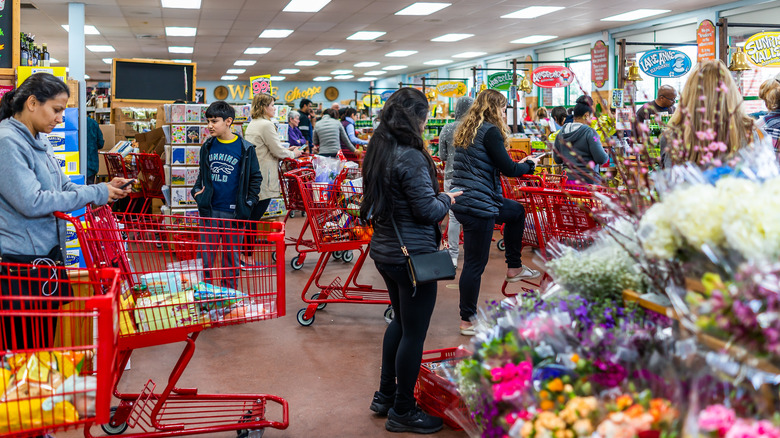 Kristi Blokhin/Shutterstock
While there are some days that'll ensure a smoother shopping trip, there are also days to avoid going to Trader Joe's if you want to eliminate crowds, stress, and low inventory. The closer you get to the end of the week, the more likely people are to be doing their weekly shopping. So, a good rule of thumb is to stay away on the weekends.
This is because 59% of consumers in the U.S. do their grocery shopping from Friday to Sunday, according to Drive Research. And it's true of Trader Joe's as well, with many insiders reporting to Eat This, Not That! that Sunday is usually the busiest day of the week, followed closely by Saturdays.
And as you may have guessed, where early mornings are typically less crowded, the afternoons are when you'll find the stores the most packed. If you're shopping on the weeknights, try to avoid late afternoon, specifically between 5 pm and 8 pm, since many young professionals or those who have just gotten off work tend to swing by for dinner provisions.