What Is Sal De Gusano (A.k.a. Worm Salt) And How Do You Use It?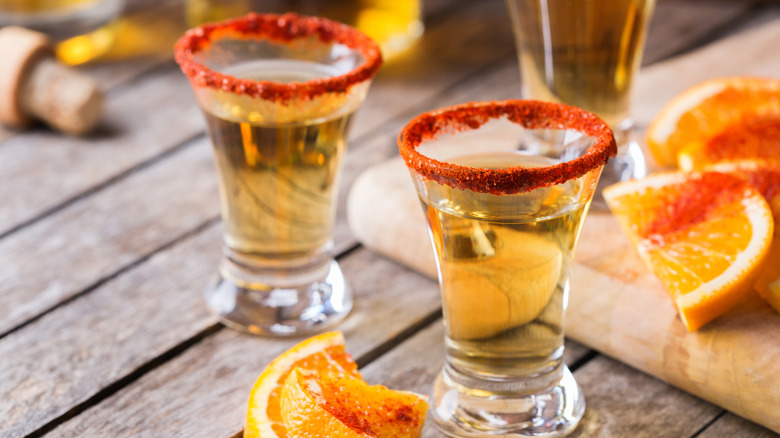 Antonina Vlasova/Shutterstock
Insects are a hot topic in the world of food. Some people cringe at the thought of consuming critters; others believe they're the way of the future. They make for cheap, sustainable protein and are consumed in about 130 countries. In Mexico, bugs are hardly revolutionary. Heaps of cinnabar-red grasshoppers are piled high on tables in the markets of Oaxaca, and in the mezcal bars of Mexico City, a copita is rarely served without sal de gusano sprinkled on fresh orange slices.
The gusano, or worm, at the bottom of a bottle of cheap mezcal, is actually a moth larva. Prized as a source of protein since pre-Hispanic times, the larvae live in the agave plants used to make tequila and mezcal. Fattened on sweet agave nectar, they might be sautéed and folded into warm tortillas or toasted and ground up with rock salt and dried chile peppers for sal de gusano: worm salt. Until recently, this spicy, smoky condiment was just about impossible to find in the U.S. Thanks to a broader array of Mexican food available and a couple of mezcal brands that started importing their own, sal de gusano is gaining something of a cult following.
"I grew up in Mexico City, and when I would visit my uncle in Hidalgo he sometimes served agave worms," says Monica Martinez, founder of Don Bugito, which bills itself a 'pre-Hispanic snackeria.' In addition to catering events, it sells packaged chili-lime crickets, chocolate-covered superworms, and sal de gusano online. "As a child, I was [put off]. I thought I would never want to eat those things! Today, Mexican gastronomy is looking to rescue its traditions, among them to revive and once again value the consumption of insects."
Putting the worm to use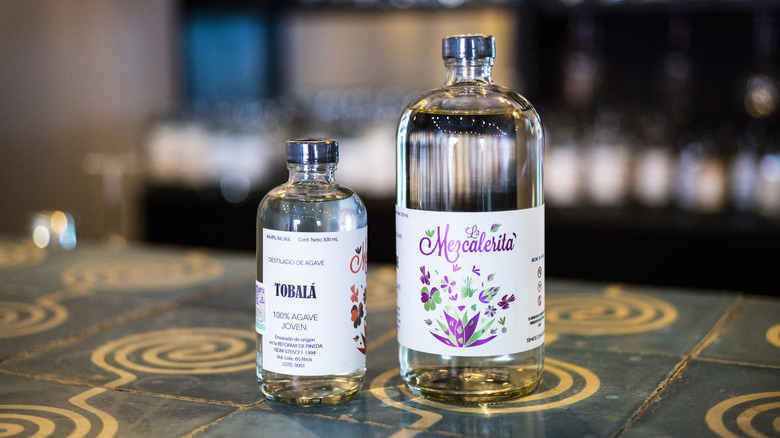 Alfredo Martinez/Getty Images
Martinez, an artist, began Don Bugito as a taco stand, but also as something of an art project. It stemmed from a series of sculptural pieces designed to function as urban farming alternatives. Today, it's a bona fide culinary company and looking to scale up. With more than 120 businesses now selling edible insect products, a growing number of U.S. farms are breeding critters for consumption. Martinez sources certain insects locally, but the gusanos in Don Bugito's worm salt come from Hidalgo, harvested from the fields of agave syrup producers.
"There is something poetic about eating the animal that lives in the agave plant," says Martinez. "And it makes so much sense to have it with mezcal. You're eating a little insect that eats the plant as you drink the spirit made from that plant. It's beautiful." Beautiful and useful, according to Diana Corona of Gran Mitla sal de gusano. The worms live in the roots and, if left alone, can eat the plant from the inside. What better way to get rid of them than to eat them? The Aztecs found these would-be pests to be delicious; they were said to hold curative properties, promoting strength and virility. Eating worms and other bugs became associated with the elite classes of the day, says Corona. When the Spanish landed in Mexico, they found a rich and sophisticated culinary culture, but the consumption of insects was rejected and eventually disappeared from the local diet.
"Fortunately, our indigenous people retained this part of the culture," she explains. "Today, Mexican gastronomy is looking to rescue its traditions, among them to revive and once again value the consumption of insects. They are not only high in beneficial proteins, but are a part of our roots."
There are different varieties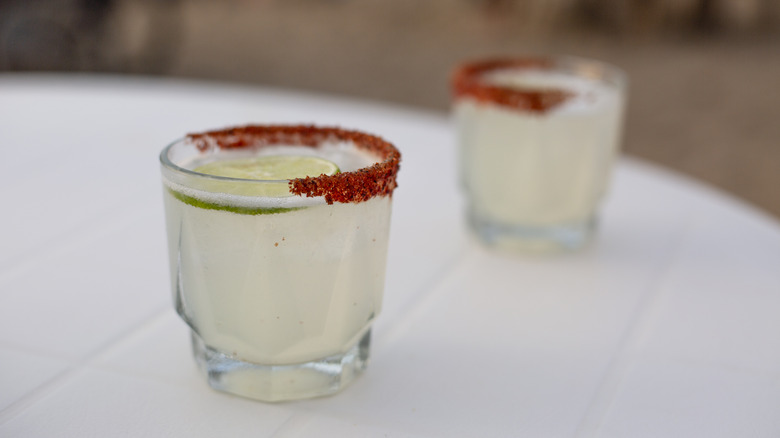 Linda Raymond/Getty Images
Each sal de gusano recipe is unique thanks to different varieties of gusano and chile pepper, different ratios of salt to worm to chile pepper, and varying calibers of salt, from iodized to hand-harvested sea salt. Don Bugito uses red chinicuil worms and New Mexico peppers. Marca Negra, a mezcal brand, makes its worm salt with Oaxacan mije chilies, chunky sea salt, and belatobe worms, which are "not easy to come by and expensive," according to co-founder Pedro Quintanilla. It's sold in a handful of states and on Amazon.
"Mezcal culture is growing so quickly," says Judah Kuper, who imports Mezcal Vago and Gran Mitla. "We don't actively promote the sal de gusano. But we promote the mezcal all the time, and introducing people to the salt is a great way to demonstrate the culture. There are still people who get grossed out that it's made with a bug. But then they taste it and actually like it. So we've doubled in size since 2013 without even promoting it."
Gran Mitla's recipe calls for equal parts gusano, chile costeño, and sea salt, which Kuper says is exceptional, "Most sal doesn't have this much bug in it." It also makes a chapulín (grasshopper) and lime salt, which Kuper recommends for rimming a michelada. The website sells 50-gram bottles for $13.50 and kilo bags for $98, mostly to bars and restaurants. You can also find sal de gusano at specialty stores like the Meadow, which has locations in Portland and New York, and Mom's Organic Market in Baltimore.
Unlike the salt-and-lime ritual of tequila shots, sal de gusano is not meant to cover up the taste of mezcal, but rather to complement it. The gentle smoke and spice of the salt add an extra umami-rich dimension to salsas, cocktails, and ceviche, too. Or you can serve it the way so many indigenous Mexicans still do: in a little bowl on the dinner table so it can be sprinkled on any and every little thing to each heart's desire.