How To Decode Tricky Sale Gimmicks At The Grocery Store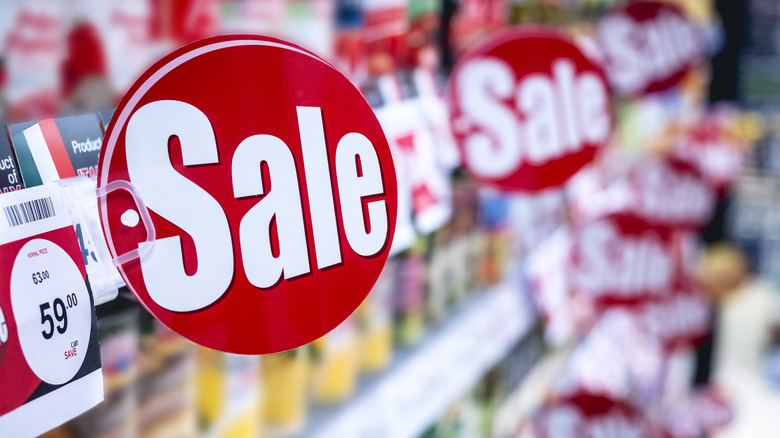 Vtt Studio/Getty Images
Supermarket sales are enticing — any way to save some money on a trip to the grocery store sounds smart, right? Well, the truth is that not all sales are worth your while, especially if you're not interested in stocking up. But it can be easy to fall for the advertising gimmicks designed to make you spend more money. Unless, that is, you know how to navigate those all-too-common grocery store ploys.
Deals like 10 yogurt cups for $10 or two loaves of bread for $5 sound like great deals. But instead of saving the money that you'd spend on one full-price item, you might be inclined to buy all 10 yogurts or both loaves of bread. This could actually result in you spending more than you intended on products you don't really need, putting you at risk of wasting food (and your hard-earned money).  In fact, according to a 2020 study published in the American Journal of Agricultural Economics, about a third of the food purchased for the average American household ends up going to waste. 
If you're spending cash buying more of something you don't actually need simply because it's on sale, how much are you really saving?
Avoid getting tricked into buying more than you need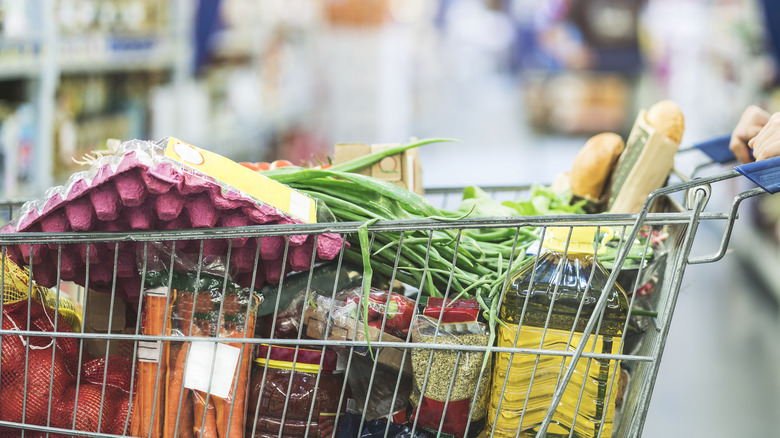 Seb_ra/Getty Images
Thankfully, there are ways to understand your local supermarket's weekly specials so you can avoid getting tricked. When a retailer lists an item as five for $5 or 10 for $10, most of the time that doesn't mean you necessarily have to buy that many. Typically, you can still take advantage of the sale by buying however many you need at the reduced price, not the advertised amount. This way, you save money without over-buying. Some stores have exceptions to this though, so it's always a good idea to read the fine print carefully or double check with a store employee.
On the other hand, sometimes stores will have  "buy one, get one 50% off" sales that also sound super appealing. In this case, you'd have to buy two items to get the sale. But if you really only need one box of crackers or one bottle of juice, this also might lead you to spend more money than you intended and still end up with more product that you will use. Resist the temptation and skip this sale if you don't actually need multiples.
But know when it makes sense to stock up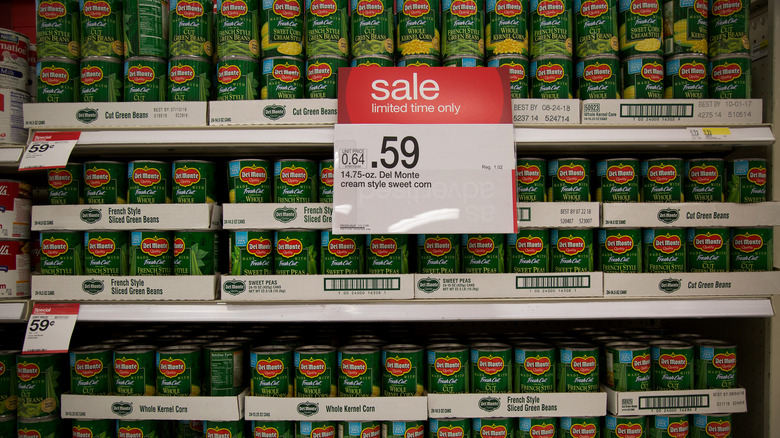 Bloomberg/Getty Images
Of course, it's worth noting that sometimes there are great reasons to take full advantage of a sale and stock up at the grocery store. Often, retailers will offer steep discounts at the holidays on things like canned goods or pantry and frozen staples. This is a good time to refill your shelves on things you know you're going to need that won't spoil right away. If you know that you're going to be using a lot of something soon — for example, if the kids are going back to school and will need lunchbox snacks, or you're hosting a big family gathering — it might make sense to jump on a special and stock your pantry.
Just be sure to always check your store's signage closely. Sometimes just one size or flavor of a particular item will be on sale, though the sign might appear ambiguous at first glance. Supermarkets can even do this on purpose to lead you to grab the wrong product and forget about it by the time you check out. Make sure to read the fine print and always monitor your purchases as they ring up at the register.