How Trader Joe's Became Royalty In The Frozen Food Market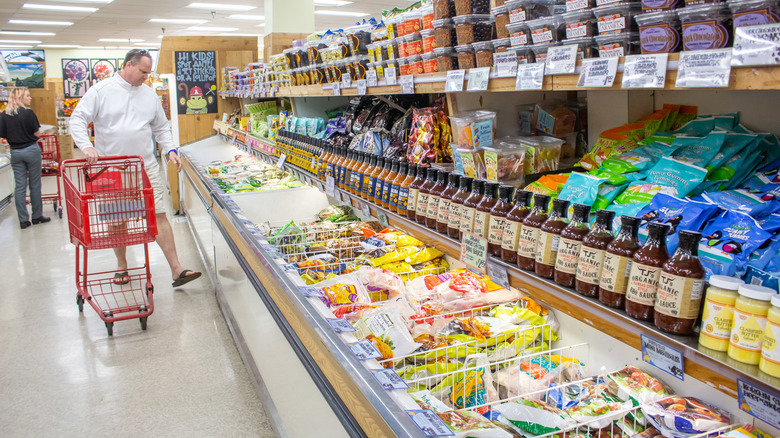 The Image Party/Shutterstock
The hallmarks of Trader Joe's are affordable pricing and constant innovation, which have helped the grocery chain continue to come out on top, even with many consumers drawn to food ordering services in addition to brick and mortar stores. But many people shop at Trader Joe's because of its substantial (and successful) frozen food options. 
The store has something for everyone: $2.50 frozen meals for students on a budget, bags of frozen berries for pre-workout smoothies, miniature ice cream cones for mediating kids' sugar rush while still giving them a sweet treat.
And Trader Joe's frozen foods are only getting more inventive and more popular. In 2021, NielsenIQ saw a 23% increase in frozen food sales, according to Winsight, with Trader Joe's making the most of the boost. But what's driving this success, and why is Trader Joe's still the fan favorite grocery store when it comes to frozen food?
The pandemic-inspired air fryer revolution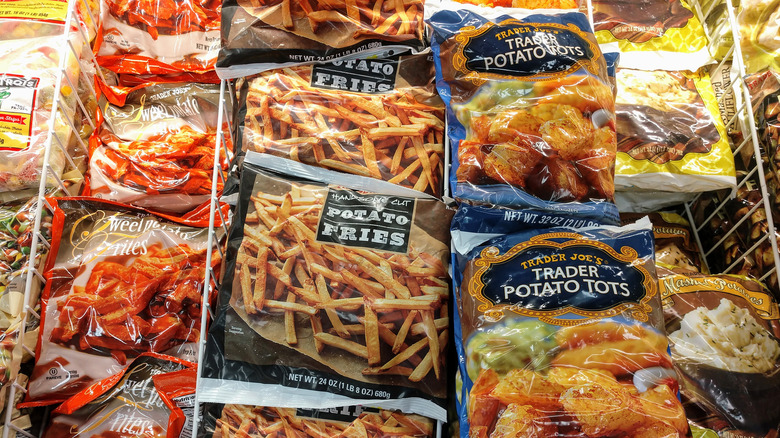 NTL Photography/Shutterstock
One of the biggest boons for Trader Joe's during the COVID-19 pandemic was the sudden popularity of air fryers. With consumers stuck at home and eager to order a kitchen gadget that would give them a bit of novelty, many of them bought air fryers and started looking for new items to cook in them. 
Frozen appetizers and breakfast items found new audiences as more home cooks experimented with their meals.
The rise of TikTok food trends and hacks over the last few years has also influenced the way people cook, offering fresh ideas on how to doctor frozen products to make something new without having to cook the whole thing from scratch. For example, as many discovered, you can pop frozen Trader Joe's gnocchi in the air fryer, then douse it with some Everything But The Bagel seasoning for a crispy, crunchy, ready-to-eat meal.
Pandemic cooking meant lots of frozen options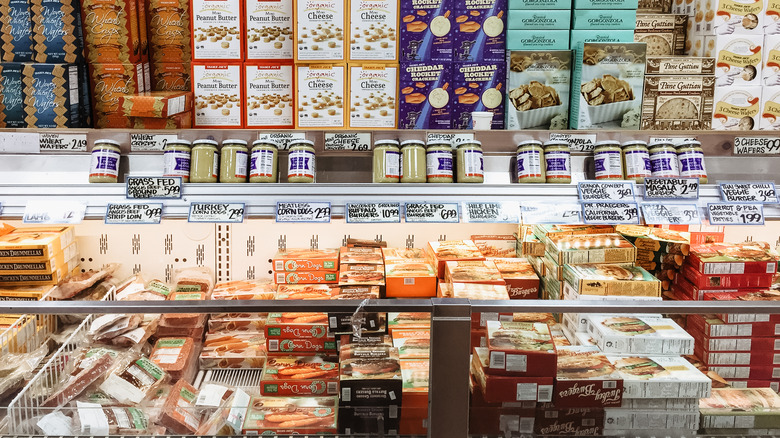 Corinna Haselmayer/Shutterstock
After the chaotic grocery runs that happened at the beginning of the COVID-19 pandemic, many people realized that stocking up on family-sized amounts of perishable items wasn't going to help them as they bunkered down for the unforeseen future. Many turned to frozen foods, particularly frozen meat, fish, and vegetables, which could be stretched to reduce the need for multiple grocery trips and possible exposure. 
This marked a diversion from traditional frozen meals that might be more calorie-dense, such as frozen pizza, and towards nutrient-packed protein and produce options that might be more practical in the long run. Other grocery retailers, including Amazon and CVS, also responded to this trend by bulking up on their frozen food options.
Another factor that may have played into TJ's pandemic frozen food rush was a lack of travel opportunities. With customers eager to try new dishes but unable to leave their homes, many of them took bite-sized trips to places like China and India thanks to Trader Joe's vast array of frozen international foods, from dumplings to paneer tikka masala.