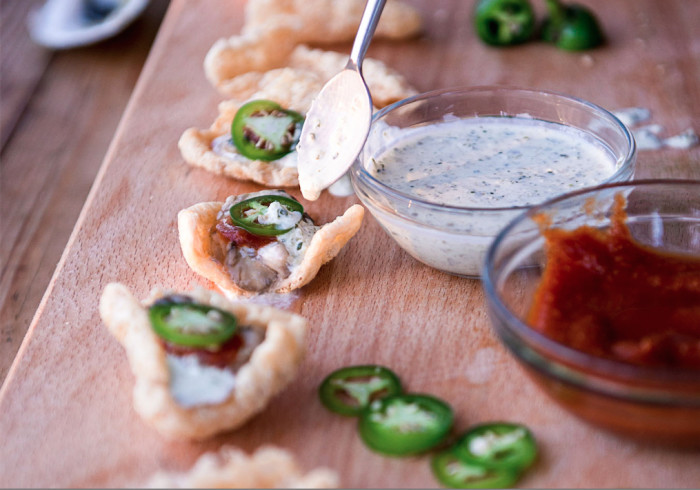 Award-winning chef and PBS show host Vivian Howard's new cookbook is a deep dive into Southern food. Rather than publish a few well-known recipes from this region and that, Howard focuses on the ingredients and techniques that have sustained her native North Carolina for generations. Get your hands on this hefty tome and prepare to see the Tar Heel State as never before.  

Related: A Chef's Life: Vivian Howard On Slathers, Snobs and Muscadine

An oyster-bar tradition I didn't know about till I started going to them on my own is that of the rooster. Let me set the stage. You and a buddy settle in at the bar for the evening. You plan to drink pitchers of beer and eat pecks upon pecks of oysters. After the second pitcher, your buddy says, "I'll eat a rooster if you eat one." You say okay, and the two of you clink Budweiser bottles to celebrate. A server brings you a saltine topped with a steamed oyster, about a tablespoon of horseradish, and several sliced jalapeños. You shoot one back, grimace, and chase it with some beer. Your buddy does the same. Before you know it, you've each eaten a dozen and you've got a T-shirt to prove it.

This is not that. This tastes good. Instead of something you'd eat only after partying a bit, this version of the rooster is an adept way to start a party. If you don't have fried puffy pork rinds, use saltines. But for me the pork rinds are half the point.
Ingredients
1/4

cup

minced pickled jalapeños

1/4

cup

prepared horseradish

1/4

cup

cocktail sauce

2

tablespoons

mayonnaise

1

large jalapeño, sliced into 24 rounds

juice of 1 lemon

24

fried pork rinds, each about the size of a saltine cracker

24

shucked oysters (small or medium ones work best)
Directions
For the roosters
In a small bowl stir together the pickled jalapeños, horseradish, and mayonnaise. Refrigerate for a minimum of 30 minutes before using and up to 3 days.

An hour before you plan on serving the roosters, marinate the jalapeño slices in the lemon juice. Just before serving, stir 1 tablespoon of that lemon juice into the pickled jalapeño mixture.

To serve, spoon a heaping teaspoon of the pickled jalapeño tartar on top of a pork rind. Place an oyster on top of that and crown that oyster with a teaspoon of cocktail sauce. Top it off with a jalapeño slice. Serve these immediately, because pork rinds (or saltines, if you're using them) get soggy very fast.