Chill Out: Ukrainian Cold Beetroot Soup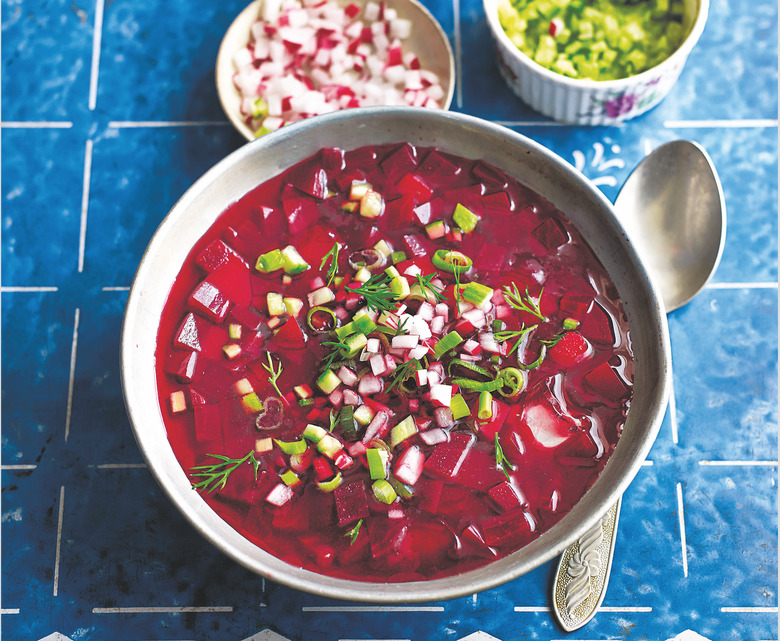 We may receive a commission on purchases made from links.
Ready to cook Eastern European? Pick up a copy of Mamushka, Ukraine-born chef Olia Hercules's ode to cuisine from Kiev to Kazakhstan, and every stop along the way. It's not all potatoes and beets, although the potatoes and beets are fantastic, as you can see in this extra-cooling and healthy summer soup.
This is incredibly refreshing in the summer. I guess it's a hybrid of something Russians call okroshka (which comes from kroshit, meaning "to chop into small pieces") and the Ukrainians kholodnik ("the cold one"). I like the idea of brining the beetroot first. And I like the idea of fresh radishes and cucumber in it, too. Add a small splash of sherry vinegar, and a tiny bit of Tabasco if you can't find fresh horseradish, to funk it up a little.
Chill Out: Ukrainian Cold Beetroot Soup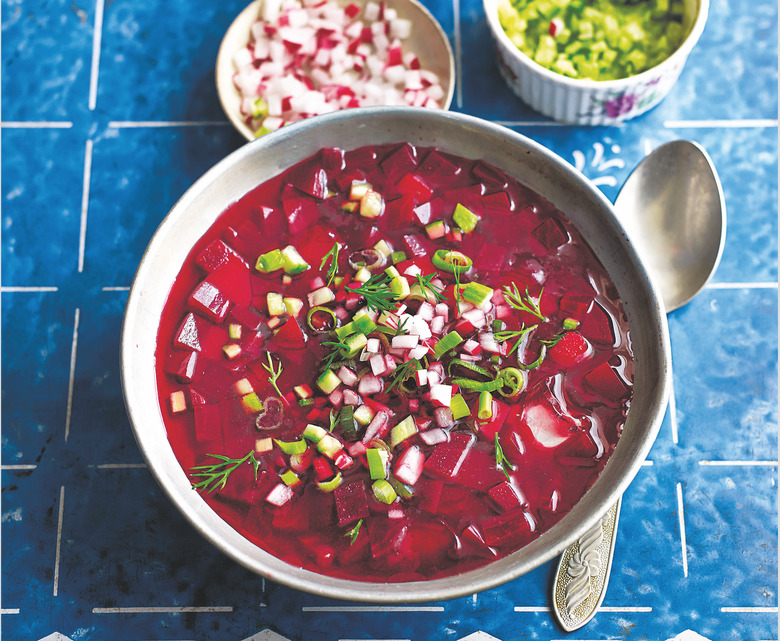 Ingredients
1 pound beetroot
5 cups cold water
1/2 tablespoon sugar or clear honey
3 1/2 cups vegetable stock
1 waxy potato
1 1/2 tablespoons horseradish
Sea salt flakes and freshly ground black pepper
2 radishes
1/2 cucumber
4 spring onions
1 tablespoon chopped dill
ice cubes
Directions
Place the beetroot in a bowl or container, cover with the water and add 1 1/2 tablespoons sea salt flakes and the sugar or honey. Leave it in your kitchen at room temperature for 2 days to let it brine lightly.
Drain the beetroot, reserving the brine. Cut it into thin slices and then into 1/4-inch dice.
Place the beetroot, stock and 1 cup of the reserved brine in a saucepan, taste for seasoning and bring to a boil.
Add the potato and cook for 15 minutes or until cooked through. Taste for seasoning, let the broth cool, cover and chill in the refrigerator.
Add the horseradish just before serving (it is so volatile, it will make you cry but will dissipate into thin air quite rapidly). Serve the soup chilled, with an ice cube or two added, and garnished with the radishes, cucumber, spring onions and dill.