Crunchy! It's Lucky Peach's Tempura Green Beans Recipe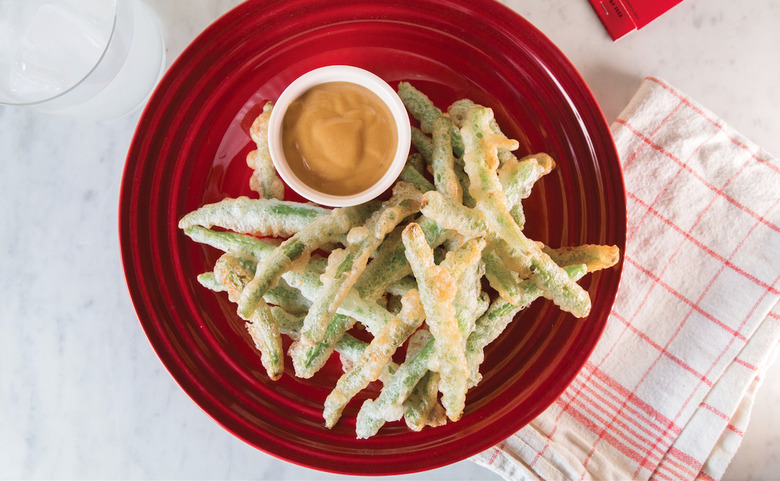 We may receive a commission on purchases made from links.
Just because Lucky Peach magazine is famous for meat-laden recipes like porky ramen, fried chicken and piles of shellfish doesn't mean they can't publish an awesome vegetable-based cookbook with treats like tempura green beans. This fresh, fiber-rich, plant-based collection of "Turbocharged Recipes for Vegetables With Guts" is so good you'll forget you were ever craving that lap cheong or roast duck.
My first jobs in food media were as an event planning intern and a publicist, and the clubhouse of the people I worked for was the Red Cat, Jimmy Bradley's restaurant in Chelsea, where this dish has been a stalwart of the bar menu for more than a decade and a half. It has all the visceral appeal of something I would have ordered at T.G.I. Friday's (which was my favorite sit-down restaurant as a teen) and the sophistication—or at least a price tag—that made it acceptable in Manhattan. I include it here because it was one of the first restaurant vegetable dishes I thought was awesome, even if now I can see more clearly that it was just playing to my inner fat boy/deer that likes a salt lick. But that's okay — not all vegetables need to be the sort of thing you'd split with your yogini.
Reprinted with permission from Lucky Peach Presents Power Vegetables!
Crunchy! It's Lucky Peach's Tempura Green Beans Recipe
Famed Asian foodie mag Lucky Peach has an awesome vegetable-based cookbook out, packed with treats like tempura green beans.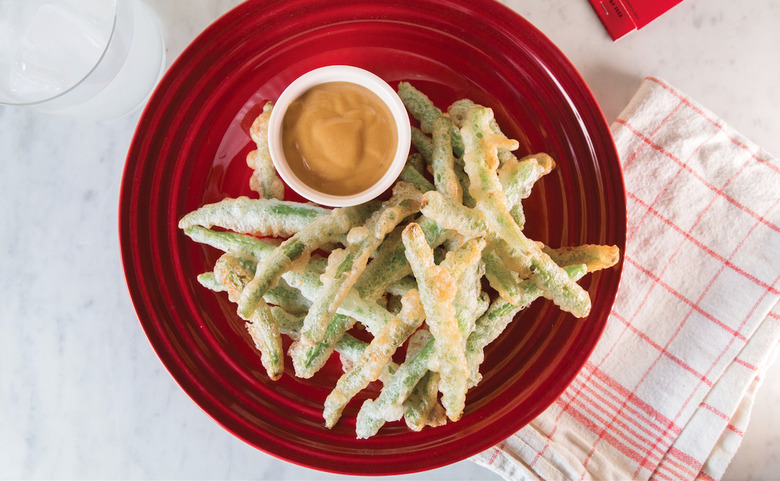 Ingredients
2 tablespoons Dijon mustard
2 tablespoons honey
2 egg whites
1 1/4 cups all-purpose flour
12 ounces cold club soda
neutral oil
1/2 pound green beans
kosher salt
Directions
Stir the mustard and honey together in a small bowl. Reserve the honey mustard for serving.
Whip the egg whites with a whisk in a large bowl until creamy, fluffy, soft peaks form. Whisk in the flour and club soda.
Pour 1 inch of oil into a wide, heavy pot. Bring the oil to about 350°F over medium heat. A drop of batter should immediately float to the top and turn golden in about 8 seconds when the oil has reached the proper temperature.
Drop a handful of green beans into the batter, then lift them out one by one, allowing the excess batter to drip back into the bowl. Working in batches, slowly lower one end of the beans into the oil, allowing the ends to partially set and act as floating life preservers for the rest of the bean before letting go.
Fry the beans until golden and crunchy, 2 to 3 minutes. Remove with a spider to a plate lined with paper towels and sprinkle with salt. Repeat with the remaining beans.