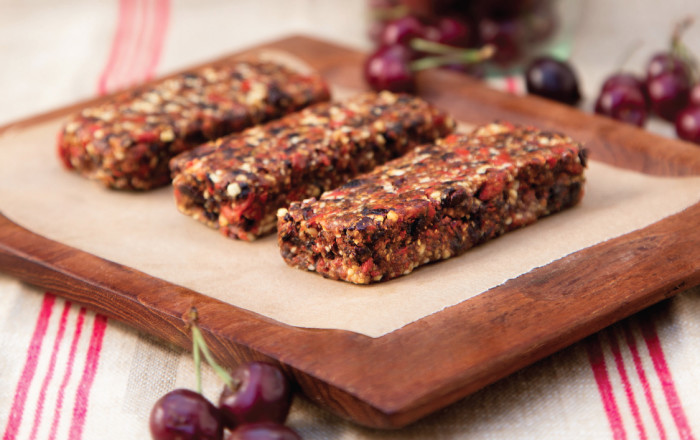 Good snacking requires more than knowing which foods are healthy. Take charge of snacktime with Julie Morris's Superfood Snacks, a follow-up to her ultimate juicing guide (try the honeydew mint chia fresca!) Her tried-and-true crunchy, salty and sweet bites are as delicious as they are packed with vitamins and antioxidants, like these no-bake power bars.
Cherries and goji berries are soul mates in the dried-fruit world — I often make trail mixes that pair these two red beauties. Here, they're friends again in these wholesome, cacao-nib-accented raw bars. Packed with all kinds of antioxidants, these bars appear to be "only" sweet treats, while undercover they are anti-aging workhorses.
Reprinted with permission from Superfood Snacks
Ingredients
1/2

cup

raw walnuts

3/4

cup

raw almonds

1/4

cup

Medjool dates, pitted

1/2

cup

dried goji berries

1

teaspoon

vanilla extract

1/8

teaspoon

ground cinnamon

1

cup

dried cherries

2

tablespoons

cacao nibs
Directions
For the bars
In a food processor, combine the walnuts and the almonds, and process the nuts into the size of small gravel. Add the dates, goji berries, vanilla extract, and cinnamon powder, and process until the mixture forms clumps and begins to stick together. Add the cherries and cacao nibs and process briefly to incorporate the ingredients, but leave some small chunks for texture. Stop the machine and check the consistency: Depending on the natural moisture of the dates, you may need to add a touch of water — 1 teaspoon at a time — to get the crumbs to stick together when pinched. If the dough is too wet, blend in a few extra almonds.

Place the dough on a large sheet of plastic wrap on a cutting board. Press the dough into a compact rectangle, then wrap it tightly in the plastic, compacting it even more.

Use a rolling pin to roll the dough into a ½-inch-thick layer. Unwrap the dough and cut it into bars or bites as desired. Energy bars will last several weeks unrefrigerated and covered, or keep them in the freezer for long-term storage.

Superfood boost: Add ½ teaspoon spirulina powder while blending the ingredients for a mineral-rich green upgrade.