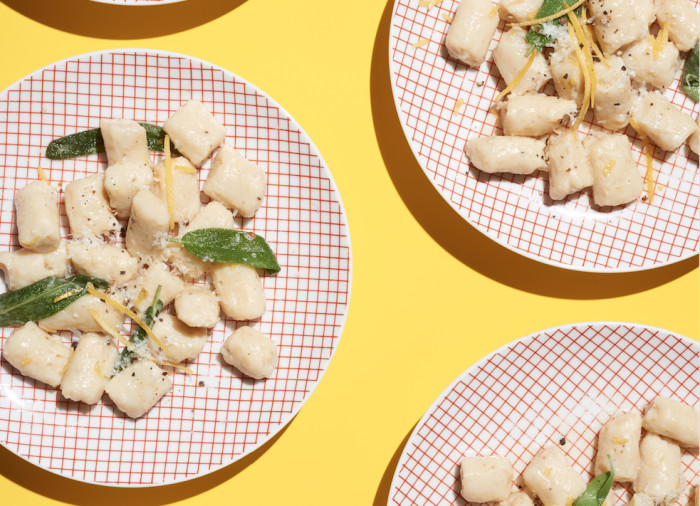 Hugely popular food blogger, editor and host of the new series "Food Futures," Elettra Wiedemann has a new collection of recipes out that will turn "45 minutes and nothing in the fridge" into a fabulous dinner the whole family will remember. Make this refined sunchoke gnocchi in no time, flat!
Making gnocchi from scratch may seem intimidating, but it's really just pureeing some ingredients together and then squeezing out the contents into boiling water to cook for a few minutes. The sage-butter sauce is very impatient friendly, as well as totally delicious.
Ingredients
kosher salt

2

pounds

sunchokes, scrubbed clean and cut into 1-inch cubes

1

cup

ricotta cheese

1

large egg

3

cups

all-purpose flour

freshly ground pepper

1/4

pound

unsalted butter

1/2

cup

fresh sage leaves

1

lemon, zested and halved

1/2

cup

grated Parmigiano-Reggiano cheese
Directions
For the gnocchi
Bring 2 pots of salted water to a boil (one for the sunchokes, the other for the gnocchi).

Add the sunchokes to one of the pots of boiling water and cook until tender, about 10 minutes. Drain and let cool, 5 to 10 minutes.

Transfer the sunchokes to a food processor and process until smooth. Add the ricotta, egg, flour, and 2 generous pinches of salt and pepper. Pulse a few times until evenly incorporated.

Remove the dough from the food processor and transfer into a large plastic storage bag. Push the dough down into one of the corners of the bag and cut 1 inch off the corner. Set aside.

In a large skillet, melt the butter over medium-high heat and cook until slightly browned, about 5 minutes. Add the sage and lemon zest and remove from the heat.

Pipe the sunchoke batter directly into the other pot of salted boiling water by squeezing the bag gently in one hand to force the dough out and cutting the dough into 1-inch segments just before they fall into the pot. Cook the gnocchi for about 4 minutes, until they float. Remove from the water using a slotted spoon or sieve and transfer to the butter sauce. Stir gently to coat the gnocchi in the sauce.

Serve the gnocchi with the grated Parmigiano and a squeeze of fresh lemon juice.