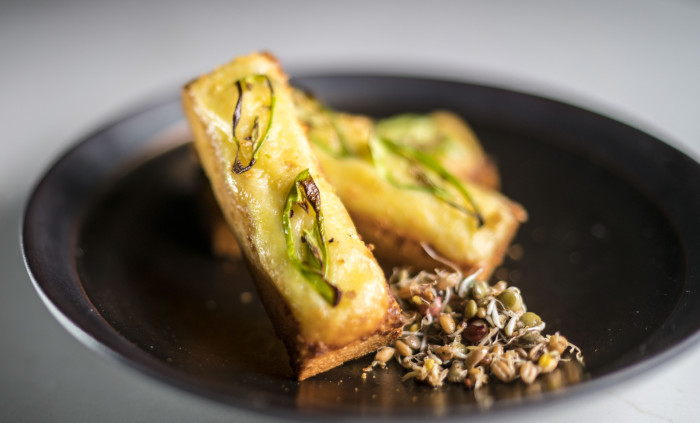 We're huge fans of Rahi, the modern Indian restaurant in New York's West Village helmed by chef Chintan Pandyan. His experience at one of the most exclusive culinary schools in India contributes to his unique interpretation of global flavors, textures and colors. But even though Pandyan is well-versed in the fine dining cuisine of many cultures, playing with dishes centered around his native street food will always win. The chili cheese toast at Rahi is a great example, utilizing a savory processed cheese called Amul that's more or less built-in to Indians' palates (available at Indian and Middle Eastern grocers). Best of all, it only takes about 10 minutes to recreate at home.
"My affinity for Amul cheese is rooted in nostalgia for the street foods of my childhood, especially my mother's chili cheese toast," says Pandyan. "At Rahi I serve Amul cheese and shishito peppers, and it is one of our most popular starters. The cheese has a wonderful saltiness when eaten on its own out of the tin, but melted, its taste is a different level.
Ingredients
14

ounces

Amul cheeese, grated (about 3 cups)

2

tablespoons

green chili, minced

4

slices

milk bread, about 1-inch thick slices (If milk bread is not readily available, thick, white bread will work as well)

1

egg

Salt and pepper, to taste

1/4

onion, chopped
Directions
For the toast
Preheat oven broiler to medium-high heat.

Combine green chili, amul cheese, egg, salt and pepper together in a medium bowl and stir until fully combined and set aside. Toast the sliced milk bread on a lined cookie sheet in the broiler until golden brown on each side. Let bread cool.

Spread the reserved cheese mixture evenly over the toasted bread slices and top with chopped onions. Place the bread back on the lined cookie sheet and toast under broiler until cheese melts. Serve hot.