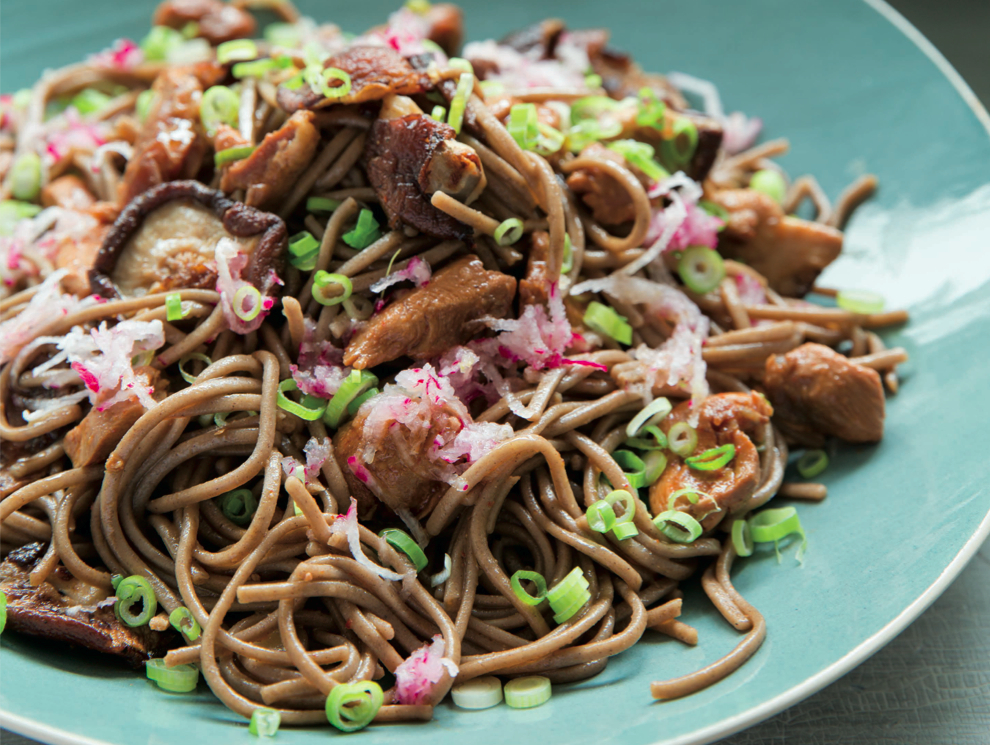 Few things are as good as a meal cooked by either of the Sussmans, Max or Eli. Long story short, go to Brooklyn, eat at Mile End and tell 'em we sent you. We liked their first cookbook, This Is A Cookbook, a whole bunch. But their second book, released this past fall, the aptly named Best Cookbook Ever, kind of is the best cookbook ever. We want to make everything in it, starting with this soba noodle recipe. 
Also see: Best Cookbook Interview Ever: Max And Eli Sussman Are Stoked About Home Cooking
As much as everyone loves the occasional so-so Chinese food delivered right to the door, often it's much more fulfilling and significantly less gross to make dinner yourself. If it's Sunday and you're about to binge out on food (and AMC), we understand. Put on your pj's, earmark this recipe, and move on to a different chapter. But if you've got plans later and don't want to be weighted down, this recipe is light and quick and the poaching liquid doubles as your sauce, so that's one less pan to clean up.
Ingredients
3

tablespoons

soy sauce

2

tablespoons

rice vinegar

1

tablespoon

mirin

1

tablespoon

Sriracha

2

boneless, skinless chicken thighs, thinly sliced

1/2

pound

soba noodles

kosher salt

2

tablespoons

olive oil

1/4

pound

shiitake mushrooms, stemmed

1

bunch

green onions, white and tender green parts only, trimmed and thinly sliced

2

tablespoons

toasted sesame oil

2

radishes, grated
Directions
In a small saucepan, combine the soy sauce, vinegar, mirin, Sriracha and 3 tablespoons water and bring to a simmer over high heat. Reduce the heat to medium-low and add the chicken. Simmer gently until the chicken is opaque throughout, about 10 minutes. The liquid will thicken slightly as the chicken cooks, but add a bit more water if it gets dry.
Meanwhile, bring a pot of water to a boil over high heat. Add the soba noodles and a pinch of salt, and cook until al dente, about 5 minutes or according to the package directions. Immediately drain in a colander set in the sink, rinse under cold running water, and let drain again thoroughly.
In a sauté pan, heat the olive oil over high heat. When the oil is hot, add the mushrooms and a pinch of salt and cook, stirring often, until tender, 2–3 minutes.
In a bowl, toss the soba noodles with the warm chicken and sauce, warm mushrooms and half of the green onions. Transfer to a serving bowl and top with the remaining green onions, sesame oil and radish. Serve right away.
Try out these recipes with soba noodles on Food Republic: