Best Cookbook Interview Ever: Max And Eli Sussman Are Stoked About Home Cooking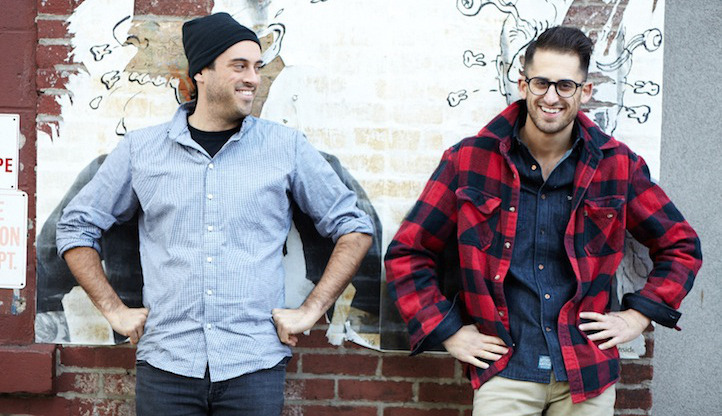 We may receive a commission on purchases made from links.
Earlier this summer, my mother took a shine to Max and Eli Sussman. Sure, they are two Michigan-raised Jewish boys with clever hairstyles and an interest in food-related activities that borders on obsessive — sort of like her real son. Max, 30, until recently served as the chef de cuisine at Brooklyn Neapolitan pizzeria with benefits Roberta's, while Eli, age 28, a former ad man turned ad critic, runs the kitchen at Québecois haute delicatessen Mile End. They've written three cookbooks together, which is where my mother comes in. In July, my family often rents a house at the beach in North Carolina. They are big eating and drinking affairs.
So with little time and room to spare in my carry-on, I tossed in the closest, and lightest, cookbook I could find, which ended up being This Is A Cookbook: Recipes For Real Life, the Sussman's 2012 release. Throughout the week in Corolla, we cooked from that thing nearly cover to cover. A maple syrupy monte cristo for breakfast, grilled siracha chicken wings and fish tacos for lunch, and rigatoni with pork ragu for dinner. A simplified fried rice recipe came in handy around midnight after a couple games of beer pong. Mom had ordered her copy by night three.
The Sussmans have a gift for writing recipes that you want to prepare at home, which is fully in action in their latest release — Best Cookbook Ever. There's a subtitle too: With recipes so deliciously awesome, parties so incredibly mind-blowing, pictures so breathtakingly beautiful, menus so expertly crafted, and stories so heartbreakingly poignant that you will cry as you cook from it, and it will change your life forever. It's all a little Buzzfeed, but the recipe collection enclosed picks up where Cookbook left off. That is, strongly.
The 70 dishes are mostly one-pagers and are organized into chapters descripting particular eating scenarios. Think winter log cabin weekend or feasting on the eve of the zombie apocalypse. Solo dinners are grouped under the heading: Just Because You Don't Have Friends Doesn't Mean You Can't Make Dinner. The tone is very #BestCookbookEver — not your crusty single pot suppers recipe comp. And as we find out in a recent email exchange, the cooking is only half the fun with these guys.
OK, first up. Give me five reasons why this is the best cookbook ever. BOLD CLAIM, guys.
1. It will make you the best home cook ever. We guarantee that. Any recipe is going to blow your friends/spouse/co-worker/parent mind.
2. It is the easiest cookbook to use ever. The recipes are built for normal people in a normal kitchen.
3. It's the most fucking beautiful cookbook ever. Erin Kunkle and Simon Andrews did a bang up job with the photography and styling. We could not have asked for a better creative team.
4. We know what our audience wants and we gave it to them.
5. It's a solid read. You don't even need to be cooking out of it to be using it. We promise there are plenty of nonsensical and whimsical anecdotes.
I really like your first book, and my mother loves it, but what did you need to add in this second book?

Video: The Sussmans on why you should buy their cookbook
You've gone vegetarian/pescetarian with a lot of these recipes, which is cool to see. Was this on purpose?
Max: It was definitely on purpose. The largest thing we heard at demos and signings, and from our friends, was: "We want more vegetarian dishes." So we included an entire chapter for vegetarians and made sure to include a tip for meatification to satisfy the less picky carnivorous members of your dinner party.
Did you discover a crucial ingredient while writing this book – like a new condiment or cheese or vegetable?

Eli: Our cauliflower leek puree might be the newest best condiment ever. It's not going to unseat Heinz, but it's delicious as a dip or spread and can be tossed with veggies for a salad or served with lamb or ground beef. It's very versatile.
You guys both cook professionally, but find time to also entertain. Aren't you sick of it when you get home? Describe your last big dinner party...
Max: I've been holding small dinners (8-14 people) at the apartment since I've left Roberta's. It's an awesome way to keep doing my food for friends.
Eli: I've been busy at Mile End Brooklyn and haven't cooked that much at home lately. The last dinner party I went to was a bunch of our friends and a few strangers at our apartment where Max and Katy Peetz cooked something like 11 courses and I just drank and ate an insane amount.
Two foods each of you cannot stand to even look at...
Eli: Egg salad. I mean, I can't look at it. The general gloopy texture and slop of it is not for me. I'm not ordering that anytime ever.
Max: There's nothing I can't look at. If I get hungry I'll eat anything.
What's up with the Hammer shirt you are wearing on page 89 of the book?
Eli: That is a vintage Detroit Pistons back-to-back championship t-shirt. The other side has a picture of two rings and says "you can't touch this," and yes, it's the coolest shirt ever invented. I have two of them I got at a Salvation Army in Michigan. And I want to put in print that I just happen to be wearing a Brooklyn Nets hat in the photo only because I put my normal Pistons hat into kitchen rotation and it's just too dirty to wear anywhere outside of Mile End. I'm not a Nets fan...Pistons till I die.
Read more chef interviews on Food Republic: