Snack Attack: American-Style Dutch Bitterballen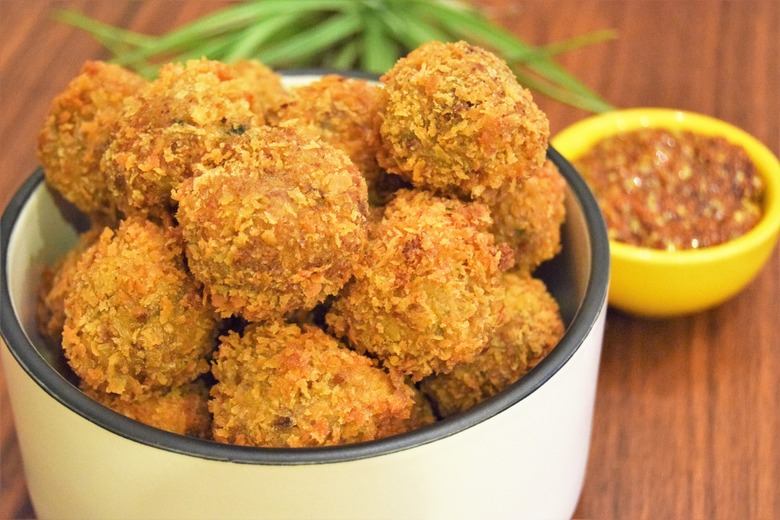 If you have the urge to deep-fry, try your hand at these American-style Dutch bitterballen. (Photo: Paul Harriso
I was recently in Amsterdam for the relaunch of an iconic hotel, and they threw this big fancy party that was, well, really fancy: open bar with specialty cocktails, food from three different Michelin-starred chefs. That kind of fancy. At the afterparty, I noticed a tray of fried something-or-other making the rounds. When the server came around, I saw a big plate of fried balls with a big bowl of mustard next to it. My party associates and I didn't ask what they were, we just dove in, looked at each other, then looked at the server and asked what they were. "Bitterballen." Pretty sure we collectively put down a couple hundred of those that night.
So now I knew their name, but I still didn't know what bitterballen were. What is this crispy little ball with a creamy interior and bits of beef floating in it? Is this cheese? Why are they called bitterballen when there's nothing bitter about them? I DON'T KNOW! So I used a very handy new tool called Google (you should check it out if you haven't) and found out that the creamy interior is basically just roux (sautéed fat and flour). How could that be? They were so f-ing good! The key is that there's broth in that roux, and if you use good broth, you'll get a great end product. The name is derived from historically being served with bitters (herbal liqueurs, like what you drink in cocktails), though people nowadays drink beer with them (which I certainly can get behind).
I ventured out with another writer to a spot that was supposed to have some of the best bitterballen in Amsterdam; they put curry powder in their bitterballen (a common variation). I'm generally not a fan of curry powder, and while it didn't ruin the bitterballen I had there, they were not nearly as good as the ones I'd had the night before. But I could see they had potential. The ones I had the night before were a perfect blank deep-fried canvas: nothing extra, just straight-up perfectly executed perfection.
I took my own recipe in a spicy-smoky direction, using smoked salt and smoked paprika with a little cayenne pepper for heat. Oh, and instead of using slow-roasted shredded chuck roast like the classic version does, I fired up and chopped a rib eye for a little extra texture. I give you: American-Style Dutch Bitterballen.
Snack Attack: American-Style Dutch Bitterballen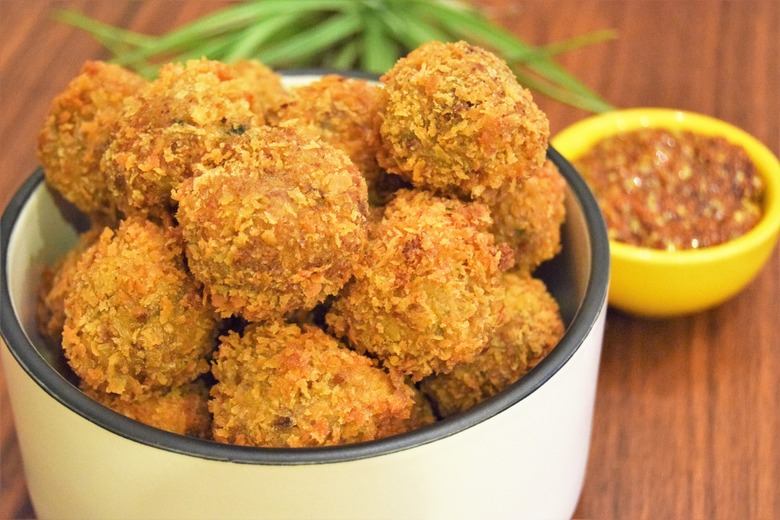 Ingredients
1 pound boneless rib eye or shell steak (can do bone-in too, just make sure you get one that's a little bigger)
salt
4 tablespoons butter
1/4 cup flour
1 large shallot
3 cloves of garlic
1/3 cup fresh parsley
3/4 cup beef broth (other broth is fine to substitute, just not as tasty; homemade broth is best!)
1/2 teaspoon smoked salt
1/4 teaspoon ground black pepper
1/4 teaspoon smoked paprika
1/8 teaspoon cayenne pepper
1/2 cup flour mixed with 1/4 teaspoon each salt and smoked paprika
2 eggs beaten with 2 tablespoons water
1 1/2 cups panko breadcrumbs mixed with 3/8 teaspoons each salt and smoked paprika
Strong mustard of your choosing to dip in
Directions
Let your steak sit at room temp for 30-60 minutes before you get started.
Season the steak with salt on both sides.
Heat a cast-iron skillet on high.
Cook steak for 5-7 minutes on each side; you're aiming for a solid medium-rare.
Let rest at least 10-15 minutes.
While steak is resting, you can make your roux; start by melting the butter in a saucepan on medium high.
Add the shallots, garlic, and parsley, and cook for 2-3 minutes.
Add the flour and whisk into the butter mix; you'll get a very thick paste.
Cook the paste down until it's starting to turn brown, about 1-2 minutes.
Add the broth and all the seasonings, and mix well.
Cook an additional 4-7 minutes while stirring constantly, until brown and pasty (not as pasty as the flour-butter mix before the broth).
Take the roux off the heat and put it in a mixing bowl.
Remove gristle from steak and dice into little pieces.
Mix the steak into the roux.
Stick the mix in the freezer for about an hour.
Get your breading materials ready while the roux mix is in the freezer.
Heat oil to 375°F.
Take the mix out of the freezer, and shape into 24-30 balls (15-16 grams each).
Dredge balls in flour, egg, and breadcrumbs.
Fry the balls 4 at a time for 1-2 minutes, or until golden brown.
Serve with some strong mustard of your choice (FWIW, they were absolutely perfect with Miller's Habanero Hot & Sweet Mustard).