In Hungry Concierge, we travel the world to spot hotels that operate with their guests' food and drink needs squarely in mind — hotels, both big and small, that are located in neighborhoods rich with bar and restaurant options. Because there's nothing worse than having your trip derailed by crummy room service.

As I approach the city of Amsterdam, I break out of my overnight-flight haze and marvel at my surroundings: We're in Dam Square, and on one side is the Dutch Royal Palace, and on the other, the Grand Hotel Krasnapolsky, where I'm staying. As I walk in, I'm greeted by kind folks offering fresh-pressed espresso, and suddenly I'm feeling much better. I need three things: euros, toothpaste and stroopwafels. Euros can be obtained across the street, stroopwafels around the corner, and toothpaste is sent to my room while I'm obtaining the other two.

Amsterdam is known for a wide variety of attractions, but luxury accommodations are not typically high up on that list; however, the city is quickly becoming a safe haven for more upscale dining and hotel experiences, as evidenced by the multitude of fantastic restaurants and Michelin-starred chefs that now call Amsterdam home, including the historic Grand Hotel Krasnapolsky, which just reopened after a full refurbishment. (It's now a flagship hotel in the upscale NH Collection hotel group.)
The Hotel
Adolph Wilhelm Krasnapolsky originally bought his favorite coffee shop in Dam Square in 1865, then expanded it to create a hotel. Krasnapolsky eventually purchased 55 adjacent buildings, all of which now make up the entire hotel, though you'll only notice the subtleties in layout if you get a little turned around at 3 a.m. with a different whipped cream–topped waffle in each hand (which most certainly did not happen to me). This year is the hotel's 150th anniversary, and from the outside you might guess as much as the classic façade is still present, but the interior is modern and sleek. There's a glass enclosure adjacent to the lobby and café that's a temperature-controlled pastry showcase room, and the huge grand ballroom will blow you away with its one-two punch of size and elegance, especially the Winter Garden, the ballroom's foyer (above), where breakfast is served daily.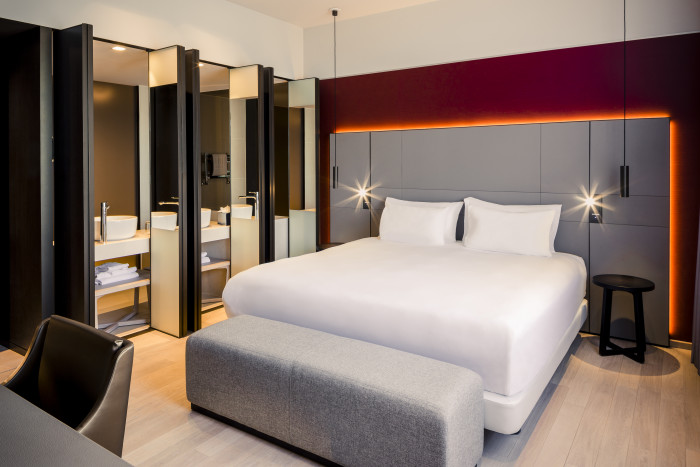 The Rooms
Sometimes you walk into a hotel room and it feels like everything was done on the cheap. That is certainly not the case here. I was in a smaller, more budget-friendly room, but I wasn't disappointed in the least. To the contrary, dark wood accents, large mirrors that give the illusion of more space, and a big, soft bed made the room feel comfortable and inviting. After collecting the indispensables described earlier, I was in desperate need of a nap, and when you feel that way, nothing beats a good bed. Add in a shower that provides a fully immersive experience, and it's the perfect place for a jet-lagged traveler. What do I mean by immersive, exactly? The shower is its own small room, with water coming from both the ceiling and the wall. Once the door is closed, all the steam and sound is trapped; you're in your own blissful little world, cut off from the outside.
The Neighborhood
Beyond everything architectural that the Krasnapolsky has going for it, its central location is one of its greatest assets. It's right in the heart of Dam Square, directly across from the Royal Palace, and it's easy to get to all the sites you'll want to see. There are great restaurants and cafés (I highly recommend Jansz for dinner) and plenty of bars and coffee shops. There are also plenty of "coffeeshops" nearby (note the difference), and the Red Light District is just around the corner/canal.
The Food
Let's start with that lobby-adjacent glass-encased pastry room mentioned earlier. I had a macaron the size of a softball that had just the right amount of sweetness, mixed with a little nutty saltiness, and a shell that I couldn't believe held up at that size. I had the pleasure of eating lunch at the hotel café and was really impressed with the menu. One standout dish in particular was the seared rare tuna with thin slices of baked apple — a clever pairing that I wasn't sure would work, but which proved to be delicious.
But the hotel's real culinary crown jewel is the newly opened White Room by three-Michelin-starred chef Jacob Jan Boerma. The name is a reference to the original restaurant that opened in that space in 1885, called De Witte Zaal, and the interior is not altogether too different in aesthetic from what you might have come across then. I sampled the menu, which was spectacular. Let's just say that I never thought tuna tartare with spring pea marshmallows and lobster with potato foam would impress me so much — let alone make me forget all about my beloved stroopwafel.
Grand Hotel Krasnapolsky
Dam 9, 1012 JS
Amsterdam, Netherlands
+31 20 554 9111
Rates from $226 per night. Visit nh-hotels.com for more details.