Persimmon Fizz Cocktail Recipe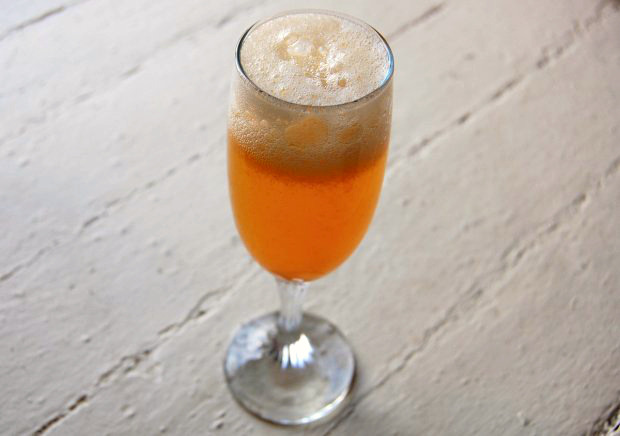 The first time I tasted a persimmon, I was on vacation in Israel and had already accustomed myself to a host of new foods. One morning at breakfast, when I spied a platter of what turned out to be persimmons. The bright orange, roundish fruits looked like tomatillos but tasted like honey, their wobbly, jelly-like flesh submitting to the barest pressure of my spoon. Ever since that morning, I've been hooked.
It's not always easy to find persimmons here in the U.S., but they're worth seeking out at the specialty grocery stores where they tend to pop up. Right now, we're at the tail end of persimmon season — it generally lasts through March — so time is of the essence. Stock up on a few too many persimmons, reserve a few for eating out of hand and, with the rest, whip up a vivid, simple syrup-sweetened purée that's a perfect add-in for a variety of cocktails, slipping with ease into bourbon Old Fashioneds as well as lighter, more summery gin-based drinks. But the most festive, brunch-worthiest use of this lovely fruit purée is in a variation on the classic mimosa: blended persimmons yield a simple yet totally unexpected fizz that's way more exciting than your standard orange juice-and-champagne.
Persimmon Fizz Cocktail Recipe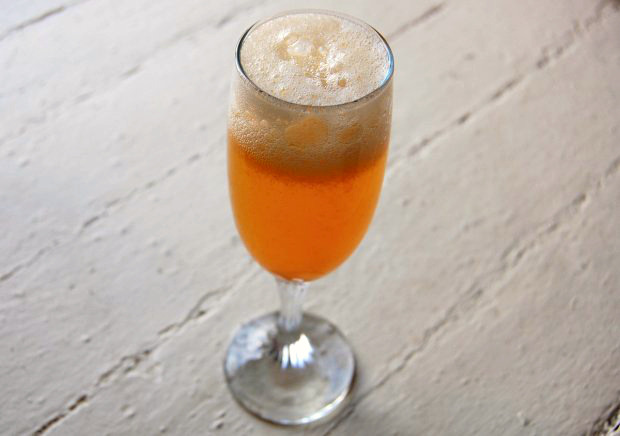 Ingredients
1/2 cup granulated sugar
1/2 cup water
2 medium persimmons
1 tablespoon persimmon purée
4 ounces dry sparkling wine (like prosecco or cava)
Directions
In a small saucepan, combine sugar and water and bring to a simmer.
Remove syrup from heat.
Add persimmon chunks to a food processor or blender and blend on high.
While machine is running, add 5 tablespoons simple syrup. Blend until smooth.
Let purée cool, then cover and store in the refrigerator for up to one week or the freezer for one month. 
Add persimmon purée to the bottom of a champagne flute. 
Slowly pour in sparkling wine to fill glass, stirring gently with a cocktail stirrer or chopstick. 
Serve immediately. 
The "Fast Running Break" Cocktail
The Prescription Julep Cocktail
Absinthe, Anyone? Try The Necromancer Cocktail