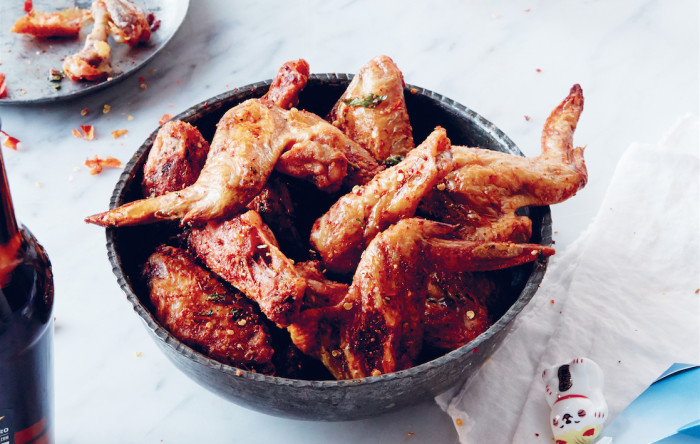 Lucky Rice, the New York–based festival series, shines a spotlight on Asian culinary culture. Think night markets, hawker centers and all things street food. Festival founder and newly minted cookbook author Danielle Chang rounded up the best of the best in this eponymous cookbook that is a must-read for every fan of noodles, fiery chilies, deep-fried things on sticks, all manner of squid and, of course, rice. Try these extra-crisp and spicy chicken wings on for size. 
This take on an American finger-food favorite gets its spice from Sichuanese pepper and is stir-fried with aggressive amounts of chilies, which — despite their fiery red appearance — add more flavor than heat.
These wings are baked, not fried, but still have a wonderful crunch.
Ingredients
3

pounds

chicken wings, split in half, wing tips removed (optional)

kosher salt

2

tablespoons

crushed red chili flakes

2

teaspoons

whole cumin seeds

1

teaspoon

Sichuanese peppercorns

1

star anise pod

1

cup

dried red Chinese chilies

1

1-inch knob

fresh ginger, julienned

1/4

cup

chopped fresh cilantro leaves
Directions
For the wings
Preheat the oven to 400°F.

Line a large rimmed baking sheet with aluminum foil and spread the chicken wings out on it. Sprinkle them generously with salt. Bake for 45 to 50 minutes, until the wings are golden brown and crisp. Drain off the fat and transfer the wings to a serving bowl.

In a cast-iron skillet set over medium-high heat, toast the red chili flakes, cumin seeds, Sichuanese peppercorns, and star anise, shaking the pan constantly, until the spices are toasty and fragrant, 2 to 3 minutes. Immediately pour them into a bowl to stop the cooking. Cool slightly, and then grind to a powder in a spice grinder or with a mortar and pestle.

In the same dry skillet, toast the dried chiles, shaking the pan constantly, until they darken in color and smell fragrant, 3 minutes.

To serve, toss the wings with the ground spice mixture. Then add the toasted whole chilies and the julienned ginger. Taste, and add more salt if necessary. Sprinkle with the chopped cilantro and serve at once.