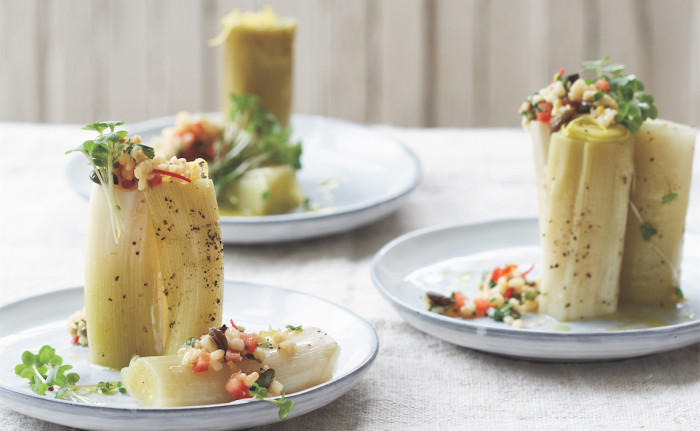 Australian chef Chris Honor is a master of his craft: elevating vegetable dishes using the best product, keeping things utterly simple and bringing vibrant, healthy produce-driven food to the masses. His North London restaurant, Chriskitch, is a must-visit for any fan of fresh, vegetable-forward cuisine, and his new cookbook is packed with hits.   
I like leeks. They are different, they taste amazing, they are easy to cook, and they are not too expensive. Often, they are merely a component in a recipe, but here they take center stage on the salad plate. To add a little more substance I have teamed them with plump pearls of Israeli couscous, some seeds for crunch and taste, and fresh herbs. Simple, tasty, striking.
Reprinted with permission from Chriskitch: Big Flavors From a Small Kitchen
Ingredients
1/2

cup

moghrabieh couscous

3

leeks, roots and tops trimmed

Zest of 1 lemon, plus 1 tablespoon juice

Salt and freshly ground black pepper

1

tablespoon

pumpkin seeds, severely roasted

Zest of 1/2 an orange

1/2

a fresh red chili, seeded and minced

A few

sprigs of

fresh parsley or cilantro, leaves chopped

1

tomato, seeded and peeled, diced

extra-virgin olive oil, for drizzling

Garden cress, snipped, to serve
Directions
For the couscous
Cook the couscous following the package directions.

Put the leeks into a large saucepan (cut the leeks into thirds if your pan is not big enough) and add cold water to cover. Add the lemon juice and a good pinch of salt and bring to a gentle boil over medium heat. Lower the heat and simmer until tender, about 45 minutes. Drain well and then let dry on paper towels. (If you haven't previously cut the leeks into thirds, make sure they are completely dry before assembling the salad, otherwise the cooking liquid will dilute the whole thing.)

In a large bowl, combine the couscous, pumpkin seeds, sunflower seeds, lemon and orange zest, chili, herbs, tomato, and lots of pepper. Toss gently with your hands to combine. Taste and adjust the seasoning.

To assemble, stand a few leeks upright on each plate, top with the couscous, drizzle with a little olive oil, scatter with some cress, and serve.