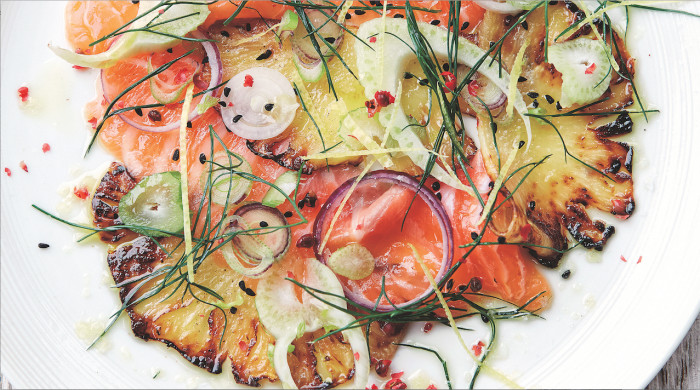 Australian chef Chris Honor is a master of his craft: elevating vegetable dishes using the best product, keeping things utterly simple and bringing vibrant, healthy produce-driven food to the masses. His North London restaurant, Chriskitch, is a must-visit for any fan of fresh, vegetable-forward cuisine, and his new cookbook is packed with hits. 
A fatty fish like salmon goes well with acidic ingredients, and here caramelized pineapple bolsters the lemon tang. This is gorgeous on its own as an appetizer or as part of a selection for a main dish. 
Reprinted with permission from Chriskitch: Big Flavors From a Small Kitchen
Ingredients
1

pound, 2 ounces

very fresh boneless, skinless salmon

1

small pineapple (about 2 1/4 pound), peeled, cored and quartered

1

large fennel bulb, with fronds

1

large scallion, sliced

1

tablespoon

dill seeds

A

pinch of

nigella seeds

A few

sprigs of

fresh dill, coarsely torn

1

teaspoon

pink peppercorns in brine, drained

Thin strips of zest and juice of 2 lemons

2

tablespoons

extra-virgin olive oil
Directions
For the salad
With a sharp knife, cut the salmon into paper-thin slices on an angle. Set aside.

Cut the pineapple pieces in half lengthwise, then slice thinly. In a nonstick skillet, dry-fry the pineapple slices until caramelized on both sides. Set aside.

Keep the fennel whole and slice it lengthwise, using a mandoline. Set aside. Reserve a few fronds for garnish.

Arrange alternating slices of pineapple, fennel, scallion, red onion, and salmon on a platter, then scatter the seeds, dill, peppercorns, fennel fronds, and lemon zest on top.

Drizzle with the oil and lemon juice just before serving.