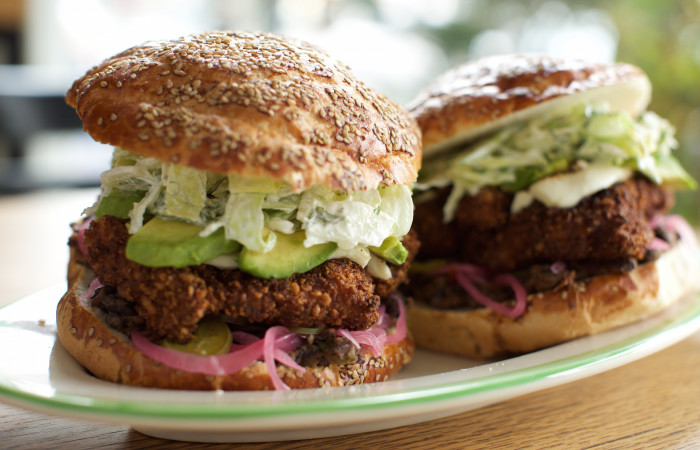 Fried chicken sandwiches are having a moment right now, in case you hadn't noticed. It seems that everyone is trying their hand at them. I've had quite a few in my day, and there are definitely some that are better than others. Some will swear up and down that there's only one proper way to do it, but I disagree. There are lots of ways to make a great fried chicken sandwich that go beyond a standard white bun, mayo and pickles.
Enter: the fried chicken cemita. You can get these at tons of Mexican places, and they're not being made in response to any trends. They usually use thin fried chicken cutlets, but we're going to go somewhere in between a cemita and a fried chicken sandwich by using brined boneless, skinless chicken thighs, then topping it like a solid cemita.
You'll need my recipes for easy beer beans and iceberg slaw to pull this off. Yes, I know, two extra recipes, but if you put some effort into all these elements, the sum of the parts truly outshines the whole. Prepare for fried chicken sandwich heaven.
https://www.youtube.com/watch?v=ku18EuioFD8&feature=youtu.be
Ingredients
Brine
4

jalapeños

8

sprigs

fresh oregano

4

cups

water

1/4

cup

salt
Fried chicken
4

large

boneless, skinless chicken thighs

12

corn tortillas

1 1/2

cups

flour

2

tablespoons

chili powder

2

tablespoons

ground cumin

2

teaspoons

salt

2

teaspoons

black pepper

4

eggs

1/4

cup

buttermilk
The rest
Beer beans

Pickled onions and jalapenos

Iceberg slaw

1

ball

oaxacan cheese

1

avocado

4

rolls (or 2 giant cemita rolls from a Latin bakery)
Directions
For the sandwich
Check chicken for bone bits or large fatty parts that can be removed, trim them off and discard.

Blend the oregano and jalapeños for the brine, and mix with salt and water.

Put chicken in brine for at least one hour (up to overnight).

Get the beans started after the chicken goes into the brine. When these finish, set them aside and reheat them before you build the sandwiches.

Prep your iceberg slaw as well, but don't mix together yet, just keep in fridge and mix right before building sandwiches (or it'll get soggy).

Pulse the tortillas in a food processor until they have the consistency of bread crumbs.

Add half the chili powder, cumin, salt and pepper to the ground tortillas. Add the other half of the seasonings to the flour.

Whisk the eggs and buttermilk together.

Take chicken out of brine and pat dry.

Dredge chicken and let sit for 30 minutes.

The order for dredging the chicken is: flour, egg wash, crumbs. Use one hand for your dry ingredients and the other for the wet.

Unroll Oaxacan cheese and tear into large pieces.

Heat fryer or cast-iron pan with 2 inches of oil to 350° F.

Fry chicken 2 pieces at a time (unless you can fit all 4 without crowding it, but you'll need a huge pan for that) for 8 minutes or until golden brown. Remove chicken from oil and place on cookie racks.

Put cheese right onto chicken to melt it as it comes out.

While chicken rests (for about 10 minutes), slice the avocados, mix your slaw and reheat your beans.

Build sandwich (bottom up)

beans
pickled onions and jalapeño
avocado
chicken
lettuce slaw