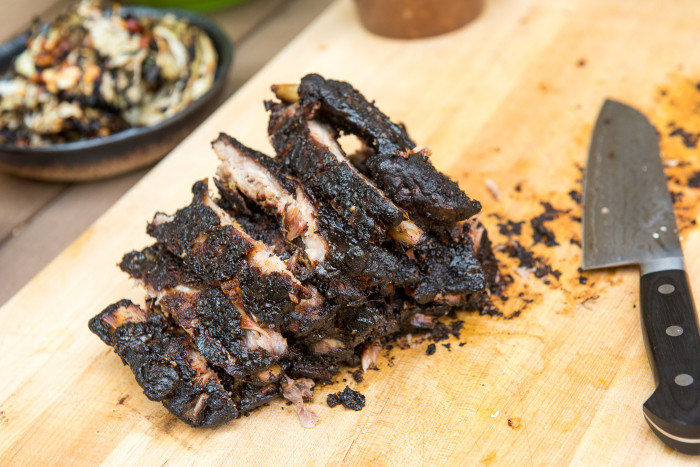 In parts of the Midwest and South, there is a grand tradition of brushing pork ribs with Gulden's Spicy Brown Mustard, then dusting the sweet meat with a good amount of a proprietary spice mixture whose recipe is oftentimes held under lock and key. This slow-and-low barbecue style, dry rub, was popularized in Memphis and is pretty much an American classic. Here, Dieterle gives the style a unique Asian spin, replacing the mustard with shrimp paste.
Preparing the rub might require a stop at the Asian market, but it will be well worth it. "I don't put barbecue sauce directly on my ribs when serving," says the chef when asked how to serve his sweet and umami-rich sauce. So do like Dieterle and serve it on the side for a gradual saucing experience. But be warned: You will want to put it on everything.
Also see: Harold Dieterle Bought A Big Green Egg
Ingredients
Thai spice rub
3

tablespoons

kosher salt

1

tablespoon

dried and ground kaffir lime leaf

2

teaspoons

ground black pepper

2

tablespoons

palm sugar or sugar

1

tablespoons

ground Szechuan peppercorns

2

tablespoons

garlic powder

1/2

cup

shrimp paste in oil

2

racks

pork ribs, membranes removed
Tamarind BBQ sauce
1

tablespoon

vegetable oil

2

cloves

garlic, minced

1-inch

knob ginger root, minced

1

tablespoon

minced shallots

1

tablespoon

minced lemongrass

2

cups

liquid tamarind (made from concentrate and strained)

5

tablespoons

palm sugar

1

tablespoon

rice vinegar

2

tablespoons

fish sauce
Directions
For the rub and ribs
In a small bowl, mix all dry spices together. Reserve.

Brush the ribs generously with the shrimp paste in oil.

Apply a good amount of the rub (all if you prefer) and allow to sit at room temperature for 30 minutes.

Load the grill or smoker with light charcoal lumps and a few handfuls of soaked apple, cherry or pecan wood (make sure there is not too much water on the wood, which will extinguish the flame). Cover and adjust the temperature to 250°. Smoke the ribs, bone-side down, for two hours. Wrap the ribs in foil and smoke for another hour. Remove the ribs from foil and smoke for another two hours to form a bark on the meat. Serve with tamarind BBQ sauce.
For the tamarind BBQ sauce
In a medium saucepan, heat the oil over medium-high heat. Add the garlic, ginger, shallots and lemongrass and sauté until soft and fragrant, about 2 minutes, making sure not to burn the garlic. Add the liquid tamarind, palm sugar, rice vinegar and fish sauce and simmer for 10 minutes until thick. Reserve for the ribs.