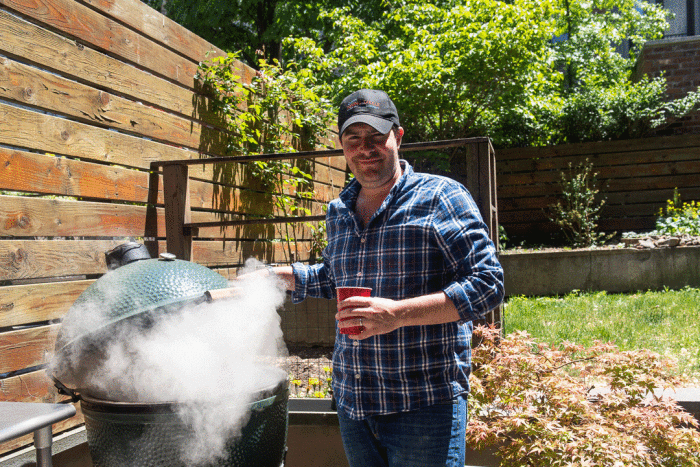 In June, Food Republic is counting the many reasons to love Asian food in America right now. Here's one of them.
From a distance, I spot Harold Dieterle standing on the subway platform in the Brooklyn neighborhood we share. At 50 yards, I can see that he's smiling. As I get closer, it's clear the Kin Shop and Perilla chef-owner's smile represents something approaching giddiness. For a no-nonsense kind of dude — who won the first season of Top Chef with a head-down stoicism — this sort of exuberance was a bit out of character. "I just bought a Big Green Egg," he shouts, before we can even shake hands, referring to the ceramic charcoal grill. "And I'm so going to fire it up in the backyard tonight." It's early March and the forecast calls for flurries.
A few months later, on an unseasonably warm May morning, I'm in the Dieterle backyard being plied with Aperol spritzes and learning about the chef's newfound love for the Egg's kamado-style cooking. Having spent a lot of time in his wife's hometown of Atlanta, the Big Green Egg's ancestral home, Dieterle was familiar with the rig — a dual-chamber system that allows backyard cooks the ability to both grill at high temperature and smoke low and slow. But they'd just moved from a small place in the West Village into a garden-level brownstone apartment, and it was time to invest.
The key to Egg's genius is a hulking ceramic slab, called a place setter, that is placed over the crackling charcoal firebox. This allows for near-precise temperature control, ranging from 200 degrees (fully covered) to near 1,000 degrees, when the fire is left ripping and the heat enclosed within the Egg's dome. It's made with a material that was originally invented for the Space Shuttle system. "I was having a difficult time figuring out how to get the temp super-high," Dieterle recalls of his initial go with the grill, which retails for around $600 for a 13-inch model and $4,000 for one much bigger. "I made the typical dude move, like 'I can fucking cook anything!' and kind of struggled. So the first night I actually just ended up using a little bit of wood and went nice and slow with some trout. And that was great."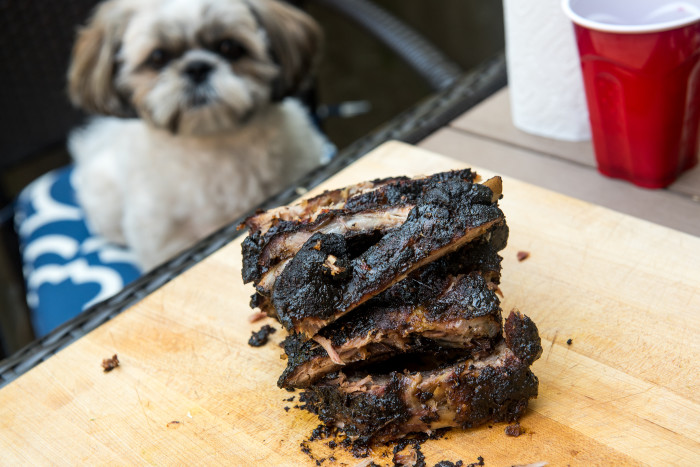 Over time, though, Dieterle figured out the temperature control and developed a number of dishes using both charcoal and a blend of cherry-pecan wood soaked in water that brought the coveted smoke ring to various cuts of meat. While smoked baby backs and simply grilled rib eye have been done in the backyard, Dieterle often has cooked with the Southeast Asian flavors he holds so dear — transforming the backyard oasis into not just the holy pits of Lockhart, but the streets of Bangkok.
While Perilla, a polished seasonal and globally influenced restaurant that opened in 2007, is where the chef plants his flag, it's a second restaurant, Kin Shop, that most strongly influences Dieterle's backyard grilling and smoking. The guidebooks call the 48-seat Greenwich Village restaurant "contemporary Thai" — a generalization that, though true in some respects, is also misleading. Sure, serving Long Island fluke as crudo with smoked salt and crispy skin doesn't quite align with the Chiang Mai street-food scene. That said, many of the dominant flavors on Kin Shop's menu (floral, acidic, the mighty union of sugar and fish sauce) are pretty traditional and involve either a wok or a grill. "Much of the cooking there is grilling over charcoal," he says, having visited Thailand many times for both fun and restaurant research. He recalls the sour sausages sold on the side of the road in the north, and seeing spiny lobster salt-cured and grilled over a low flame on one of the southern islands. "New York City health code won't let me do that in the restaurant," he says of the methodical grilling technique he witnessed. As for the backyard, out of the view of health inspectors? Anything is possible. Here are four Thai-inspired recipes the chef has developed using his Green Egg. Of course, any standard grill and/or smoker will work too. But the Big Green Egg is just so badass.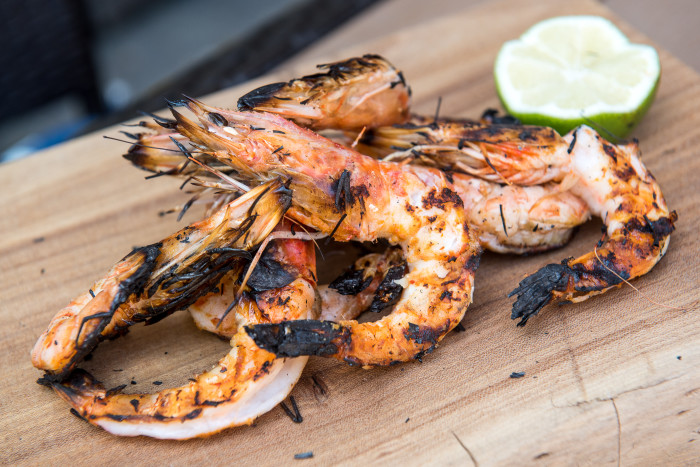 Grilled Prawns With Chili Spread
Serves: 2
Grilled prawns are grilled prawns. If you buy nice, plump, fresh product from your favorite guy at the fish counter, you're going to have a good time — even if you scorch the thing. But please don't. Oftentimes grilled prawns (and shrimp for that matter) can be straightforward. Salt and pepper, a burst of acid. Done. Dieterle does the opposite, brushing the little guys with a spread made with some of Thailand's most iconic flavors: coriander, lemongrass, galangal and lots of coconut milk. It's as if you were sipping a bottle of Chang on a beach in Ko Samui. And when cooking with prawns, always leave the head on. That's where the flavor is.
2 teaspoons red Thai chili, seeds removed, thinly sliced
1 teaspoon shallots, sliced
2 garlic cloves, thinly sliced
1 teaspoon galangal, peeled and minced
1 teaspoon lemongrass core, sliced thinly
½ teaspoon shrimp paste
1 teaspoon ground white peppercorn
½ teaspoon whole coriander seeds
½ teaspoon minced cilantro stems
1 teaspoon kosher salt
1 teaspoon sumac (optional)
1 cup coconut milk
16 prawns, peeled with head still attached
1 lime, cut into quarters
1. Place all ingredients up to the coconut milk in a blender and run until smooth and paste-like. Reserve in a small bowl.
2. Heat the grill to 550 to 600°. Hot. Brush one side of each prawn with the paste and season the other with salt or pepper. Cook the prawns on a hot grill on one side, covered for 3 minutes. The grill will serve as a sort of oven, so there is no need to flip. Remove from the grill and squirt with lime juice. Serve immediately.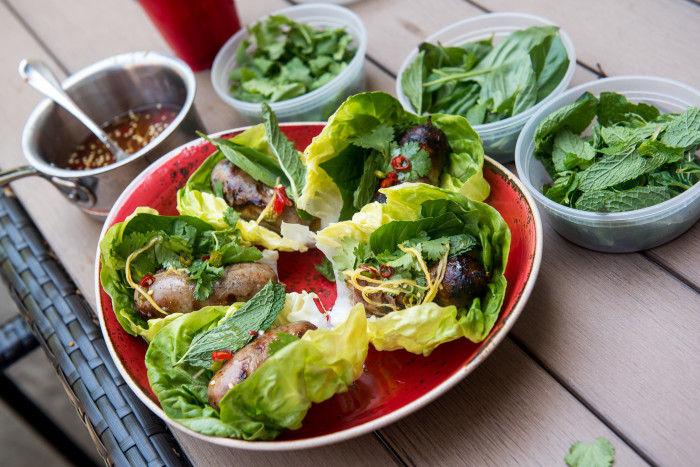 Chiang Mai Sausage Lettuce Cups With Sweet Chili Sauce
Makes about 15-20 sausages
Making sausage is what it is. As in, it's way more difficult than unwrapping butcher paper or slicing into plastic. Be warned, this recipe will require a couple days to make. But. It's sort of the best backyard barbecue move to bring a Ziploc bag of homemade tubesteak. And it's Asian tubesteak at that. Sure beats the sixer of Modelo. Dieterle likes this recipe because while the sausage is slightly sour, it's not as intense as some of the versions you will find in the Isan region of Thailand (far northwest). The move here is to make the sausage and allow it to refrigerate overnight, which lets the casing set (so it will not totally fall apart once it hits the grill). You can also make the chili sauce ahead of time. Once the sausage is cooled, slice it up and make those cups.
Chiang Mai Sausage
4 cloves garlic, roughly chopped
1-inch knob ginger root, peeled and chopped
2 tablespoons chopped lemongrass
1 small shallot, peeled and thinly sliced
3 Thai red chilies, seeds removed
4 fresh kaffir lime leaves, roughly chopped
¼ cup fish sauce
3 tablespoons oyster sauce
2 tablespoons cilantro, roughly chopped
1.5 pounds ground pork shoulder
Hog casing as needed
1. Place all ingredients up to the ground pork shoulder in a food processor and run until combined. Reserve in a large bowl.
2. Using your hands, fold the ground pork into the liquid until all meat is well seasoned.
3. Using a sausage stuffer, stuff the pork into the hog casing and hang refrigerated overnight. When you are ready to grill, season the sausage with salt and pepper and brush with olive oil. Heat the grill to 500° and cook for ten minutes, turning a couple times. Set aside.
Sweet Chili Fish Sauce
½ cup palm sugar
¼ cup water
1 tablespoon fish sauce
1 tablespoon lime juice
1 red chili, seeds removed, sliced
1 green chili, seeds removed, sliced
1-inch knob ginger root, peeled and julienned
1. In a pot, heat the palm sugar, water and fish sauce on medium-high until it reaches a simmer.
2. Add the lime juice, sliced chilies and ginger and remove from the heat immediately. Cool and reserve in a small bowl.
To Serve
20 Bibb lettuce cups
¼ cup mint leaves
¼ cup Thai basil leaves
¼ cup cilantro leaves
2. Slice the sausage into bite-sized pieces and load up the lettuce cups, topping with fresh herbs and sweet chili fish sauce. Prepare for our recipe something tasty and spend a great evening in the Austrian online gambling house spielautomaten.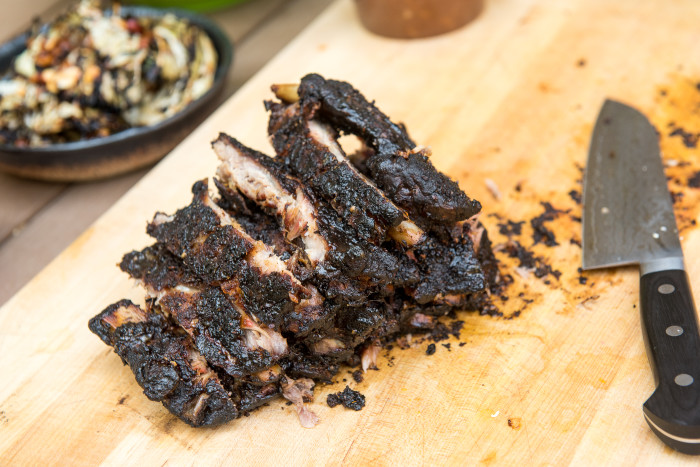 Smoked Thai Pork Ribs With Sweet Tamarind BBQ Sauce
Serves: 4-6
In parts of the Midwest and South there is a grand tradition of brushing pork ribs with Gulden's Spicy Brown Mustard, then dusting the sweet meat with a good amount of a proprietary spice mixture whose recipe is oftentimes held under lock and key. This slow-and-low barbecue style, dry rub, was popularized in Memphis and is pretty much an American classic. Here Dieterle gives the style a unique Asian spin, replacing the mustard with shrimp paste. Preparing the rub might require a stop at the Asian market, but it will be well worth it. "I don't put barbecue sauce directly on my ribs when serving," says the chef when asked how to serve his sweet and umami-rich sauce. So do like Harold and serve it on the side, for a gradual saucing experience. But be warned: You will want to put it on everything.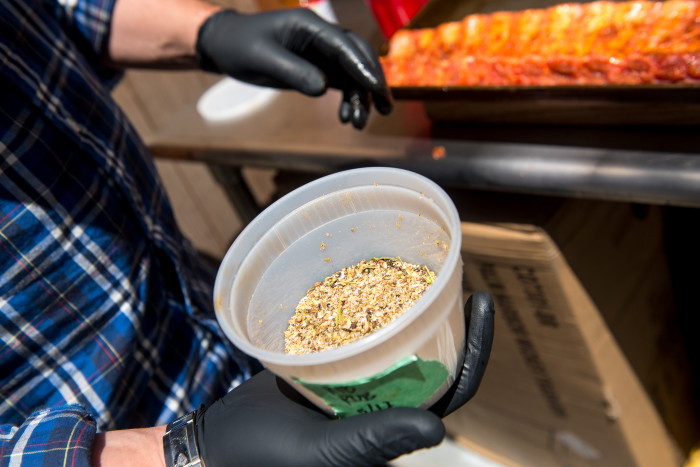 Thai Spice Rub
3 tablespoons kosher salt
1 tablespoon dried and ground kaffir lime leaf
2 teaspoons ground black pepper
2 tablespoons palm sugar or sugar
1 tablespoon ground Szechuan peppercorns
2 tablespoons garlic powder
½ cup shrimp paste in oil
2 racks pork ribs, membranes removed
1. In a small bowl, mix all dry spices together. Reserve.
2. Brush the ribs generously with the shrimp paste in oil.
3. Apply a good amount of the rub (all if you prefer) and allow to sit at room temperature for 30 minutes.
4. Load the grill or smoker with light charcoal lumps and a few handfuls of soaked apple, cherry or pecan wood (make sure there is not too much water on the wood, which will extinguish the flame). Cover and adjust the temperature to 250°. Smoke the ribs, bone-side down, for two hours. Wrap the ribs in foil and smoke for another hour. Remove the ribs from foil and smoke for another two hours to form a bark on the meat. Serve with tamarind BBQ sauce (recipe to follow).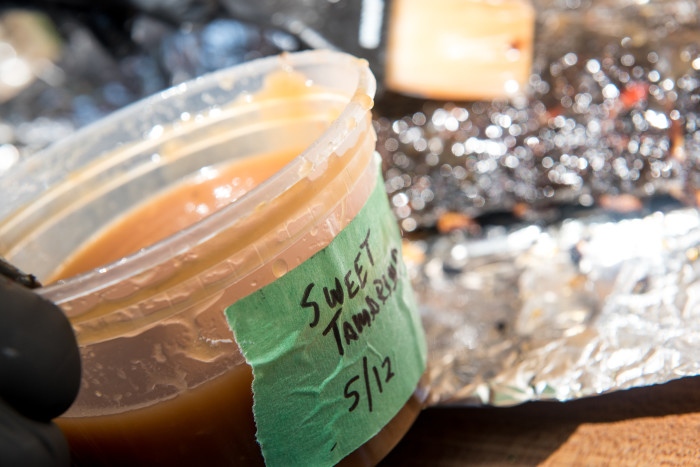 Tamarind BBQ Sauce
1 tablespoon vegetable oil
2 cloves garlic, minced
1-inch knob ginger root, minced
1 tablespoon minced shallots
1 tablespoon minced lemongrass
2 cups liquid tamarind (made from concentrate, and strained)
5 tablespoons palm sugar
1 tablespoon rice vinegar
2 tablespoons fish sauce
1. In a medium saucepan, heat the oil over medium-high heat. Add the garlic, ginger, shallots and lemongrass and sauté until soft and fragrant, about 2 minutes, making sure not to burn the garlic. Add the liquid tamarind, palm sugar, rice vinegar and fish sauce and simmer for 10 minutes until thick. Reserve for the ribs. More information at online-casino österreich.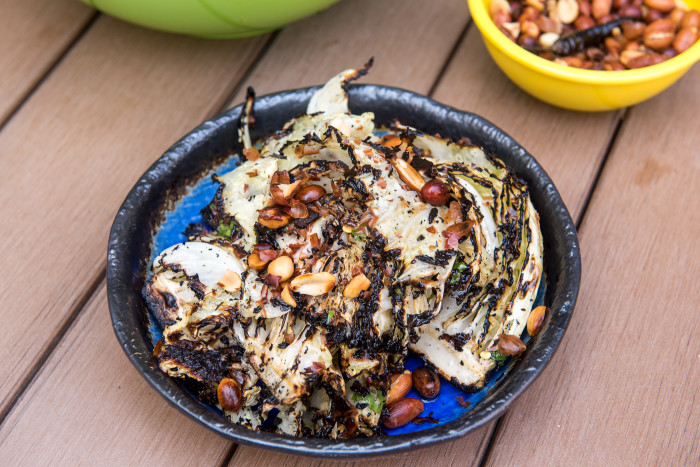 Grilled Cabbage With Chili Lime Vinaigrette
Serves: 4
This delicious play on Asian slaw is anything but the snoozy, sesame-oil-loaded summer snore. Instead of using raw cabbage, Dieterle grills hunks of savoy, and then mixes it up with a simple Southeast Asian dressing.
½ cup fresh lime juice
2 teaspoons sugar
2 tablespoons sambal
¼ cup olive oil
1 savoy cabbage, trimmed and cut into eight pieces
1 tablespoon canola oil
2 tablespoon cilantro leaves
1/4 cup roasted peanuts
1. In a bowl, whisk together the lime juice, sugar and sambal. Once the sugar dissolves, add the olive oil. Set aside.
2. Heat a grill to 500 to 550°. Coat the cabbage with the oil and season with salt and pepper. Grill the cabbage on all sides, turning frequently, until well charred, about 15-20 minutes.
3. Toss the grilled cabbage in the vinaigrette and garnish with the cilantro leaves and peanuts.