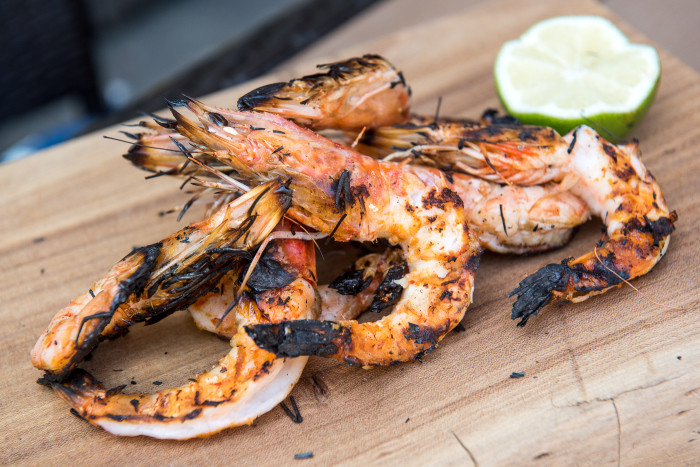 Grilled prawns are grilled prawns. If you buy a nice, plump, fresh product from your favorite guy at the fish counter, you're going to have a good time — even if you scorch the thing. But please don't. Oftentimes grilled prawns (and shrimp for that matter) can be straightforward. Salt and pepper, a burst of acid. Done. New York City chef Harold Dieterle does the opposite, brushing the little guys with a spread made with some of Thailand's most iconic flavors: coriander, lemongrass, galangal and lots of coconut milk. It's as if you were sipping a bottle of Chang on a beach in Ko Samui. And when cooking with prawns, always leave the head on. That's where the flavor is.
Also see: Harold Dieterle Bought A Big Green Egg
Ingredients
2

teaspoons

red Thai chili, seeds removed, thinly sliced

1

teaspoon

shallots, sliced

1

teaspoon

galangal, peeled and minced

1

teaspoon

lemongrass core, sliced thinly

1/2

teaspoon

shrimp paste

1

teaspoon

ground white peppercorn

1/2

teaspoon

whole coriander seeds

1/2

teaspoon

minced cilantro stems

1

teaspoo

kosher salt

1

teaspoon

sumac (optional)

1

cup

coconut milk

16

prawns, peeled with head still attached

1

lime, cut into quarters
Directions
For the grilled prawns
Place all ingredients through the coconut milk in a blender and run until smooth and paste-like. Reserve in a small bowl.

Heat the grill to 550 to 600°. Hot. Brush one side of each prawn with the paste and season the other with salt or pepper. Cook the prawns on a hot grill on one side, covered for 3 minutes. The grill will serve as a sort of oven, so there is no need to flip. Remove from the grill and squirt with lime juice. Serve immediately.