How To Make Gail Simmons' Latke Reubens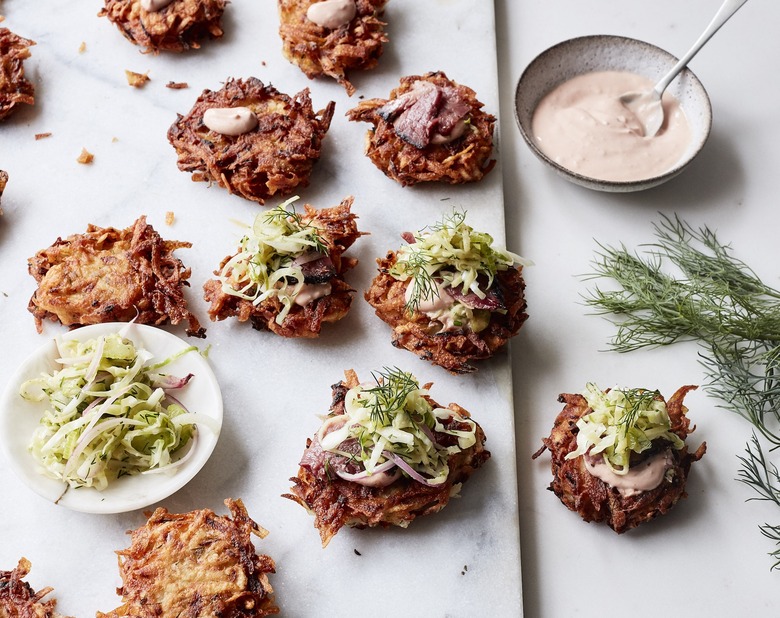 We may receive a commission on purchases made from links.
Gail Simmons' new cookbook, Bringing It Home, is an instant classic. We recently chatted with Simmons on our daily podcast — download and listen! And in the meantime, fire off a few batches of latkes and make the most addictive holiday treat imaginable. That's right, it's time for latke reubens. 
I came up with this little nosh for a holiday episode of The Feed, my show with chef Marcus Samuelsson and comedian Max Silverstri, in 2014. Combining my family's cherished latke recipe with the fillings of a classic Reuben sandwich, I created the ultimate Hanukkah deli delight. A perfect way to celebrate the Festival of Lights, it's also a killer Super Bowl party snack or fun accompaniment to cocktail any time of year.
How To Make Gail Simmons' Latke Reubens
Fire off a few batches of latkes and make the most addictive holiday treat imaginable. That's right, it's time for latke reubens.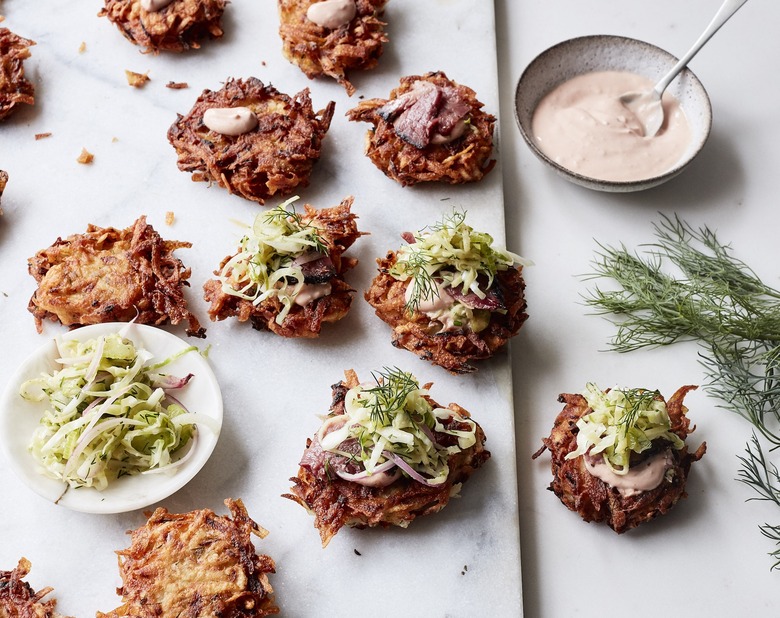 Ingredients
2 tablespoons apple cider vinegar
1 tablespoon spicy brown mustard
1 1/2 teaspoons light or dark brown sugar
1/4 teaspoon kosher salt
freshly ground black pepper
2 tablespoons canola oil
1 1/2 cups shredded green cabbage (about a quarter of a small head)
1 Granny Smith apple
3/4 cup thinly sliced red onion (about half small onion)
2 celery ribs
2 tablespoons chopped fresh dill
3/4 cup sour cream
1/2 cup ketchup
1 tablespoon prepared white horseradish
1 teaspoon hot sauce
3 1/2 pounds baking potatoes
1 large yellow onion
1/2 cup unbleached all-purpose flour
2 large eggs
2 tablespons chopped fresh dill
1/4 teaspoon baking powder
kosher salt
canola oil for frying
1/2 pound thinly sliced pastrami
chopped fresh dill
Directions
:::slaw:::
In a large bowl, stir together the vinegar, mustard, sugar, salt and a generous pinch of pepper. Slowly whisk in the oil until well combined.
Add the cabbage, apple, onion, celery and dill to the dressing; toss thoroughly to combine. Adjust the seasoning to taste. Let the slaw stand at room temperature for 30 minutes before serving.
:::dressing:::
In a medium bowl, stir together all of the ingredients. Adjust the hot sauce to taste. the dressing can be refrigerated in an airtight container for up to 2 weeks.
:::latkes:::
Set a large strainer over a bowl. in a food processor fitted with the shredding disk, shred the potatoes and onion in batches. add each batch to the strainer and let stand for 5 minutes, then squeeze dry. Pour off the liquid and rinse the bowl, then add the shredded potato mixture. Stir in the flour, eggs, dill, baking powder, and 1 ½ teaspoons salt. Scrape the mixture back into the strainer and set it over the bowl again; let stand for another 5 minutes.
In a large skillet, heat ¼ inch of canola oil over medium-high heat until shimmering. Working in batches, spoon a scant ¼ cup of the potato mixture into the hot oil for each latke, pressing slightly to flatten. Fry over moderate heat, turning once, until the latkes are golden and crisp on both sides, about 7 minutes. Drain the latkes on a paper towel–lined baking sheet. Season well with salt.
:::assembly:::
Spread about 1 teaspoon of the dressing on each latke. top with a folded slice of pastrami and a heaping tablespoon of the slaw. Garnish with dill and serve.