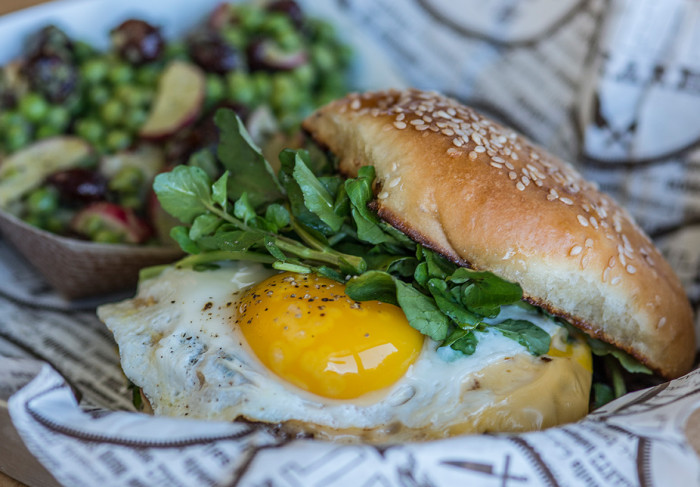 Charleston chef Craig Deihl is one of our charcuterie heroes. Since diners didn't always order pork chops at his flagship restaurant, Cypress, in the exact same ratio as they consumed the salumi and sausages that Deihl was creating with the rest of the pig, the chef came up with the brilliant idea to start up Artisan Meat Share. Members would receive periodic seasonal deliveries of whatever products Deihl and chef de cuisine Bob Cook whipped up to fully utilize the extra meat leftover after butchering.

This makes for a vast repertoire of fantastic sandwiches involving sausage, and Deihl's breakfast sandwich is one of our favorites. Replicate this ultra-satisfying breakfast in your own kitchen, and take home the title of Sandwich Master.

"Growing up, I always loved getting them, so they're nostalgic for me," says the chef.
Ingredients
Bacon mayo
1/2

cup

bacon jam

3

cups

Duke's mayonnaise
4

sesame buns, cut in half

6

ounces

bacon mayo

4

breakfast sausage patties

4

slices

American cheese

4

eggs

1

cup

watercress

1

tablespoon

olive oil

salt and pepper to taste
Directions
For the bacon mayonnaise
Mix the bacon jam with the mayonnaise until thoroughly combined. Cover and set aside until ready to use.
For the sandwich
Preheat the oven to 350 degrees. Toast the sesame buns for 4-5 minutes. Spread bacon mayo on both halves of the buns.

In a skillet, cook sausage patties until cooked through. Top patties with one slice each of American cheese and place one patty each on the bottom half of buns.

In another pan, cook 4 eggs, sunny-side up. Top the patties with one egg each.

In a bowl, dress the watercress with olive oil, salt and pepper and mix thoroughly. Top eggs with evenly divided watercress.

Place the top buns on each sandwich. Be sure not to break the yolk until eating!