Dip, Spread, Love: Golden Beet Tzatziki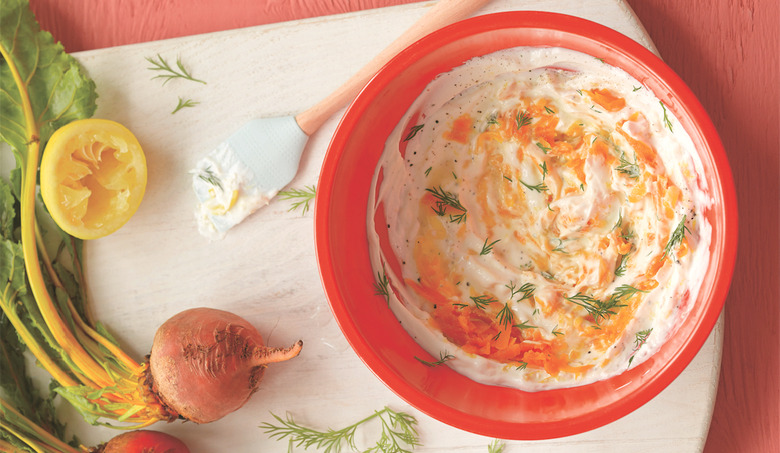 We may receive a commission on purchases made from links.
Food writer and recipe developer Dawn Yanagihara figured out something awesome: Those brightly colored vegetables you're supposed to be eating regularly make beautiful, vibrant-hued dips and spreads. Better still: Those dips and spreads are perfect for blending up the nuts, seeds and other superfoods you're supposed to be eating regularly, too. The combination of whole-milk Greek yogurt and sweet, earthy golden beets will brighten up vegetable crudité or chips of any kind. We're thinking homemade pita chips.
Creamy, tangy-sweet, cooling, fresh, it's best served the day it's made but can be refrigerated without garnish for up to 2 days. Bring to room temperature, stir to recombine, and garnish before serving. You can substitute red beets for the golden beets. They will give the tzatziki a vibrant fuchsia color and a deeper, earthier flavor.
Dip, Spread, Love: Golden Beet Tzatziki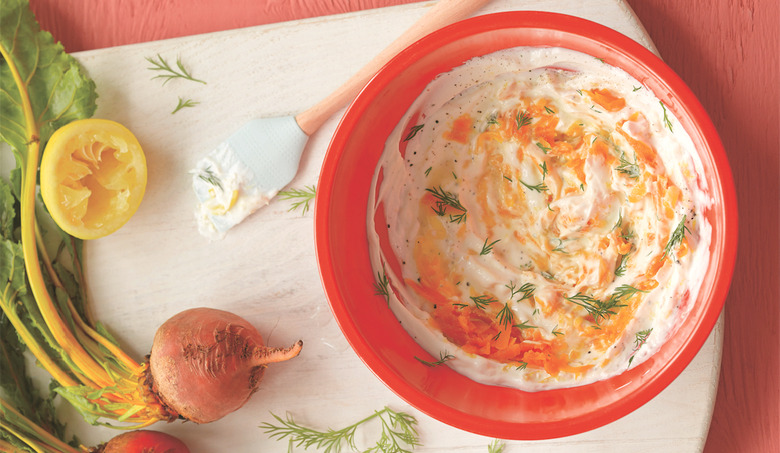 Ingredients
12 ounces golden beets (without greens)
1 1/2 cups whole-milk Greek yogurt
1 1/2 tablespoons finely chopped fresh dill
1 medium garlic clove
1/2 teaspoon finely grated lemon zest
1 tablespoon extra-virgin olive oil
Fine sea salt and freshly ground black pepper
Directions
Preheat the oven to 350°F.
Put the beets in a small baking dish. Add the 1/4 cup water and cover tightly with foil. Roast until a metal skewer inserted into the largest beet meets absolutely no resistance, 1 to 1 1/2 hours, depending on the size of the beets. Uncover and let cool to room temperature.
Slip the skins off the beets, using a paring knife to scrape off any areas that cling. Grate the beets on the large holes of a box grater.
In a medium bowl, combine the grated beets, yogurt, dill, garlic, lemon zest, lemon juice, olive oil, 3/4 teaspoon salt, and 1/2 teaspoon pepper and stir well. Taste and adjust the seasoning with more salt and pepper, if needed.
Transfer the tzatziki to a wide, shallow bowl for serving. Cover and let stand at room temperature for about 30 minutes to allow the flavors to meld.
Use the back of a spoon to swirl the surface of the dip. Drizzle with olive oil, sprinkle with dill, and serve.